Dwayne Douglas Johnson (born May 2, 1972), also known by his ring name the Rock, is an American actor, producer, businessman, former professional wrestler, and former professional football player.
Waking up at 3.30am, Johnson is one of those lucky people who don't need as much sleep – he usually gets three to five hours per night. "I love putting in that hard work as early as possible to get my day started off on the right foot, mentally and physically," he told Bodybuilding.
While this sounds an insanely low amount of hours for sleep, Johnson revealed that being awake and having time to himself was more important than sleep.
"The only thing that's regimented is I have to wake up before the sun gets up, and I have my two hours alone when no one else is up and the house is quiet," he told Variety in a 2017 profile. "I often sacrifice two hours of sleep just so I can have the quiet two hours that I need before the whole house wakes up, including the animals."
Having time to himself and his daily workout are the two anchors in his life. "I need the mental time in the beginning, and the next thing is my training time. Those are my two anchors, and once I'm able to anchor myself, I'm able to go to work, and then I get in my pickup truck and drive to set. I'm able to work 10, 12, 14 hours if I know that I've centered and anchored my day in the beginning."
Johnson starts off his day with morning cardio, he'll jog outside or get on the elliptical cross trainer for 30 to 50 minutes after having his coffee. After that he'll have his breakfast.
Diet-wise, I generally eat five meals a day. I'm very prepared and organized, and everything is planned out in advance. It's all measured depending on what I'm training to achieve. Usually I start off my day with some dead cow and oatmeal for breakfast. The other staples in my diet include chicken, steak fillets, egg whites, oatmeal, broccoli, halibut, rice, asparagus, baked potato, leafy salads, peppers, mushrooms, and onions, and then also some casein protein.

TRAIN LIKE DWAYNE "THE ROCK" JOHNSON! | BODYBUILDING.COM
"No matter how many hours I've flown, no matter how many miles I've traveled, regardless of what country it is, the first thing I need to do to get ready for the work day is I gotta find the gym," he said in an Instagram video, revealing that working out helped him with combating jeg lag.
Success isn't always about greatness. It's about consistency. Consistent hard work leads to success.

THE ROCK'S BEST ADVICE FOR SUCCESS | FORTUNE
Accoring to his 'A day in the life' summary by Finty:
Mornings
Johnson starts every day at 3:30 am. He is one of the lucky few who can function and feel restored on as little as three to five hours of sleep, even after a heavy day in the gym or film studio.
He begins with a light cardio workout, often a run. If it's raining outdoors, he'll get his cardio in on the elliptical machine at home while sipping on coffee and catching up on the news. He says he prefers light-intensity cardio to high-intensity training in the morning and that a morning cardio session anchors him for the rest of the day. If he knows he's going to be busy all day, he'll lift weights in the morning instead of cardio.
After working out, it's time for the first of five to seven meals totaling 3,000 calories. Meals are prepared the day before, ensuring he has the right amount of nutrition on hand to fuel his training and work. Portions are all measured to hit his macros.
Breakfast is typically steak or oatmeal, depending on his training goals. Some of the other staples in his diet include chicken, eggs, broccoli, rice, halibut, baked potatoes, asparagus, onions, mushrooms, and leafy vegetables.
He relies on natural protein sources, but he also uses a casein protein shake to enhance his workout recovery.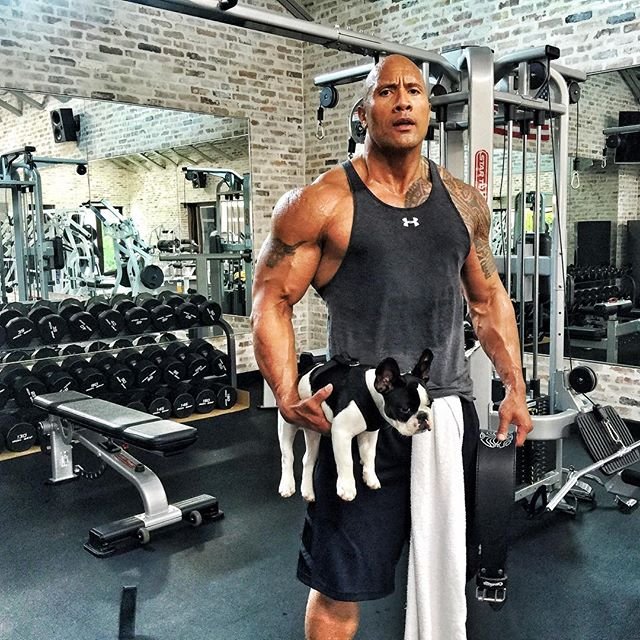 Afternoons
Johnson's life is very busy. Not only does he have family and work responsibilities, but he's involved with many other events and organizations that make demands of his time. He also founded "Seven Bucks Productions" with his wife in 2012 (because that's all he had left in his bank account at the time).
He typically spends two to three hours working out in the afternoon each day between work responsibilities. If he's working on location, then his portable gym — the "Iron Paradise" — comes with him, regardless of where that may be in the world.
The only thing more legendary than Dwayne's work ethic is his cheat days, which he shares with his followers on Instagram. Cheat day menus can range from burgers and fries to ice cream and pancakes. Some of his cheat meals contain as much as 5,000 to 6,000 calories.
Evenings
After finishing his workout, he will prepare for evening work or entertainment responsibilities. If he has nothing going on, he'll relax at home and answer emails on the laptop until late into the evening.
He doesn't usually start feeling tired until around 11 pm and usually turns in anywhere from 10 pm to midnight, depending on the demands of the day.
A few short hours later, he's back at it again.
Cheat Day Diet
Sources:
https://www.balancethegrind.com.au/daily-routines/dwayne-johnson-daily-routine/
https://finty.com/us/daily-routines/dwayne-johnson/
https://manofmany.com/featured/the-rock-diet-and-workout-plan
https://www.youtube.com/watch?v=0w6bOOq–AU