LeBron Raymone James Sr. (born December 30, 1984) is an American professional basketball player for the Los Angeles Lakers of the National Basketball Association (NBA). Nicknamed "King James", he is widely considered one of the greatest players in NBA history and is frequently compared to Michael Jordan in debates over the greatest basketball player ever.
Massive Sleeper
LeBron is legendary not just for his on-the-court skills and eight-figure endorsement packages, but his king-sized sleeping habits as well. LeBron averages 12 hours of sleep a day, usually broken down to 8-9 hours at night and three hours of napping in the afternoon.
"This may sound weird to you," said James, when asked about his daily routine, "but for my 13-year career, I've taken a nap for the most part every day — and for sure on game days."
Sleep is catching on as an important asset in the NBA, and growing research corroborates the benefits. A 2011 study published in Sleep showed better speed, reaction time and a 9% increase in shooting accuracy when players get adequate sleep. The study's authors from Stanford conclude:
Improvements in specific measures of basketball performance after sleep extension indicate that optimal sleep is likely beneficial in reaching peak athletic performance.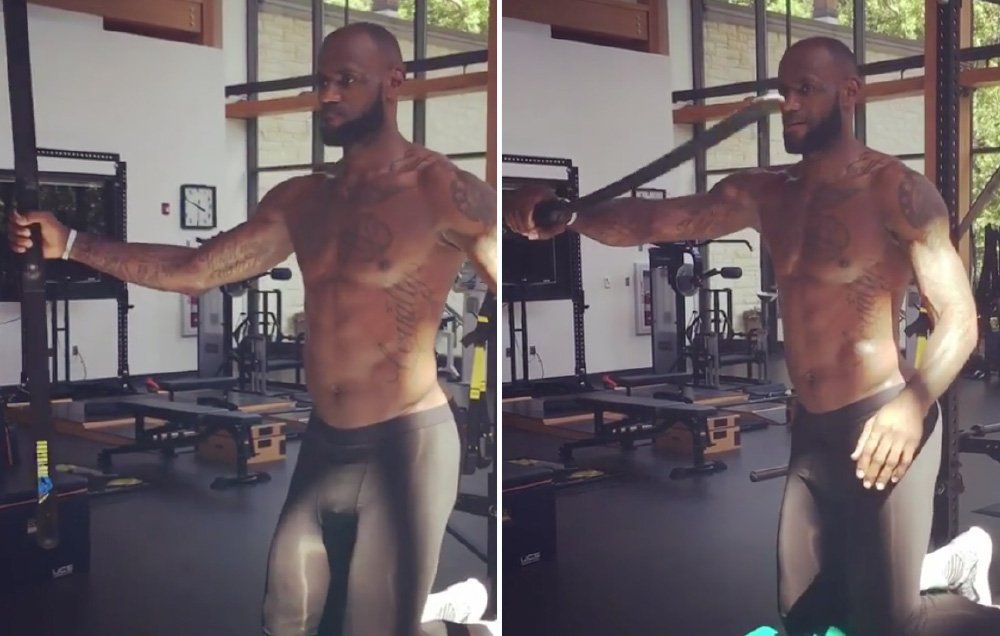 Gym & Juice
LeBron goes to the gym two to three times a day, practicing drills on the court and cross-training with his personal trainer Mike Mancias. Mancias worked with Michael Jordan in 2001, and has been working one-on-one with James since his rookie year in Cleveland. When describing their workout philosophy, LeBron explains:
The body is the number one thing. It's the temple. We always listen to the body. If you don't listen to the body, it will fail you.
To improve stamina, the treadmill is good, but the exercise bike is tougher and works more of your body. Do a 10-mile ride uphill, and you know you've had a workout.
LeBron can frequently be seen hopping to the Juice Spot, which he co-owns with his wife Savannah, for cold-pressed juice after his workouts. Peanut Butter Dream is a favorite. Despite all the extra flavors, LeBron's core nutrition advice is pretty basic:
It sounds so simple, but I am a big believer in water. I start the day with two big glasses, and pretty much drink it until I go to bed. It's the simple things you need to be doing…
Breakfast and dinner are the biggest meals of the day. Dinner is typically served with plenty of greens, and there's always a side bowl of salad. If chicken is on the menu, it's skinless – his chef pays attention to the healthy details.
Role Model and iTunes
LeBron laments not having a father figure growing up, and transforms that pain into motivation to be there for his three young children. Savannah is his high school sweetheart, and despite the hectic traveling schedule they find ways to all spend time together.
Music is LeBron's main way to relax while on the road, stretching, and before games in the locker room. Jay Z is a long-time favorite, Drake, 50 Cent and Eminem are also on the playlist. James' love for music and appreciation for ways to enjoy it on-the-go led to his early investment in Beats, valued at $3 billion upon its sale to Apple.
Lebron James' training diet
To fuel his workouts, Lebron likes to stick to eating clean, avoiding fried food, pizza, artificial drinks, artificial sugars, especially on game day. "Maybe he'll have a chocolate chip cookie from time to time, but he's not going crazy having pizza and burgers," Mancias told GQ.
"In the summertime, when he wants to give himself a treat: chocolate chip cookies with vanilla ice cream." Lebron is also a red wine connoisseur and will usually have a glass with dinner to unwind.
In 2014, Lebron decided to try out the Paleo diet, which he describes as a mental challenge for himself, leading to his much slimmer physique that year. "I had no sugars, no dairy, I had no carbs," Lebron explained to Sports Illustrated. "All I ate was meat, fish, veggies and fruit. That's it. For 67 straight days."
In a 2018 podcast interview with Tim Ferriss, Lebron took listeners through a recent example meal plan:
Yesterday, I had an egg white omelet with smoked salmon and gluten-free pancakes with berries. That was my breakfast. For lunch, I had whole wheat pasta, salmon, and vegetables. And right before the game, I had a peanut butter and jelly sandwich. And at halftime, I had sliced apples with almond butter on top. Right after the game, Mike gave me a protein shake to put in my system right after. I downed that right after the game last night. And then for dinner, I had chicken parm with a rocket salad and a beautiful glass of cabernet.
When it comes to sleep, Lebron has long recognised the benefits of getting enough and typically averages 12 hours of sleep a day. He wakes up at 5am after getting at least 8–9 hours of sleep, and will nap throughout the day.
"For my 13-year career, I've taken a nap for the most part every day and for sure on game days," Lebron told CBS Sports. "Sleep is the most important thing when it comes to recovery. And it's very tough with our schedule. Our schedule keeps us up late at night, and most of the time it wakes us up early in the morning. There's no better recovery than sleep."
Lebron's sleep routine includes making sure his room temperature is set just right and completely dark, and turning off all his electronic devices 30–45 minutes before going to sleep. He also plays Rain on Leaves sounds on the Calm app.
Other recovery methods Lebron includes ins his daily routine include cyrotherapy and flexibility exercises, which has no doubt contributed to his longevity on the courts. Lebron also likes to perform daily meditations, also using the Calm app.
I've been very consistent with training my body, rehabbing my body, eating, having my body be very clean throughout this journey because I've always wanted to have a long career, or as long as I could be in this space.
During a more recent interview on the Road Trippin' podcast, Lebron talked in detail about the challenges of winning the two NBA championships in 2016 and 2020, with the COVID-19 bubble in particular.
"The one thing that I know for sure is that I've been a part of two teams [that have] won the two hardest championships in NBA league history," he said to hosts Richard Jefferson, Channing Frye and Allie Clifton.
"The 2016 Cavs coming back from 3–1 versus a 73–9 team, being down 3–1 versus one of the best teams that's ever been assembled. And then what we went through in the bubble. And if you were not in the bubble, you don't quite understand it," Lebron described.
"You will never ever understand how hard it was to win that championship, to be able to motivate yourself. This is literally out of your whole comfort zone. No family, I didn't see my family for eight-and-a-half weeks."