Kimberly Noel Kardashian West (born October 21, 1980) is an American media personality, socialite, model, and businesswoman.
She described her typical morning routine in an interview with Poosh, a lifestyle website founded by her sister, Kourtney, "On a general day, I wake up at 5:45 a.m. for my workout at 6 a.m. I'll pick out my workout clothes the night before," she said. "I keep it basic and pretty much wear the same thing all the time, and then I work out for about an hour."
While filming for Keeping Up with the Kardashians takes up the majority of her time during the year, there are a few months off between seasons. Speaking to Mock, Kardashian described a typical day in her life without the presence of 24/7 cameras:
On a typical day, without cameras, I wake up early, like six in the morning. I try to work out before the kids get up, and then I have breakfast with them and my husband. I try to make sure we have set meals at home, to keep everything as normal as possible. And then I get to work. If you saw the room I'm in right now—my office—I have mood boards of so many different things in front of me; maybe 15 perfume samples sitting on my table. And then for our kids' line, I have maybe 200 samples of bathing suit fabrics that I have to go through. I'll usually have wardrobe fittings for myself. Then I might have—and I'm not joking—300 makeup products to go through and consider for a future project. In between, I'm taking my son to a music class and my daughter to a horseback riding class.

KIM KARDASHIAN WEST | INTERVIEW MAGAZINE
In a perfect world, I love to go to bed early, but because I've been studying for law school, I spend my nights reading. The day usually consists of me going into the law office a few times a week, and then I film our show. Most nights I'm done after dinner, and I get the kids ready for bed and read books and put them to sleep. Then it's back to studying for me until about 11 p.m.

KIM KARDASHIAN WEST ON HOW SHE MANAGES IT ALL | POOSH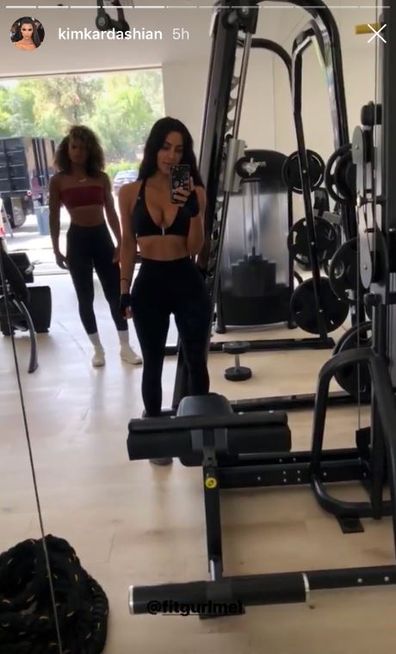 Her detailed habits and rituals according to womenshealthmag.com:
Kim krushes workouts six days per week.
Consistency is what really counts when it comes to getting (and staying) in shape. Alcantara told us that she and Kim train almost every day and that her sweat sessions are between 60 to 90 minutes long.
Kim never cancels a workout.
Kim does treadmill sprints.
In an April 2021 Instagram Story, Kim shared that she recently discovered the power of treadmill sprints.
Sources:
https://www.balancethegrind.com.au/daily-routines/kim-kardashian-west-daily-routine/
https://poosh.com/kim-kardashian-west-how-she-manages-it-all/
https://www.womenshealthmag.com/fitness/g31780718/kim-kardashian-workout-routine/