Andrew Lloyd Webber, Baron Lloyd-Webber, (born 22 March 1948) is an English composer and impresario of musical theatre.
2007 interview with the Guardian:
When were you happiest?
When I have a show going.
What is your greatest fear?
Heights – I get vertigo if I stand up.
What is your most unappealing habit?
My wife says I can't remember if she has milk in coffee.
What is your favourite smell?
Tobacco plants and jasmine.
What is your guiltiest pleasure?
Cheval Blanc 1982.
Who would you invite to your dream dinner party?
Graham Norton, Stephen Fry, Theo Fennell, the jeweller, and Elton [John].
Which words or phrases do you most overuse?
'Actually.'
How often do you have sex?
As frequently as I possibly can – which is about once a year.
What single thing would improve the quality of your life?
Owning Proserpine, by Rossetti.
What do you consider your greatest achievement?
To bring a new audience to musical theatre.
What keeps you awake at night?
Worry about the next show.
What is the most important lesson life has taught you?
Not to take things too seriously.
Where would you most like to be right now?
At home with my cat.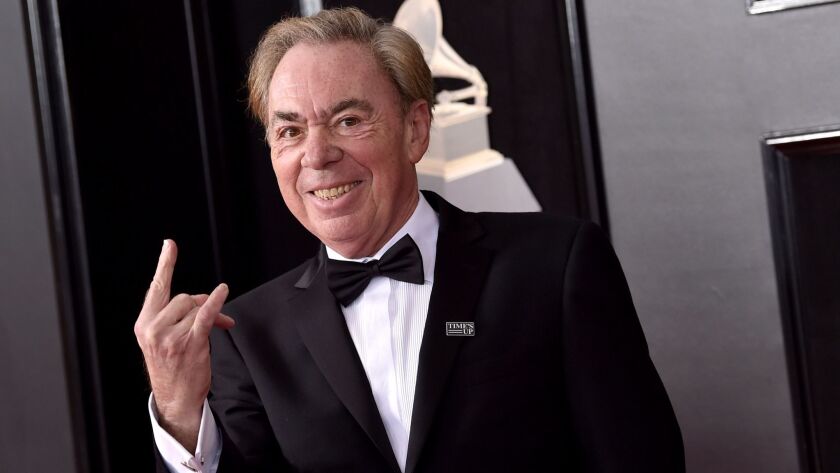 10 Facts About Andrew Lloyd Webber
When Sunset Boulevard joined School of Rock, Cats and The Phantom of The Opera on The Great White Way in early 2017, Webber became the only person to equal the record set in 1953 by Rodgers and Hammerstein with four Broadway shows running at once.
Webber's many awards as both composer and producer include seven Tonys, seven Oliviers, a Golden Globe, an Oscar, the Praemium Imperiale, the Richard Rodgers Award for Excellence in Musical Theatre, a BASCA Fellowship, the Kennedy Center Honor and a Grammy for Best Contemporary Classical Composition for Requiem.
He's the father of five and has been married to former equestrian Madeleine Gurdon since 1991.
He was knighted by Her Majesty Queen Elizabeth II in 1992 and created an honorary life peer in 1997.
He says people would be surprised that he doesn't take himself seriously.
His favorite movie musical is South Pacific.
His production of School of Rock is the first British musical to have world premiered on Broadway.
Webber owns seven theaters in London's West End, including the Theatre Royal Drury Lane, the Palladium and the St James which reopened in 2017 as The Other Palace.
His Andrew Lloyd Webber Foundation is one of the most prominent charities supporting the arts and music in the U.K.
He says he loves Ed Sheeran. "I love his use of melody and lyrics."
Sources:
https://parade.com/646406/m-b-roberts/10-things-you-might-not-know-about-composer-andrew-lloyd-webber/
https://www.theguardian.com/music/2007/jun/02/popandrock.theatre