James Hugh Calum Laurie (born 11 June 1959) is an English actor, author, comedian, director, musician, and singer.
"I rowed for Cambridge. I was pretty good at that." – Hugh Laurie
Hugh Laurie, like his father before him, went to Cambridge University with the main aim of rowing. Many talented athletes pick a university not for its amazing academic record (although Cambridge is of course one of the best) but to be able to pursue their athletic or artistic goals.
"I went there to row. I'll be blunt with it. It's been ten years, and I think the admissions tutor can take it now . . . but that's really what I went for, and anthropology was the most convenient subject to read while spending eight hours a day on the river." – Hugh Laurie, on why he went to Cambridge.
Rowing, Roadwork, Gymwork, Rowing
Stephen Fry was amazed by the sheer effort that High, like all athletes of his calibre, put into his sport. Every day Hugh would start the day with rowing practice, then do some road work (go running), then later he would head to the gym to lift weights, and finally end the day with more rowing. That is 4 workouts a day, every day.
For anyone trying to lose weight that feels that a daily 45 minute workout is too much, maybe this will help you to understand why some people are in such brilliant physical shape, and others are not.
Hugh Laurie, when training to be an Olympic rower (I assume that his aspirations were still to follow his fathers footsteps and represent Great Britain in the Olympic Games) was no less athletic than the likes of Michael Phelps and Usain Bolt.
Hugh Laurie even gave boxing a go once. However, it seems that even this was too much for him. He once said
"I swank around during the week thinking I'm the big cheese but you don't feel like that when you are in the ring with a chap who knows what he's doing." – Hugh Laurie.
Hugh Laurie trained (exercise) for around 8 hours a day in total. A staggering amount of exercise. I defy anyone to be overweight and exercise that much! For some ideas on how to incorporate rowing into your daily routine see our article on rowing workouts.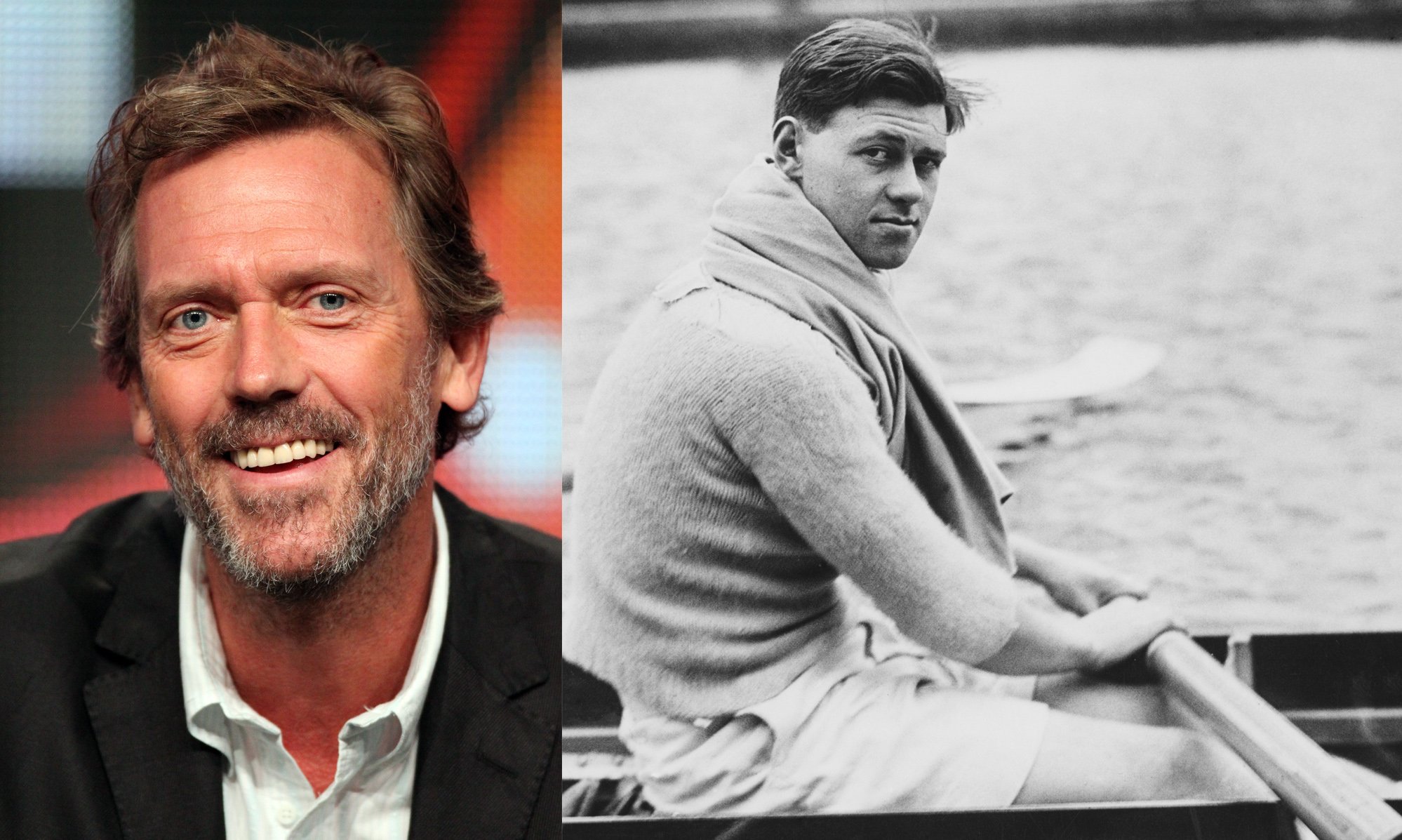 Burgers, Cottage Pie and Eggs
What was also mentioned in the Fry Chronicles is Hugh's diet. It did not seem particularly healthy from Stephen's perspective. Apparently after a new burger bar opened close to their colleges Hugh would routinely devour 3 hamburgers with 2 portions of large fries, and then finish off what the others had not eaten. His girlfriend also used to cook family sized cottage pies (according the Stephen Fry), large enough to feed a family of 6, and then crack a few eggs on top, and Hugh would eat this all by himself. His daily calorie requirements were probably somewhere between 6000 and 10000 Calories a day, depending on how much training he actually did.
For those of you not familiar with cottage pies, it is a dish that consists of a layer of meat and vegetables cooked with tomatoes (essentially a meat stew) with a generous helping of mashed potatoes on top. Hugh's cottages pies also had added egg for more protein. In the late 1970's and early 1980's young athletes did not follow any specific diet, there were not sports hydration drinks or protein shakes to be had. People just "pulled boats through water", ate and larked about a lot.
Unfortunately for rowing, Hugh decided to pursue a career in acting and comedy. As well as being a member of the Leander Club (an old English rowing club) he also joined Footlights, the Cambridge drama club that is responsible for so many comedy legends, after illness prevented him from rowing for a while. It is funny to think that Hugh Laurie only joined Footlights as something to do while recovering from a bout of glandular fever – it was never meant to be a permanent career move.
From an interview with MensJournal.com
What keeps you motivated?
Fear of failure and ridicule. Actually, no, neither of those things is as bad as the fear of boring people—that's the biggest thing.
What have you learned about fame?
I'm hopeless at being famous. I still don't know what to do about selfies. I hate photographs because I genuinely believe they steal a soul, and I don't have much of a soul to start with, so I can't afford to lose what I've got left.
What have you learned about drugs and alcohol over the course of your life?
Alcohol wasn't a thing for the first half of my life, and I never took a lot of drugs, but I think there's some biological change that takes place in your early fifties that makes a martini a much more interesting prospect. A good martini when the sun goes down has taken on a more prominent role in my life. But I don't allow myself to get very drunk. I enjoy that sort of gentle breeze, but not a full-on tornado.
What about religion?
I find my atheism is becoming more marked with each passing year. I once prided myself on a relaxed and respectful attitude to other people's beliefs, but I'm finding it harder to keep that up. I might find myself taking a tougher line with people about certain beliefs that are so painfully nonsensical. Because nonsense is not endearing or eccentric anymore — it's causing death, destruction, and endless torment for millions of people around the world.
What do you love about riding motorcycles?
I honestly think it's more like flying than being on an airplane. When you lean a bike over at a corner, you're taking on gravity. In an airplane, that sensation comes only for a few moments, when you leave the runway. Riding a motorcycle gives you that feeling consistently. There's just nothing like it.
What advice would you give your younger self?
Life goes faster than you think; you're not going to live for a thousand years, so make every day count. Actually, that's really trite. OK, you don't regret the things you do, only the things you don't do. No, wait, that can't be universally true — look at serial murder, for example. I should be able to do better than that. . . . Don't smoke cigarettes. It's a terrible mistake.
Sources:
https://www.motleyhealth.com/celeb/hugh-laurie-the-super-fit-athlete-and-actor
https://www.mensjournal.com/entertainment/life-advice-from-hugh-laurie-w205301/
https://www.express.co.uk/life-style/health/1231877/hugh-laurie-health-latest-depression-symptoms-avenue-5