John Stephen Goodman (born June 20, 1952) is an American actor.
He works out at least six days per week, including cardio and resistance band training.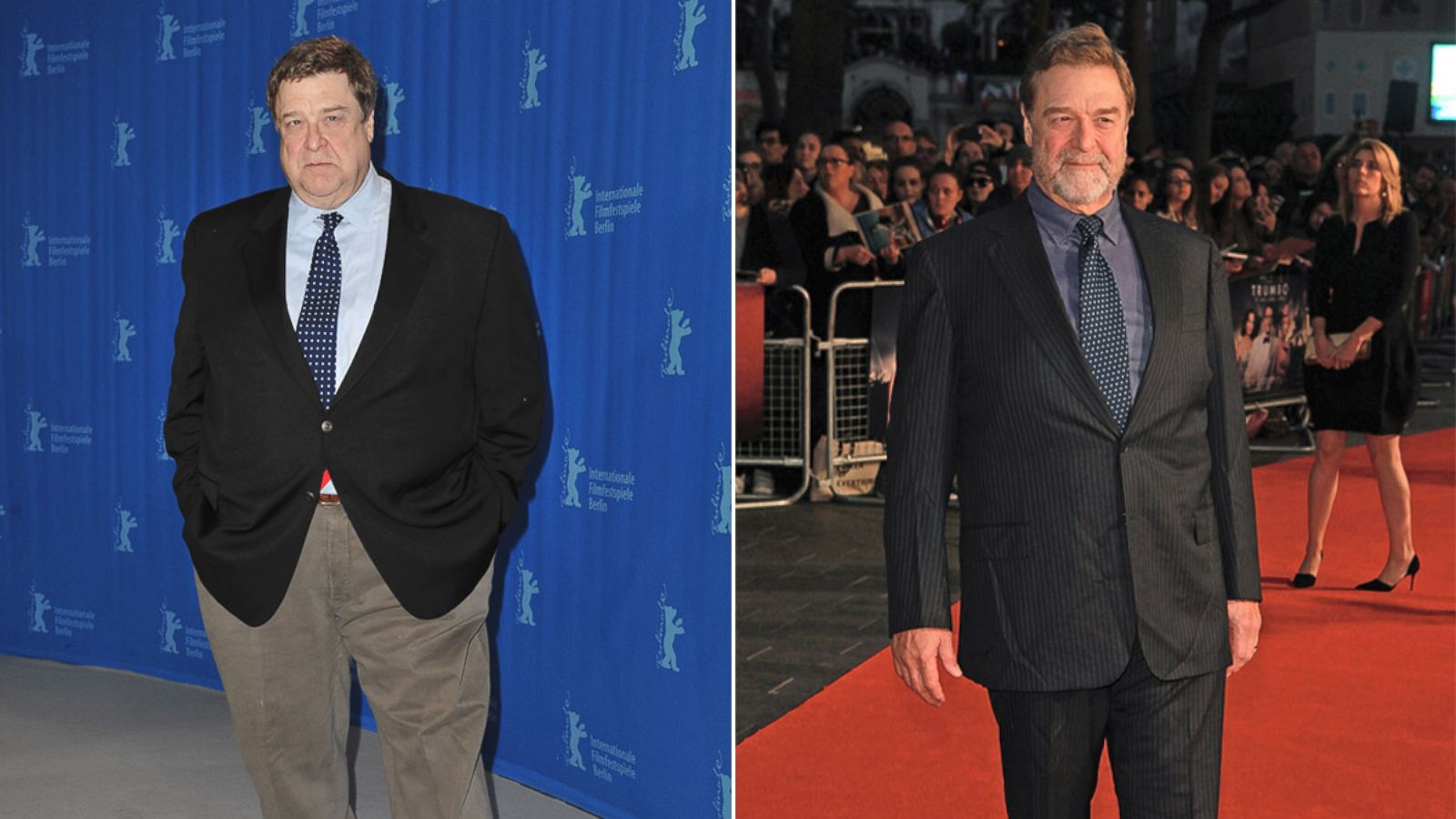 Workout and Diet
Cardio.  When Goodman was at the extreme of his weight and size, his fitness was one of the first things he changed.  Living a sedentary life for many years led him to his large weight gain and he knew he needed to change this, which is why he searched for a trainer.  After finding a trainer, he says that a large part of his program included cardio.  The trainer had him doing 40 minutes of cardio in the morning and 40 minutes at night for a total of 80 minutes spread out throughout the day.  Goodman says that he used to do a lot of walking for his cardio, but his knees were painful from the walking so now he does the elliptical and a recumbent bike.
Frequency.  His cardio was so imbedded into his daily life and routine that he was pretty much doing it every day.  In fact, he was working out at least six days a week, which is ideal for weight loss.  Included in his cardio was resistance band training, which is great for working the muscles for endurance.
Not Overdoing It. Goodman hired a health coach and trainer and while he says he breaks a sweat and works hard, his "secret" has been that he does not overdo it.  In other words, he does not kill himself on every workout, which allows him to be consistent with his training regimen and has allowed him to do 80 minutes of cardio every day.
Drop The Booze. One critical element of his training and lifestyle program is that Goodman dropped the booze.  He states that he was pretty much an alcoholic and when it came time for him to lean up and change his ways, he quickly dropped the booze.  This has been monumental in his weight drop and while alcohol provides a sense of relaxing, the body will add fat at a quick rate, not to mention the empty calories you get with each drink.
Food Choices. Another crucial element in John Goodman's weight loss program is his diet.  The start to his new diet was eliminating alcohol, but the other element he eliminated was added sugars.  Added sugars are a source of empty calories and nowadays, Goodman says he cannot tolerate sugar.  In addition to eliminating sugar from his diet, he credits maintaining his hunger levels by making smoothies with fresh fruit and whey protein powder.  He is lactose intolerant and cannot have lactose so much of his smoothies include soy products.
Protein.  Some experts credit weight loss with an increase in protein.  This is exactly what Goodman did.  He increased his consumption of lean meats and proteins to help stave off hunger. In addition to the addition of lean proteins, fresh vegetables were a low-calorie way to fill his stomach and prevent feeling tired afterwards.  Some foods included kosher hot dogs and other sources of lean proteins (fish, lean cut red meats, chicken) in addition to any fresh vegetables imaginable.
Tackling alcoholism
Goodman's moment of "clarity" came when he missed a rehearsal on "Roseanne" because he was out drinking with friends. That was when he knew that he needed to be hospitalized. His wife enrolled him in a treatment center in 2007 and has been sober since.
Goodman soon realized that the best way to stay sober was to avoid situations where he felt triggered to drink. He focused on only going places where there was positive reinforcement as he did not trust himself if the urge to drink was triggered. His ability to manage his drinking led to a significant weight loss. Goodman now spends time exercising on the elliptical and boxing instead of binging on alcohol or food.
Sources:
https://lucasjamespersonaltraining.com/john-goodmans-weight-loss-diet-workout/5665/
https://www.goodhousekeeping.com/health/diet-nutrition/a19632518/john-goodman-weight-loss/
https://www.suggest.com/the-truth-about-john-goodmans-incredible-weight-loss/177884/
https://www.altaloma.com/how-did-john-goodman-tackle-his-alcoholism/