Rafael "Rafa" Nadal Parera (born 3 June 1986) is a Spanish professional tennis player.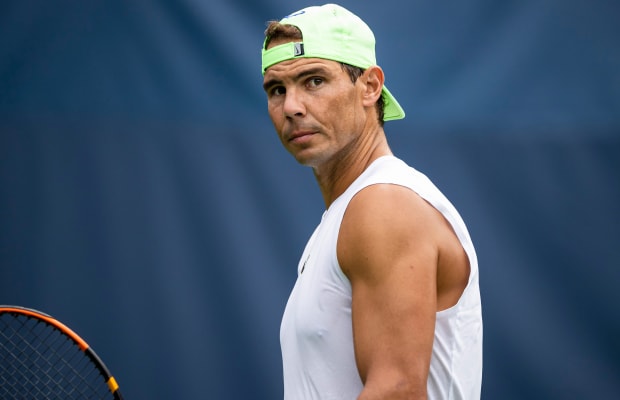 Hits the Ground Playing Tennis at 6 AM
Rafael begins his day with breakfast to fuel his body before hitting the tennis court. Practicing four hours a day on the court with strength training keeps him in tip-top shape.
Rafael starts off his workouts on a vibrating platform, which is a must for elite athletes such as him. His secret to reducing pain and soreness is by using this platform. This equipment also helps to contract muscles to promote flexibility and blood circulation. Additionally, it works to strengthen and improve range of motion. In his first half of the workout, he uses this machine to strengthen various parts of his leg muscles as well. Along with this, resistant bands are incorporated to strengthen his shoulders and rotator cuffs.
Workout Anywhere and Anytime
Rafael likes utilizing resistance bands because they are easier to use on-the-go and they effectively strengthen muscles in comparison to using free weights. His large biceps, triceps, and forearms can thank his resistance bands as these are the most important muscles a tennis player can have. Not to mention, Rafael is ultimately grateful for his natural strength as he comes from a family of athletes, which contributes to his athletic physique and endurance that he holds over many players that face him on the court.
Here is the inside peek to his workout regime:
He works on other muscles by doing a variety of exercises. Front bends are essential to his workouts because it fires up the muscles in his back, legs, and hamstrings. To further strengthen his upper body, push-ups, pull-ups, and parallel-bar dips are incorporated to target these muscle groups. He focuses on his core by doing a variety of plank exercises and utilizes the medicine and exercise ball to strengthen not only the muscles of his abdomen but the muscles of his lower back as well.
He rallies a medicine ball with his trainer and uncle, Toni, to engage various muscles as he twists with every catch.
To wrap up his workout routine, he ends with stretching. Stretching is important to every workout because it promotes recovery and helps reduce soreness as well.
1:30 PM – Free Time to Shares his Passion with Others
In his free time, this athlete dives deeper into his passion for sports and shares his talent, skills, and knowledge through charity. He is the co-founder of a charity called Fundacion Rafa Nadal, where his mission is to give children with disabilities empowerment and confidence through sport and community.
Rafael makes it a priority to perfect his skills and endurance, so he heads to the gym for a second time. You can find him on a treadmill or swimming in his pool. He loves doing aerobic exercise as he says, "Sometimes when I have pain in my knees, I do aerobic work by running in water up to my waist."
Always Room For Improvement
His dedication has a lot to do with this uncle and trainer, Toni, who is constantly pushing him to improve his skills.
"All that tension in every single coaching session, right from the start, has allowed me today to face up to the difficult moments in a match with more self-control than might otherwise have been the case. Toni did a lot to build that fighting character people say they see in me on the court."
7 PM – Friends, Family, and FOOD
Once he is all done at the gym, he spends time in the kitchen with family and friends. He tells GQ Magazine about his eating habits as he says, "I've never had a special diet. I'm not careful about that. It's just that before a match I won't eat a steak." However, he does implement eating fresh fruit and greens daily and bananas during matches to fuel his energy. Rafael says, "Seafood is my favorite – I love gambas a la plancha from Majorca."
He is not shy in the kitchen because his family owns a restaurant called Sa Panta. It is his favorite place for food as he says. "The combination of the ocean view, the service, and the food- I always order the catch of the day, grilled-make it a perfect spot."
Rafael is no superhuman, and he does love his indulgences when it comes to food. He is a sucker for chocolate cookies, Nutella, and French Fries.
12 AM – Anything But Bedtime Please
He keeps himself busy with his hobbies, passions, friends, and family until around midnight. He feels that he loses time when he sleeps. "I never like to sleep a lot, no," Rafa admits. "It is obvious when I am on competition and when I am practicing a lot I always sleep that eight hours that I need. But, no, I am not a big fan of being relaxed on the sofa, watching TV."
Soccer is the exception.
He'll stay up late or even get up early to watch a game, but he'll prioritize sleep, of course, to say hello to a new day of training, practice, and what he loves the most – tennis.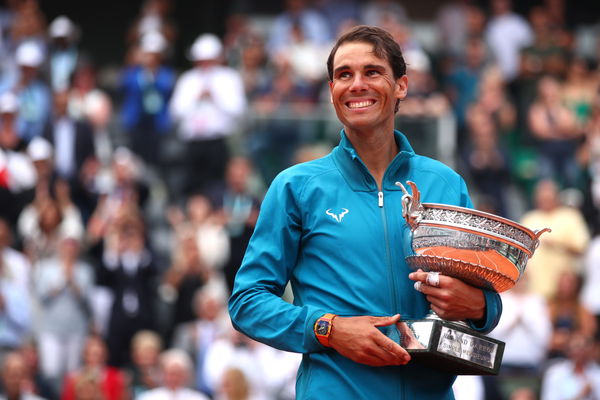 Diet Plan
If there's one consistent theme running throughout Rafael Nadal's diet, it boils down to a single word: seafood. Put simply, the man loves seafood and eats it pretty much every day. "Always seafood," he was once quoted as saying when asked about his diet. As such, he fuels up on everything from steamed fish to shrimp dumplings. Meanwhile, he eats meat when he feels like it, actively dislikes cheese, and presumably loads up on fruits and veggies when given the chance. He's also a huge fan of olives.
During gameplay, Rafa stays hydrated by drinking lots of water, as well as hypotonic beverages like Recuperat-ion Sport. After a brutal match, the Rafael Nadal recovery drink of choice is filtered seawater, according to his doctor. Reportedly, it's a good way to get important minerals back into the body.
Protein shakes are another Rafael Nadal recovery drink, as they assist with muscle regeneration. The jury's still out as to whether Rafa consumes energy drinks, but we do know he gets down with alcoholic beverages on occasion. He was a Bacardi brand ambassador, after all.
When not talking about his diet in a public forum, Rafa will sometimes post a meal or two to Instagram. As a result, it's not all that hard to conjure an idea of his regular eating habits.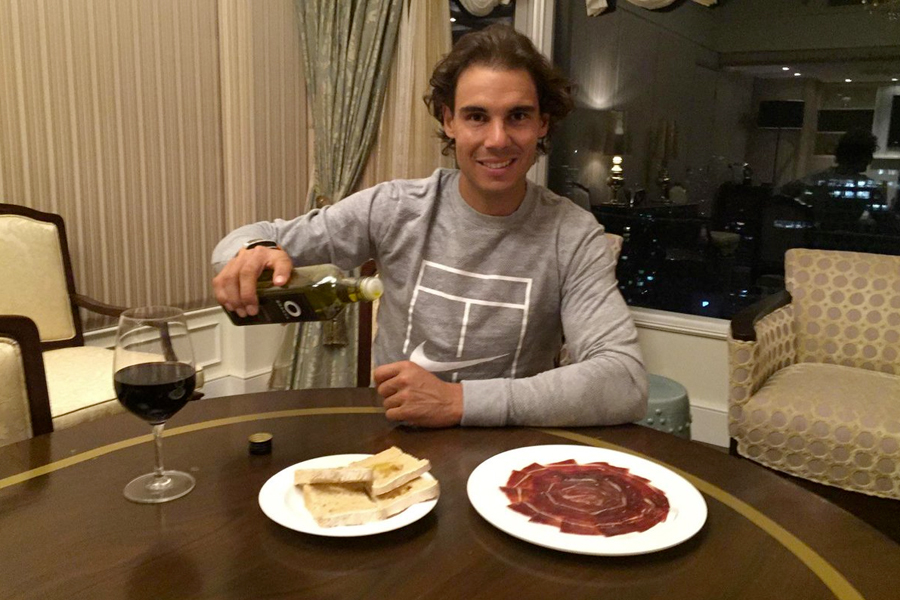 Workout Plan
While the exact details of Rafael Nadal's gym workout or training program remain under wraps, enough has leaked out to get a firm idea of how he stays in shape. Given his recent injuries, some exercises might have changed this year, but odds are he takes a relatively consistent approach from one season to the next.
It's also worth noting that Rafa's been genetically gifted with plenty of natural strength, talent, flexibility, stamina, and speed. Pair that with his training regimen and there's not much of a secret to his ongoing success. Collectively, it's allowed him to become an absolute master of the clay court, who's also no slouch on the grass or asphalt.
From Rafael Nadal's warm-up routine to his exercise ball workouts, here's an overview of his training program.
Practice
Tennis players like Rafa spend up to four hours practicing per day during the season, hitting the court after breakfast and not leaving until early afternoon. During practice, he's performing various tennis-related exercises, including short sprints, footwork drills, racket swings, and ball drills.
Gym Workout
As if four hours of tennis practice weren't enough, Rafa heads to the gym for more exercise. During the pre-season, he gets busy with the weights. During the regular season, he works on strengthening his core by way of various resources and routines. That includes the following:
Power plate – As a recurring warm-up routine, Rafael Nadal uses the power plate. A vibrating platform that contracts the muscles at very high speeds, it reportedly improves with blood circulation, muscle strength, and range of motion, all while reducing pain and aiding with recovery. He adopts various poses in order to cover the whole body and frequently returns to the machine throughout his workout.
Resistance bands – More than almost any other sport, tennis relies on sporadic bursts of movement and energy. To achieve maximum spryness, Rafa and numerous others employ a variety of resistance band exercises. By applying weight and pressure to the muscles and joints during training, these types of exercises enable strength and mobility during gameplay.
Core body workout – Along similar lines, a solid core remains utterly fundamental to a tennis player's overall success. If nothing else, it improves balance, stability, and stamina. To work his core, Rafa performs standing sit-ups (with resistance bands), push-ups, pull-ups, and medicine ball exercises. He also employs a variety of balancing acts and ab workouts atop the exercise ball.
Stretching – If you want to be a tennis star of Rafa's calibre, expect to stretch before pretty much any and all physical activity. If he's anything like Roger Federer, he stretches for up to an hour every morning. Then he stretches again both before and after practice, and before and after his gym workout. It's the only way to keep those muscles spry and ready for anything.
Sources:
https://owaves.com/day-plan/day-life-rafael-nadal/
https://celebanswers.com/what-is-rafael-nadals-daily-routine/
https://manofmany.com/lifestyle/fitness/rafael-nadal-tennis-diet-workout-plan