Stefani Joanne Angelina Germanotta (born March 28, 1986), known professionally as Lady Gaga, is an American singer, songwriter, and actress.
Lady Gaga's Daily Routine while on Tour:
6AM ~ Wake Up
630AM-730AM ~ Meal #1, Mindful Thoughts
730AM-830AM ~ Write Music
9AM-1030AM ~ Bikram Yoga
11AM ~ Meal #2
12PM-3PM ~ Afternoon Nap
3PM ~ Meal #3
330PM-5PM ~ Relax
5PM ~Meal #4
6PM-730PM ~ Concert Preparation
730PM-10PM ~ Concert
10PM-12AM ~ Fan Meet and Greet
12AM ~ Meal #5, Travel to Airport
1AM ~ Travel to next concert location & Read Fan Mail

Early Motivation
When Lady Gaga was in university, there was a Facebook group called "Stefani Germanotta, you'll never be famous" and now she is the FIRST woman in history to win an Oscar, Grammy, BAFTA and Golden Globe all in the same year.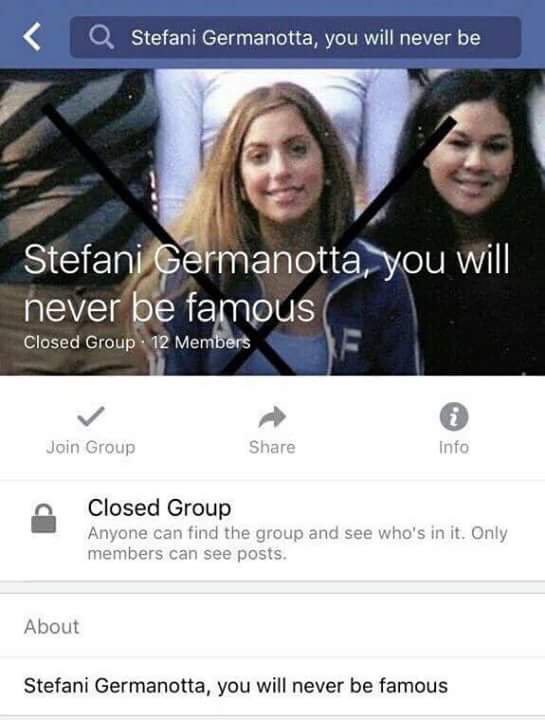 Bikram & the 5 Factor Diet
When it comes to health and fitness, Lady Gaga has maintained a consistent regimen that keeps her focused and on track. As far as fitness goes, she loves to practice Bikram Yoga with her long-time NYC trainer, Tricia Donegan. It keeps her balanced and heals her "inside and out." Additionally, she works out five days a week, at least twenty-five minutes a day, to keep her physique.
Gaga also follows Harley Pasternak's 5 Factor Diet which includes five meals a day with five core ingredients: lean protein, fiber, healthy fats, complex carbs and sugar-free drinks.
Self-Compassion and Downtime
Gaga has a few things she loves to do outside of performing for her beloved fans and creating new music in the studio. Off stage, Gaga spends most of her time creating and visualizing what her next performance will look like.
Gaga has made it a habit of waking up every morning and spending 5 minutes thinking compassionate thoughts about herself. She proclaims, "Love who you are, you are all that you got." This is incredibly powerful for Gaga, who spends most of her life in the shining light of others and has to constantly be reminded of the public's opinions.
Additionally, her fans have supported her in her transformations throughout the years. Asked what she is currently reading, she mentions her fans' stories: "There are all kinds of stories, all kinds of backgrounds, all kinds of journeys."
When asked what one of her favorite movies is, Gaga eagerly mentions Rocky IV. Whenever she has down time, she'll watch the movie to remind herself of her journey to the top. Her French bulldog, Miss Asia Kinney, will occasionally make appearances with her in matching outfits. Their biggest appearance together to date is on the front cover of Harper's Bazaar in 2014.
Concert Preparation
Before Gaga goes on stage to perform in front of thousands, she'll spend some time relaxing beneath pictures of Elton John, Jimmy Page, and John Lennon, among others. She loves to surround herself with the energy of her idols. In her dressing room, you will find a box of vinyls that she takes on the road with her, alongside gifts from her fans—amongst all, a plethora of unicorns.
Occasionally, Gaga will have her family or friends visit while she is on tour. She'll spend some time with them before she gets ready to go on stage.
"I don't feel alive unless I'm performing, and that's just the way I was born."
Gaga has her personal chef prepare her nutritious meals
Aside from getting her daily exercise in, Gaga's nutrition is ultra important, and she sticks with nutritious meals while she's on and off tour. Self talked to Gaga's longtime friend and tour chef, Bo O'Connor, about what the superstar loves to eat — and O'Connor explained she likes to prepare meals that are packed with nutrition and filling to keep Gaga going all day long. A typical meal would include quinoa, with beans, veggies, and shrimp, for example. And if the singer wanted something akin to a cheat meal, O'Connor explained she would prepare her a turkey burger and homemade sweet potato fries instead of fast food.
Sources:
https://owaves.com/day-plan/day-life-lady-gaga/
https://www.cheatsheet.com/entertainment/lady-gagas-daily-routine-and-how-shes-already-preparing-for-the-2019-academy-awards.html/
https://www.independent.co.uk/life-style/health-and-families/health-news/lady-gaga-s-diet-5524990.html
https://theworld.org/stories/2016-01-17/when-they-dissed-future-lady-gaga