Michael Joseph Jackson (August 29, 1958 – June 25, 2009) was an American singer, songwriter, and dancer. Dubbed the "King of Pop", he is regarded as one of the most significant cultural figures of the 20th century.
He may have been the world's most famous pop star, but Michael Jackson was a sad, lonely figure who lived for his children and longed for a more normal life.
So say his two bodyguards, Bill Whitfield and Javon Beard, who were with him virtually 24/7 during the last two-and-a-half years of his life.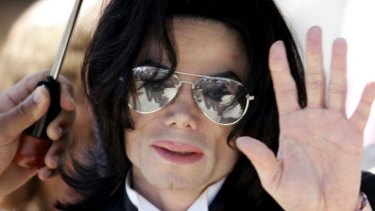 Now, almost five years after his death, they have written a book about Jackson's final years in seclusion with his children, his financial crises and the weeks leading up to his death on June 25, 2009.
It aims, they say, to set the record straight and paints a picture of a superstar who, despite his eccentricities, was a good father to Prince, now 17, Paris, 16 and Blanket, 12, but had become trapped by his own success and was tormented by paranoia, loneliness and isolation.
"We worked for Mr Jackson, we didn't work for the King of Pop," says Whitfield.
"We got to see him as a man and a father. It was so good to see the side of him which was so in tune as a parent, from helping them with their homework and making sure they were eating right, to putting them to bed."
Jackson, whom the two refer to as Mr Jackson, left his self-made sanctuary in Neverland a broken man after the 2005 trial in which he was acquitted of child sex abuse charges. After moving from city to city in virtual seclusion, he finally settled in a Las Vegas mansion, which he hated.
"He was certainly eccentric," Whitfield, a former policeman and veteran of the security profession, recalls. "He would go into a store and buy everything. When we were staying in hotels, he would buy thousands of books. At one point, he bought a whole book store."
He travelled from state to state with a silver briefcase containing two Oscars from Gone With The Wind, which he'd bought at auction for $US1.5 million ($A1.62 million), and another containing thousands of dollars.
"Being able to have accessibility to anything he wanted wasn't unusual. Lots of celebrities carry cash," says Whitfield.
At home, he hoarded hundreds of bottles of Tabasco sauce, danced on his own until 4am, allowed his family to see him only if they booked an appointment and worked on elaborate disguises, from being dressed in the searing heat of Las Vegas as a biker, complete with crash helmet and leathers, to wearing bandages on his face. His children, too, always wore masks when they were out.
"That's all they knew," Beard reflects. "They knew to cover up and call each other code names in public."
His children didn't know he was branded 'Wacko Jacko' in the media, Beard continues.
"He was hurt by the headlines. He didn't have any internet in the house, he didn't allow the kids to use the internet. They couldn't watch regular TV, so they never saw how he was portrayed in the media."
Jackson held lavish birthday parties for his children with clowns, magicians, huge cakes and balloons, but nobody came apart from their teacher, the nanny and the security guards. They were home-schooled, they didn't have any friends.
Toy shops would be closed so they could shop undisturbed, entire cinemas rented out to them, all employees were strictly vetted, while visiting workers had their mobile phones removed and were made to sign elaborate non-disclosure contracts before entering his property.
Thousands of dollars in surveillance gear covered every inch of the property, panic buttons were installed in different rooms and armed security guards patrolled the grounds. But Jackson still went door-to-door checking the locks, and he often checked that Whitfield and Beard were in their security trailer outside the house.
At the peak of his success, Jackson was worth a reported $US700 million ($A757.37 million), but at one point his finances were in crises due to severe mismanagement, say the authors. It led to credit cards being declined, while Beard and Whitfield weren't paid for four months.
"We stayed because of our loyalty to him," says Beard. "We knew he wasn't in control and we didn't want to bother him about it. In some walks of life, he was naive. Other people took care of payroll and salaries. I don't think he was ever totally broke. It's Michael Jackson, he could never be broke.
"When you have that much money, you hire accountants, lawyers, managers – and it's really hard to keep track of things. Some of the most ridiculous lawsuits were taken against him. People knew after the trial that he didn't want to go to court any more, so instead of fighting it in court, he would just settle. He was a target for lawsuits."
"He was very hurt about all the (sexual abuse) allegations," Beard continues. "I'm a father myself and I wouldn't have worked for him if I'd had any doubt about him. He wouldn't hurt a fly."
"I don't think he could ever see himself settling down, because his life was so chaotic," says Beard. "His happiest time was when he was with his kids."
Jackson died on June 25, 2009 from an overdose of the anaesthetic propofol. His doctor, Conrad Murray, was later convicted of involuntary manslaughter and sentenced to four years in prison (he served two).
Sources:
https://www.smh.com.au/entertainment/celebrity/guards-tell-of-life-with-michael-jackson-20140612-zs4mg.html
https://www.telegraph.co.uk/comment/personal-view/3615616/Theres-never-a-dull-day-with-Michael-Jackson.html