Arianna Stassinopoulos Huffington (born July 15, 1950) is a Greek-American author, syndicated columnist and businesswoman.
On 6 April 2007, the Huffington Post co-founder woke up in a pool of blood, after collapsing from sleep deprivation and exhaustion. It was from that point on that Huffington made a drastic change to her lifestyle, "for me, that day literally changed my life. It put me on a course in which I changed how I work and how I live," and led to the launch of Thrive Global.
We founded The Huffington Post in 2005, and two years in we were growing at an incredible pace. But after my collapse from exhaustion and sleep deprivation, I had to ask myself, was this what success looked like? Was this the life I wanted? I was working 18 hours a day, seven days a week, trying to build a business, expand our coverage and bring in investors.

INTERVIEW: ARIANNA HUFFINGTON | BRUNSWICK GROUP
As one of the most prominent advocates for work-life balance and getting enough sleep, Huffington has spent over the past decade, fine-tuning and refining her routine to get the most of her day while maintaining balance in her life.
On an average day, Huffington doesn't get up with an alarm, waking up naturally after she's had her 8 hours of sleep, usually around 7am. She avoids looking at her phone first thing in the morning, instead, taking some time out to meditate, or on some occassions, write down her dream.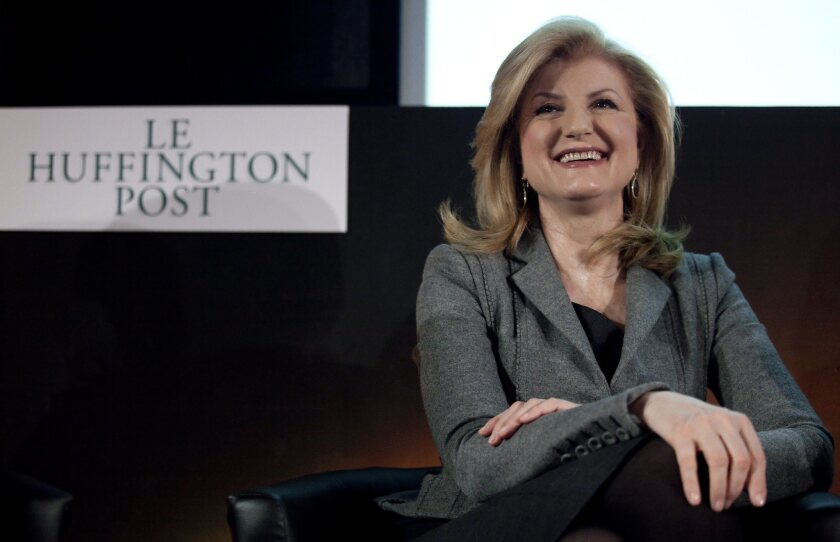 In an interview on the Tim Ferriss Show, Huffington revealed that she drank bulletproof coffee every morning and avoided breakfast, with lunch being her first meal of the day.
Every morning, I have coffee, bulletproof coffee for breakfast which is, basically, as you know, coffee with organic butter. Then I don't really like breakfast in terms of food. I was brought up in Greece and people don't have breakfast. They have coffee. Like a good Greek peasant girl, I don't really eat until lunchtime. If you want to know what is my favorite food at lunchtime, it's breakfast.

ARIANNA HUFFINGTON, MEDIA MAVEN (#274) | THE TIM FERRISS SHOW
On the days she's at home, Huffington will exercise for 30 minutes on her stationary bike, at which point she'll also check her emails — followed by 5-10 minutes of yoga stretches.
Since stepping down from her position as editor-in-chief of The Huffington Post in August 2016, Huffington has devoted most of her time to running Thrive Global, whose mission statement is "to end the epidemic of stress and burnout by offering companies and individuals sustainable, science-based solutions to enhance both well-being and performance."
She has also published several books on the subject, including 2014's Thrive: The Third Metric to Redefining Success and Creating a Life of Well-Being, Wisdom, and Wonder, and The Sleep Revolution: Transforming Your Life, One Night at a Time published in 2016.
Through Thrive Global, Huffington has campaigned strongly for normalising getting enough sleep. In 2018, after Elon Musk had confessed in interviews that he had been working upwards of 120 hours a week, Huffington penned an open letter calling out his lifestyle approach as "wildly outdated, anti-scientific and horribly inefficient way of using human energy."
"The future of Tesla depends on you coming up with your masterpiece.
It doesn't depend on how many hours you're awake. Tesla — and the world (not to mention you and your beautiful children) — would be better off if you regularly built in time to refuel, recharge and reconnect with your exceptional reserves of creativity and your power to innovate.
Working 120-hour weeks doesn't leverage your unique qualities, it wastes them. You can't simply power through — that's just not how our bodies and our brains work."
At the end of her day, Huffington will turn off all her electronic devices and leave them out the bedroom. "Sometimes I have a cup of chamomile or lavender tea if I want something warm and comforting before going to bed," she told My Morning Routine. "I love reading real, physical books, especially poetry, novels, and books that have nothing to do with work." Huffington will be in bed usually by 11pm on most nights.
My single most effective trick for getting things done is to stop doing what I'm doing and get some sleep. There is nothing that negatively affects my productivity and efficiency more than lack of sleep. After years of burning the candle on both ends, my eyes have been opened to the value of getting some serious shut-eye.

STARS! THEY'RE JUST AS DISORGANIZED AS US! | SLATE
How has your morning routine changed over recent years?
I've made small changes over time; for example, when I lived in Los Angeles I was fond of morning walks and hikes. I'm very open to experimenting – I'm sure before long I'll learn about something new I'll want to add to my routine.
What time do you go to sleep?
Most nights I'm in bed by 11:00pm, and my goal, as we joke in my family, is to always be in bed to catch the "midnight train."
Sources:
https://mymorningroutine.com/arianna-huffington/
https://balancethegrind.co/daily-routines/arianna-huffington-daily-routine/