Behati Prinsloo (born 16 May 1988) is a Namibian model.
When I wake up, it's usually because the baby's crying. My husband and I go get her, and I'll make coffee, with almond milk—no sugar. If I have time, I'll drink water with lemon first—it always makes me feel good. I give Dusty her breakfast, and Adam takes over while I brush my teeth and wash my face.
The first thing I use on my skin is SK-II Facial Treatment Essence, which I pat on all over—my skin tends to be on the dry side, and this makes it feel more hydrated, radiant, and toned. After that, I usually use the SK-II R.N.A. Power Eye Cream. I love Luzern's Force De Vie Crème Luxe moisturizer because it's really clean, so if I'm not going outside, I'll use that. Otherwise, I'll mix it with a non-greasy SPF during the day. I've been rebuying Control Corrective; it's my staple.
Next, I curl my lashes—I don't put mascara on every day, but I definitely use lip balm. When I was pregnant, Lily Aldridge gave me this whole bag of Windsor Edwards lip balm—it's all-natural, with peppermint and eucalyptus, so it's a little cooling. I can't live without it. If it's a no-makeup day, that's it. When I do wear makeup, I love Josie Maran's—it's easy to use.
For breakfast, I'll make eggs with a piece of toast and avocado, or I'll do oatmeal with berries and honey—that's usually my go-to. We're also a big smoothie family.
Dusty usually takes a nap around 9:30 or 10 a.m.—that's when I'll work out. I do yoga to stretch and get my body moving—it's my form of meditation. My teacher is Jennifer Perry. Adam trains with her husband, Chad Dennis. They're longtime friends of ours and just opened their own studio in Los Angeles called Roam. She usually comes to me, and we do vinyasa—a lot of movement, not a lot of standing poses. I've also been really loving Body by Simone, which is more cardio and some floor Pilates. It wakes me up and makes me feel really good.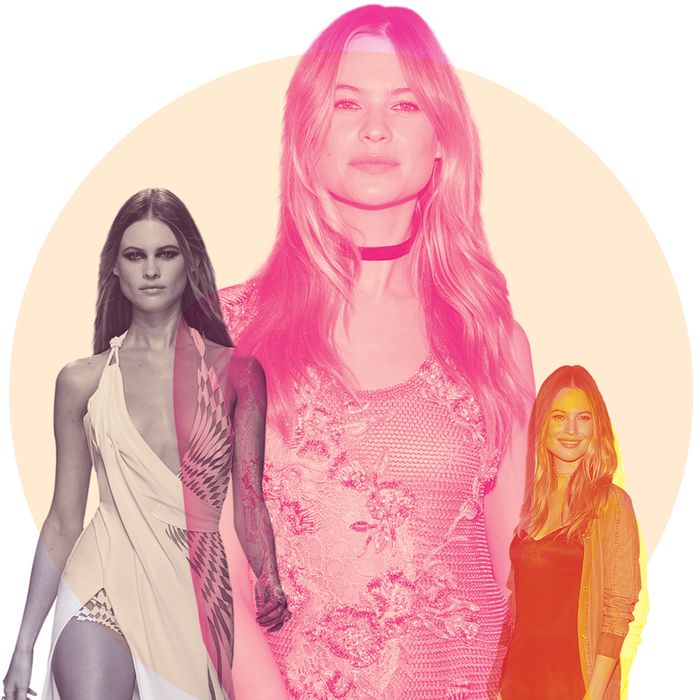 BREAKFAST
Breakfast is Behati's favourite meal of the day. She always wakes up and has a coffee with almond milk, and what she eats depends on if she is at home or out at a café. If she's at home, she'll make either oatmeal with berries and honey, or avocado toast with two eggs on the side.
If she's headed out to have a social breakfast, she'll enjoy an omelette or eggs benedict.
LUNCH
Behati often enjoys having healthy kale and quinoa salad. And she usually adds some lean protein to it, usually grilled chicken breast.
DINNER
She's a huge sushi fan, but she'll only have it with brown rice instead of white. She'll have six pieces of salmon and tuna sushi, and she'll pass on the soy sauce as well.
SNACKS
Behati's go-to snack consists of a handful of golden berries, pumpkin seeds and organic almonds.
RELATED POST: VICTORIA'S SECRET DIET PLAN
WHAT DOES SHE DRINK?
Behati makes sure to drink plenty of water every day. She'll easily drink 2 or 3 litres as well as some coconut water.
ANY FOODS SHE AVOIDS?
After having kids, Behati started to realise how bad processed food actually is. And after watching the documentary What the Health, she's decided to make some serious changes to her diet. Now that she thinks a lot more carefully about where her food comes from, she will never eat bacon or hot dogs again.
BEHATI PRINSLOO WORKOUT ROUTINE
Behati says her workouts need to be scheduled because she has two young daughters at home with her. She usually does a workout when one of her kids is having a nap. But she doesn't necessarily work out every day. Some weeks she'll feel really committed and do it 3 or 4 times, and other weeks she may only be able to go for a long walk or to the beach.
So, what kind of workouts does she like to do?
BODY BY SIMONE
One class that Behati enjoys is Body by Simone. She finds that it's a good cardio workout, but not too technical and boring. She says that dance moves these classes incorporate help her relax and have fun while working out.
SWIMMING
Behati loves swimming. She says the beach is where she feels at home, and she used to swim a lot while she was at school. So now she likes to find a pool or a beach and just swim. Swimming is a great cardio exercise, and Behati finds that it also helps her tone her arms and core.
PILATES
In order to make her more flexible, leaner and stronger, Behati does Pilates on the Pilates reformer machine as well as other traditional exercises. She does Pilates all year round.
RESISTANCE BANDS WORKOUTS
One thing that Behati always carries with her in her luggage when she travels is resistance bands. This way she can do all sorts of exercises while she's in a hotel room in front of the TV. And she also uses them at home. She finds that using them really helps to tone and build muscle without making her bulky. Resistance bands are really handy and I know that Izabel Goulart, Sara Sampaio and Lorena Rae also travel with their resistance bands 🙂
OTHER ACTIVITES SHE ENJOYS
Since she loves swimming so much, it's not surprising that Behati also surfs and enjoys paddle boarding. Paddle boarding is definitely a lot tougher than it looks. But it's a good exercise as it helps with your overall strength and balance.
Sources:
https://www.rachaelattard.com/behati-prinsloo-diet-workout-routine-model/
https://www.thecut.com/2017/09/victorias-secret-behati-prinsloo-workout-routine-and-diet.html
https://www.wellandgood.com/behati-prinsloo-morning-routine/