According to the tennis documentary Fire and Ice, he would sleep naked in a room that was 68 degrees (or something close to that) every night. He would run around the Swedish mountain trails near his home daily to build endurance, he basically could not get tired from a tennis match because of this, said so himself. Running was the biggest thing for him, as well as keeping to strict routines before matches, such as the sleep schedule, or driving the same route to the tournament from the hotel everyday. He also would test out the tension of 20 or so rackets before the match, usually standing on the racket string bed himself to make them to his exact liking. Also he would spend a larger amount of time than he'd like to admit getting his hair right.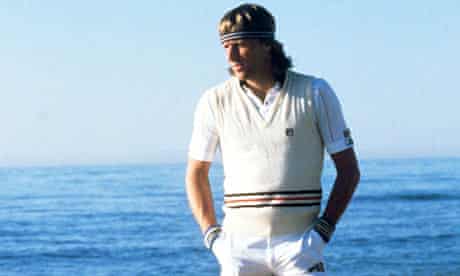 The following is from a 2009 interview:
Are you healthy?
I'm very healthy. Health, for me, is the number one thing. I like to exercise every day and I try to stay at the same weight. If I'm ill it's OK – I'm a pretty strong guy: my personality's pretty strong, my tolerance level is very high. My wife would say that when I'm ill I'm like a big baby, but I have to feel really sick to lie in bed.
What exercise do you take?
I play five hours of tennis every week. I play with three teenagers. It's good practice for me, it's good practice for them, and I can give them good advice, so everybody appreciates it.
How do you relax?
Just being at home with my wife and the kids. I'm a real family guy, so just to be at home in your own place, sleep in your own bed and do your own thing is the best relaxation you can have. Also, in the summertime in Sweden one of our most popular hobbies is sailing. Having the freedom to go out on the water makes me very relaxed.
How much sleep do you need?
Usually six or seven hours. We have a routine in our family, so we wake up at 6 o'clock in the morning, we take the kids to school, I do my training, I go to the office for the Björn Borg Clothing Company, then in the afternoon we pick up the kids and do their homework with them. I think I have the perfect life. I'm very, very happy and very satisfied with what I'm doing, and I think that helps you to sleep. If I relax mentally and I feel like everything is in harmony, I sleep like a baby.
Attitude to smoking?
My wife used to smoke a little bit but she doesn't smoke any more – no one smokes in our family. When we're home, if someone is smoking around the kids and babies I don't think that's too healthy, but I have nothing against people who smoke. I tried it at parties and things, but it's not me.
Attitude to drugs?
I think it's very sad in sport, for instance. When I was playing drugs didn't exist in sport. In terms of drugs in society, I'm just worried about my kids – that nothing is going to happen to them. I'm telling them every second day, because in this world they're going to come into contact with drugs and it's very, very dangerous. It's a very scary subject.
Bjorn Borg's Lucky Beard
And finally, the most famous tennis superstition of all: the facial hair of the great Bjorn Borg. This particular superstition only pertained to Wimbledon, so it was not seen as frequently as some of the others on this list. That made it no less entertaining, though.
Before each Wimbledon campaign, Borg would grow a beard in time for the start of the first round. His "lucky beard" seems to have helped; the seasons of 1976 to 1980 saw five straight titles for the Swede.
The success that his beard brought him was apparently very impressive to athletes of other sports. Since then, individual players and entire teams, including the 2009 Detroit Red Wings and Ben Roethlisberger of the 2006 Pittsburgh Steelers, have used the same strategy.
Sources:
McEnroe/Borg: Fire & Ice
https://www.theguardian.com/lifeandstyle/2009/jan/18/bjorn-borg-health-wellbeing
https://bleacherreport.com/articles/1118208-5-greatest-routines-and-superstitions-in-tennis