Carla Bruni-Sarkozy (born 23 December 1967) is an Italian-French singer-songwriter and fashion model.
Routine
"France is where I grew up, but Italy has my branches. Both of my parents are musicians, and in my family, music was another child. The music I grew up on is a lot of what's on the cover album I just put out. It's a bunch of songs I used to listen to as a teenager and play on my guitar—maybe the wrong way, but still playing, right? I get so much pleasure and have so much fun doing it. I'll listen to anything from Willie Nelson to Serge Gainsbourg to Billie Holiday to Bob Dylan to Bauhaus to Charles Aznavour, The Stones, Maria Callas… Basically anything. [Laughs] I think music has probably built some of my subconscious.
At the time, I was modeling and would bring my guitar with me everywhere—the photoshoots, the fashion weeks, the collections. Everything. And then because we were working starting at 7:00AM, instead of going out, I would just play guitar in my bedroom. I like to sleep, and I like quiet time. So then, I started writing little poetries and melodies and finally started putting them together on my own. I'm a folk singer, so I like things acoustic and personal. It's a miracle when people like something! I got very lucky because people were curious about my music because of modeling, even though my music has nothing to do with modeling. For stage fright, there isn't much to do but wait. If it really gets bad, I'll get a beer. [Laughs] But only one of course—you don't want to be drunk on stage. That would be a drama.
Makeup
I do my hair and makeup myself when I go onstage. It's part of my routine and I would say it takes about 30 minutes. After modeling for so many years, I learned a lot—I just don't wear quite that much makeup every day. I do use a lot of professional products because I'm lucky enough to have a makeup artist so I can copy her. [Laughs] The new YSL Tatouage Matte Lip Stain is fantastic, I'm wearing that today. I like very natural cheek blush and I like a very light fresh gloss instead of heavy lipstick. When I don't have such a great makeup artist around, I go very, very soft on my skin. When you're 15 years old, you can cover yourself with makeup, but when you're past 30, you can be lighter with your hand. It's better to concentrate on having good skin. For instance, instead of using foundation, I would use a BB or CC cream. I like Erborian's CC Cream—delicious smell. You spread it all over, it unifies your complexion, but doesn't cover you up. Maybe on the nose, I would use a little blot powder to avoid a sweaty look in my T-zone, and a very good moisturizer underneath.
Skincare
I like pharmacy creams with not too much smell. Ones with simple textures that are still very moisturizing, like Avène or La Roche Posay. I like the ones that are deeply moisturizing because my skin gets really dry. Before I go to a big event, maybe I'll do a little mask. I like those Clarins patches you can put under the eyes. I'll do a little detox mask, and after will follow it with a clay one. Maybe a little steam bath. Borghese is a wonderful brand, great products. It is very old-school but it smells so wonderful.
I have sensitive skin, so what I like is facial massage. It gives you a real glow, gets rid of puffiness, dryness, and it brings oxygen to your skin. My personal massage therapist lives in Paris—if you come to Paris I'll tell you.
Night
When I'm getting into music, I often have bangs. When I'm back into modeling or my real life—no, I don't really wear them because they stick to your forehead. I have a very good hairdresser in Paris called Maxine. He's great. I like my hair to be dark, but my hairdressers have been using products that are much less aggressive and when you wash it, the color washes away. I use an iron to style it before I go onstage to give the hairs a little movement. Just the ends, and not too straight, because my hair is already straight.
At the end of the night, I take a hot bath with some nice perfumes or oil. Lavender I love, as well as santal, and musk. I try to put a little essential oil and put a little arnica and relax. And maybe have a cold beer—in my bath. [Laughs]"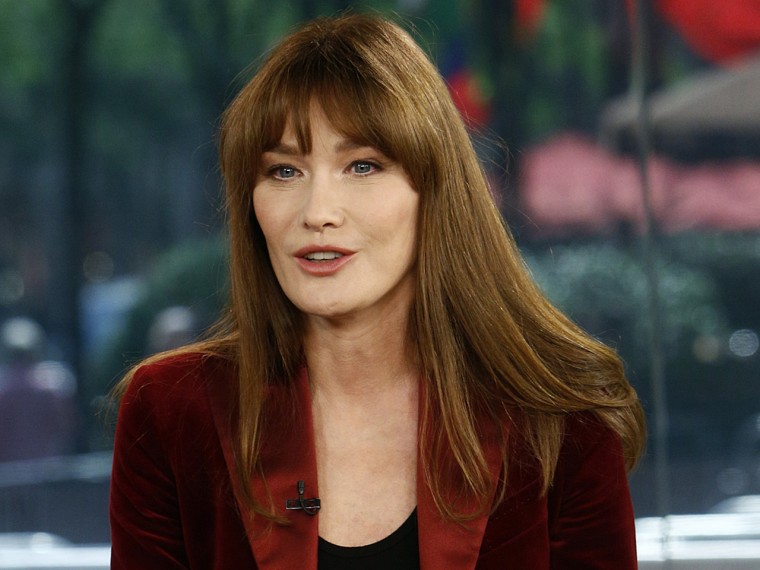 In an interview with PasteMagazine.com:
Paste: As an ex-model, it must have been interesting to watch the traditional concepts of beauty and fashion suddenly lose everyday importance. Many women even swore off ever wearing high heels again.
Bruni: Yeah. But I don't believe in definite change, for some reason. There was a change, so now the change is there. But people will go back to doing what they were doing before. People keep saying, "Oh, after the coronavirus, the whole world is going to be different!" But I don't think you're going to see people really changing. We'll go back to being as silly as we were, and as good as we were—we're not only silly. But I just don't see us changing.
Paste: Well, how did you set up shop for your album on that property?
Bruni: I wrote constantly. I would wake up in the morning, have my coffee and exercise, then help my daughter [Giulia, 9] with school online. That was my morning routine. Then in the afternoon I would just hang out and cook and do stuff like that, because there was always a lot to do. And then when everybody went to bed, I started writing my music and recording it. And I had a special room for it, which was just a small room in the house where no one would go. So I would spend my time there and more or less work until 2:00 a.m. And I'd brought my microphones and I had my piano and guitars there in the South of France. So I was in a good situation for writing, you know? I wouldn't say it was inspiring, but I would say that it was a special situation, a special situation where something good actually came out of it.
Sources:
https://www.wsj.com/articles/carla-bruni-received-the-same-piece-of-advice-from-her-husband-and-grandmother-11602506744
https://intothegloss.com/2017/12/carla-bruni-beauty/
https://www.pastemagazine.com/music/carla-bruni/carla-bruni-interview/