Courtney Michelle Love (née Harrison; born July 9, 1964) is an American singer, songwriter, and actress.
"Every day I have my house manager, Hershey — who I stole from the Mercer Hotel with André Balazs's blessing — wake me up with a hot washcloth for my face, a leg rub, and a plate of toast soldiers."

Love's immense wealth (or, at the very least, wealthy spending habits) becomes immediately apparent when she reveals that every day begins with a breakfast in bed and a leg massage from her house manager, though things truly become interesting when she discusses her strange sugar habit that, along with keeping a fresh cake in her house at all times (a tip she picked up from L.A. neighbor Paris Hilton), involves eating sugar every morning from 4-5 a.m — a dependence she claims took the place of her drug addiction:
My whole 4 a.m. to 5 a.m. sugar thing is a problem. When I lived at the Mercer Hotel, they literally called an admin meeting on how to make the perfect warm sugar cookie for me in the middle of the night. Last night I got into some Jeni's Ice cream in Ugandan Vanilla Bean. I stopped doing dope in the nineties, but I've had to eat sweets at 4 or 5 a.m. ever since.
She then adds, "I hate chocolate. Fuck chocolate. Kurt hated chocolate, too – that was one of the things we had in common."
The food journal itself is rather limited, considering that Love eats basically the same thing any day of the week (sugar, toast, potpie and potato salad), however, the topic does lead to some engrossing, albeit bewildering, commentary on her own health and physique:
Sometimes I forget to eat. Right now I'm 125 pounds and five foot, eleven inches, but my "rock weight" was 160. I think I'm a sexy beast at 160, but Gwyneth is the one who told me that if you want to act, and I do want to get back to acting, "You are your own advertisement."
Love also theorizes on her own body chemistry:
My testosterone level is 358, which is crazy because I don't have a beard, no acne, and I'm not a lesbian. You know that fat chick with zits who thinks she can steal your boyfriend because she believes she's actually hot? That's her testosterone talking! But I also have more estrogen than normal. So doctors expect me to have a beard and these massive Dolly Parton tits. I'm explaining this to help understand why maybe my diet is odd.

Diet
In a 2007 article, Courtney Love claimed her macrobiotic diet made her fat.
The singer-and-actress gained weight by binging on macrobiotic food, and only achieved her current slim figure by locking her fridge and replacing meals with diet shakes.
Courtney told People magazine: "I gained 40 to 50 pounds on macrobiotic food.
"I did a photoshoot for Italian Vogue and realised I was 182lbs. At the time I had Gwyneth's cook who does macro food.
"I thought, it can't make me fat – he's Gwyneth's cook! But I saw those pictures and thought 'Oh my God!' 182 lbs. does not look good on me. Nothing fit.
"I put the non-Photoshopped pictures on my fridge and had a lock fixed on it. My daughter Frances has her carbs in one drawer. I don't know where it is. I drink shakes and exercise my butt off. No carbs – two shakes and a fish meal. Fish and broccoli really does work!"
Now the widow of Nirvana rocker Kurt Cobain is selling her pre-diet clothes to raise money for charity.
She said: "All my size 6s and 8s are on eBay. Most of the money is going to the Chrysalis Foundation for battered women in Los Angeles. The other is Fair, which is fairness and accuracy in reporting which is a media watchdog group. They're both fabulous."
Courtney also revealed she is desperate to find a new stylist.
She said: "I haven't had a stylist in nine years because my old stylist went to Madonna.
"I've been looking and looking. I'd rather wear a tube top and have my stomach hang out than not have a good stylist."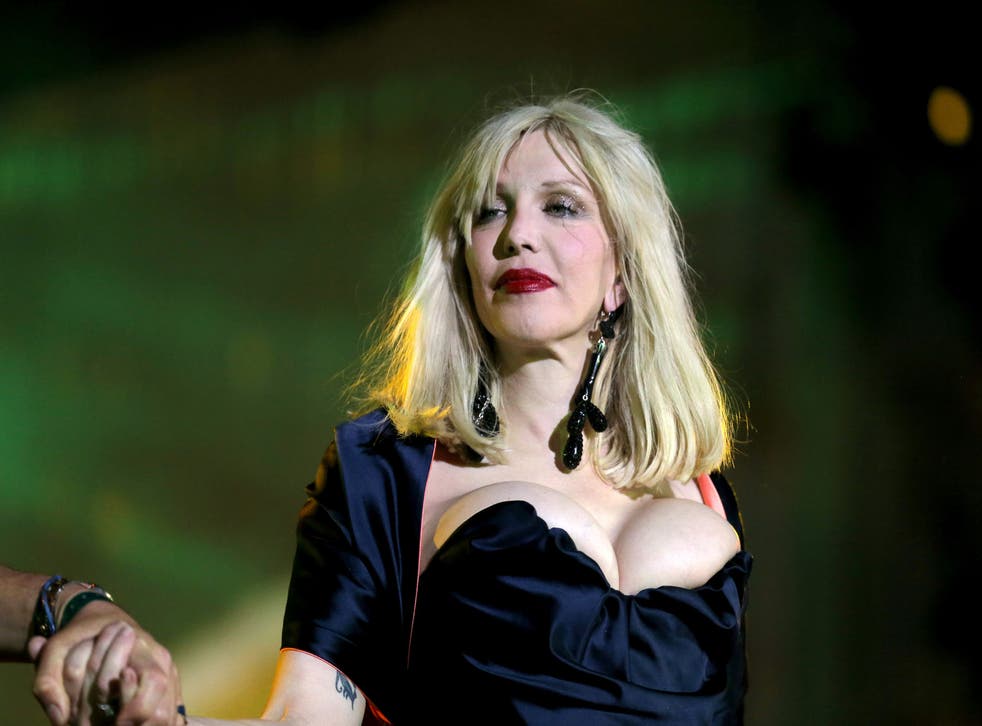 Sources:
https://www.vulture.com/2012/05/courtney-love-leg-rub-morning.html
https://jezebel.com/courtney-loves-food-diary-is-as-intense-and-mesmerizing-5907726
http://archive.boston.com/ae/celebrity/articles/2007/07/05/courtney_loves_fat_diet/