Heath Andrew Ledger (4 April 1979 – 22 January 2008) was an Australian actor and music video director.
'He'd sleep either zero or two hours a night for years. He would call people up in the middle of the night.'
"Heath was very private. He didn't even like any of that behind-the-scenes stuff, like DVD extras," says Matt Amato, 49, who co-founded a production company, the Masses, with the late actor and producer Sara Cline.
"He really loved being a magician. I can just hear him — he'd be like, 'Matt, don't! That takes the fun out of what we do! Let's just put on the show!'"
Ledger made his good friends early and stuck with them, the documentary shows; he also used his fame and fortune to help fellow Aussie actors, whom he'd invite to crash at his mansion indefinitely (to the palpable annoyance of Watts, in one clip). All attest to Ledger's lust for life and his obsession with bettering himself as an artist, usually by turning his camera on himself.
Still, friends say they worried about his inability to turn off his manic energy and sleep, a problem that plagued the actor for years. "He'd sleep either zero or two hours a night for years," says Murray. "He would call people up in the middle of the night." Harper tells a story about Ledger's tendency to show up unannounced for breakfast at 6 in the morning.
But they all say he was in good spirits after "The Dark Knight," which had been rumored to have turned Ledger's typical obsessive role preparation into genuine mental illness.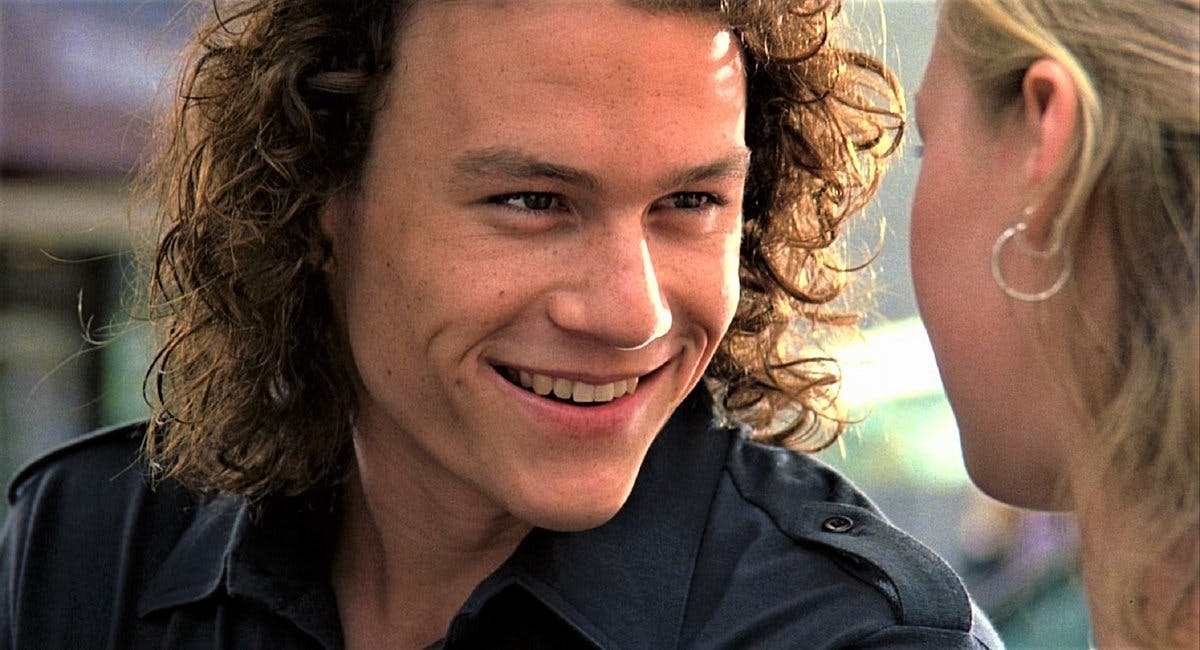 Ledger was thinking about owning his own restaurant.
Like many celebrities, Ledger dreamed of opening a restaurant and bar in Brooklyn, New York. And technically, he did. He just wasn't alive to see the finished results.
Ledger reportedly scouted out the location of the restaurant while skateboarding.
Skateboarding was one of Ledger's hobbies. And he reportedly even skateboarded on set for some of his films, including The Dark Knight. The infamous image of Ledger flipping over Christian Bale with a skateboard is, however, photoshopped.
This restaurant was initially supposed to be an Australian-meets-American bar and restaurant that served some of Ledger's favorite childhood cuisines.
Mongell told The New York Times that "This would have been Heath's hangout." Even though he wasn't around to enjoy it, he's still credited as being a business partner.
Having a daughter changed his diet in certain ways.
When Williams became pregnant, Ledger admitted that he put on a few pounds after eating with her in solidarity. As far as pregnancy and weight gain go, Ledger seems as if he was the perfect partner, making sure not to make Williams feel bad about herself.
The New York Times piece makes it seem that when friends came over to visit and keep him company, a kettle was always on and people were grabbing teacups. There's something very calming about this image.
Especially since it seems so innocent.
Other portraits have portrayed Heath Ledger as being a partier, which also has some truth to it.
When Ledger did go out, things often got rowdy.
Drugs were reportedly the reason why he split with Michelle Williams — and, having a child in the house is a very good reason to draw the line. The Telegraph also reported that Williams tried hard to rectify the issue, taking him to Promises in Malibu, California.
Coffee was also a must for Ledger.
He was also spotted buying organic sausage.
A grocer who recalls seeing Ledger the day before his death made note that he bought the sausage along with other produce — which is an important clue.
He had three bags of groceries…I remember he had organic chicken sausages," clerk Liz Bullis said to People.
She said that everything he had was evident that he was going to prepare a meal. That makes it obvious that his death wasn't a suicide, but was unintentional.
He was a fan of shopping at farmer's markets.
That made him even more appealing to his fans. "I know I'm not the only twenty/thirtysomething lady who longed to be Michelle, living in a groovy Brooklyn brownstone with a famous-but-not-too-famous (yet very attractive) film actor, eating organic fruit and produce from the local farmers market and taking yoga,"  Jennifer Mathieu wrote for the Houston Press.
That means that Ledger must have been serious about what he ate.
Farmers' markets are good for plenty of reasons, but they're usually the best for home cooks to grab the freshest produce.
He wasn't afraid to dine solo.
When he was spotted out and recognized, he was often just eating with the companion of his cell phone, making him even more relatable.
Ledger was once spotted enjoying a meal by himself at the Grotta Azzurra Ristorante.
GrubStreet reported that the actor was seen with "only his iPod and cell phone for company." There was no word on what he ate, but since the eatery is known for their Italian food, it was probably delicious. It wasn't the only time he was spotted eating with his iPod.
He also ate a quiet breakfast out, the day before his death.
People reports that Ledger spent that Monday morning at Le Pain Quotidien, listening to music while eating some granola for breakfast. Granola was also a favorite breakfast go-to for Williams.
He enjoyed his quiet time and didn't like to be recognized while he was out on the town.
It's possible he used this alone time to research other side projects. You may not have realized that Ledger was thinking about expanding his name from acting to directing.
Fans of Heath Ledger swear he was into sushi.
To be fair, sushi is almost a universal food, especially if you're a celebrity. It's a light dish that's seen as healthy, and once you get a taste for it, you're hooked.
There's a good chance that Ledger stated this in a magazine interview from back in the day that didn't manage to transfer over to the internet.
It's normal to have two favorites. This Italian rice dish is also extremely versatile, meaning that it's something that'd be hard to get tired of.
One fact that emerged about Heath Ledger's dietary patterns makes this favorite more believable.
A New York Times article made it clear that Ledger had no problem with cooking at home, and risotto is a dish that's fairly easy to make for a moderately skilled chef.
Sources:
https://soyummy.com/heath-ledger-strange-diet/
https://nypost.com/2017/04/13/inside-the-manic-days-and-sleepless-nights-of-heath-ledger/