Jean Paul Gaultier (born 24 April 1952) is a French haute couture and prêt-à-porter fashion designer.
In a 2013 Harpers Bazaar article, he covered his daily routine in detail.
7:00 A.M. I wake up and the first thing I do is I turn my TV on. My favorite morning show, La Matinale, on Canal +, was canceled, and I haven't found a proper replacement yet. I watch the i-Télé's La Chronique Culture with Marie Colmant, but mostly the music channels like MCM, W9, MTV Base, or Télé Melody, a channel with French retro music from the '60s and '70s. I used to watch MTV, but now it is focused too much on reality shows. TV is very important in my life; when I was growing up, I used to watch it at my grandmother's, and she'd let me watch anything I wanted. Before breakfast I take fresh lemon juice with hot water to cleanse my body. My father had this wonderful habit of bringing breakfast in bed to my mother and me, so I've always loved to linger in bed in the morning. I have a housekeeper who prepares it for me now. I am on a diet, so it will consist of freshly squeezed fruit juice—orange or grapefruit—and a fruit salad with fruit that's in season. I drink green tea. About once a month I'll do everything that I don't have a right to do: have a café au lait with a lot of whole creamy milk, and bread with salted butter and homemade jam that one of my cousins sends to me from the southwest of France. I enjoy this enormously, as food is very important to me. The only person who is allowed to come to my bed and disturb me in the morning is my cat, Linda. (She's a Siamese cat, with magnificent eyes like Linda Evangelista.) Now, the vets tell you that you have to feed your cat with cat biscuits, and they come in a bag, but opening a can of cat food in 1979 inspired me to make a bracelet for my High-Tech collection, and later it became packaging for my Classique and Le Male perfumes—proof that you can find beauty where you least expect it and that inspiration can come at any time.
8:00 A.M. Three times a week I have a massage, one morning a week I do yoga, and twice a week I do stretching exercises. After that, I just have time to take a shower. I am not singing but thinking about my work, about fashion. You can get the best and most lucid ideas in the shower or the bathroom. So I am already working before I get to the office. I dress simply, in black when I feel too fat, in navy when I feel slimmer, and in a bathing suit when I feel perfect. I still wear a skirt—I have 52 of them—but now it's long. I wore one in Cannes last year. I also have 365 striped shirts, but I don't wear them as much these days. I love dressing others so much that I don't feel I need to spend time on myself.
10:00 A.M. Now that my new house is close to the office, it takes me about 15 minutes of a brisk walk to get to my headquarters. If I don't come to work on foot, I listen to Radio Nova in the car, and I've often heard songs that influence the soundtrack of my shows. As soon as I get to work, I see my personal assistant, Bruno, about my schedule and then my studio head, Isabelle, about the collection. Right now we are finishing fittings of the last pieces for the launch of the Spring 2014 collection. When I am working on the couture, I do the fittings every day, and the pieces evolve in my atelier in-house.
1:30 P.M. I have lunch in a little kitchenette at work. I have an Italian cook, Michele, who makes delicious light meals. I try to eat fish or poultry and to skip desserts, but food is one of the great pleasures in life, so I don't always succeed. When I was little and they would ask me cheese or dessert, I thought of that as punishment. Why not both? Today's lunch is with Jelka, my communications director. We are discussing the Brooklyn exhibition, as it is now very close. After lunch I work again on my next show. I discuss casting with Tanel; he has worked with me since the '80s, and he is still one of my muses. This time I am looking for girls who know how to dance, so the casting will be quite special. I have a desk but I rarely use it. I usually work standing up—doing fittings, choosing fabrics. Most of my day is planned in advance, but there are also things that happen by chance. As I go through the studio, something can catch my eye. There are no rules at all in the studio—everyone can speak to me when they need to, and I try to be available as much as I can. I don't use e-mail; I talk directly to my collaborators. I don't understand why everyone around me is on their phone checking their e-mails constantly. I do exchange text messages with my friends, but I don't use the phone much otherwise. I drink water during the day, and when I prepare the collections, I like to drink freshly squeezed fruit juice.
8:00 P.M. I stay in the office until 8 at least, often later, and when I can I go to the cinema afterward. I owe my vocation to cinema and to the film Falbalas, by Jacques Becker, because it was upon seeing that at 10 years old that I decided to be a couturier. I love Fellini; Satyricon is my favorite. I also like The Rocky Horror Picture Show. I saw the theater piece first in London in 1973—it was a shock. I love Pedro Almodóvar, and I had the honor to work with him three times. Another film I like very much is My Beautiful Laundrette, by Stephen Frears. I always look for a strong visual emotion from a film. After a movie I'll have dinner at a Japanese restaurant, often Takara, which was the first Japanese restaurant in Paris and where the food is as good as in Japan. Tonight is different; I will have dinner with my boyfriend and with Jelka and her boyfriend at Paradis Latin, a cabaret where my next show will be held, so still work in a way but pleasure.
11:30 P.M. I get back home after 11 and go straight to bed. I turn on the TV and zap to see as much as I can. I don't watch series—I have no patience—but I love shows like Pop Idol or Dancing With the Stars. Around
1 A.M. I will sink into sleep with Linda by my feet.I have a beautiful view from my bedroom of the garden and a 17th-century hôtel particulier. But most important, I have a big bed and a big TV.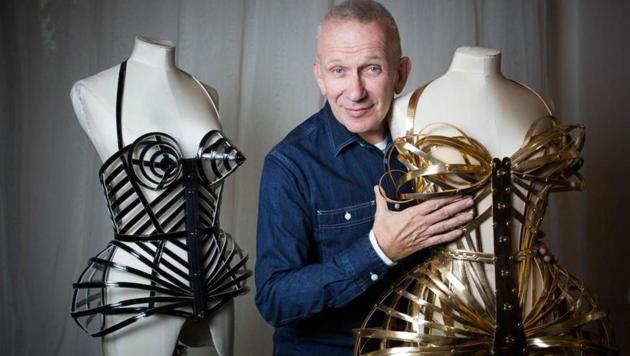 2020 numero.com interview
What's all this talk about "upcycling" these days? What does it mean exactly?
I couldn't give you an exact translation into French, but the idea is that you reinvent things… In fact, I don't have the faintest idea what it means, but I used it because "up" made me think of haute couture. So it was all about recycling my own haute couture, which I decided I would also mix with prêt-à-porter.
So what made you decide to hang up your scissors now?
Well, for a start, I'm going to turn 68 in April…
So? What's the retirement age in France these days?
Well, that's just what everyone's talking about right now! But it's not about retiring… I've always had the feeling, ever since as a child I started doing little sketches I used show to my grandmother, that the day I stopped I would still be able to carry on drawing, that that was my own personal pleasure. It doesn't matter if they're seen by anyone or not, these drawings are by me, for me and for no one else… Now I'll be able to show them to my cat!
Sources:
https://www.numero.com/en/fashion/molly-goddard-ugg-collection-shoes-boots-london-fashion-week-spring-summer-2021
https://www.harpersbazaar.com/fashion/designers/a1094/24-hours-with-jean-paul-gaultier-1113/