Kate Elizabeth Winslet (born 5 October 1975) is an English actress.
"I try and stay away from salt and alcohol before an important occasion and throw a few green smoothies together in a Nutribullet. Whilst my life would be too dull without salt and the odd glass of wine, we all know that cutting them out makes for a healthier complexion. At least it does in my case."
Her go-to breakfast: "I'll usually make a smoothie", the star revealed. Quick, easy and healthy.
Her favourite form of fitness: "Power yoga class a couple of times a week, some barre, cardio, and we have a dog, so I love going on walks."
Her number one health tip: "I drink lots and lots of water! I'm really trying to be healthy."
Her dietary plan: "Lots of green juicing. Our fridge is always full of spinach, kale, cucumbers. I'm vegetarian and my husband is vegan, so there's a lot of plant-based focus in our home. My husband turning vegan is relatively recent, so that's been a really fun education because you have to learn to be a little more inventive with foods."
Her morning beauty routine: "I do try and quickly grab two minutes to just throw on a tiny bit of makeup, quickly curl the eyelashes, and a do a little bit of lip balm", she says. "I sometimes will just throw mascara in my pocket, and if that's as much as I'll achieve, I'm proud of myself."
Her essential beauty product: "The Génefique Lancôme line has a really wonderful face mask. It's a real winner after a really long flight or before a red carpet event", she explains.
"These days, I'm a little more health-conscious in terms of thinking about the next 10 years of my life," she admitted. "[I] want to maximise my physical strength and keep my skin good without doing anything to my face. I do believe that beauty and wellness really reflects in your face, in your eyes, and how you feel. It goes hand in hand with elegance as well. I think a woman that looks well and confident is innately elegant."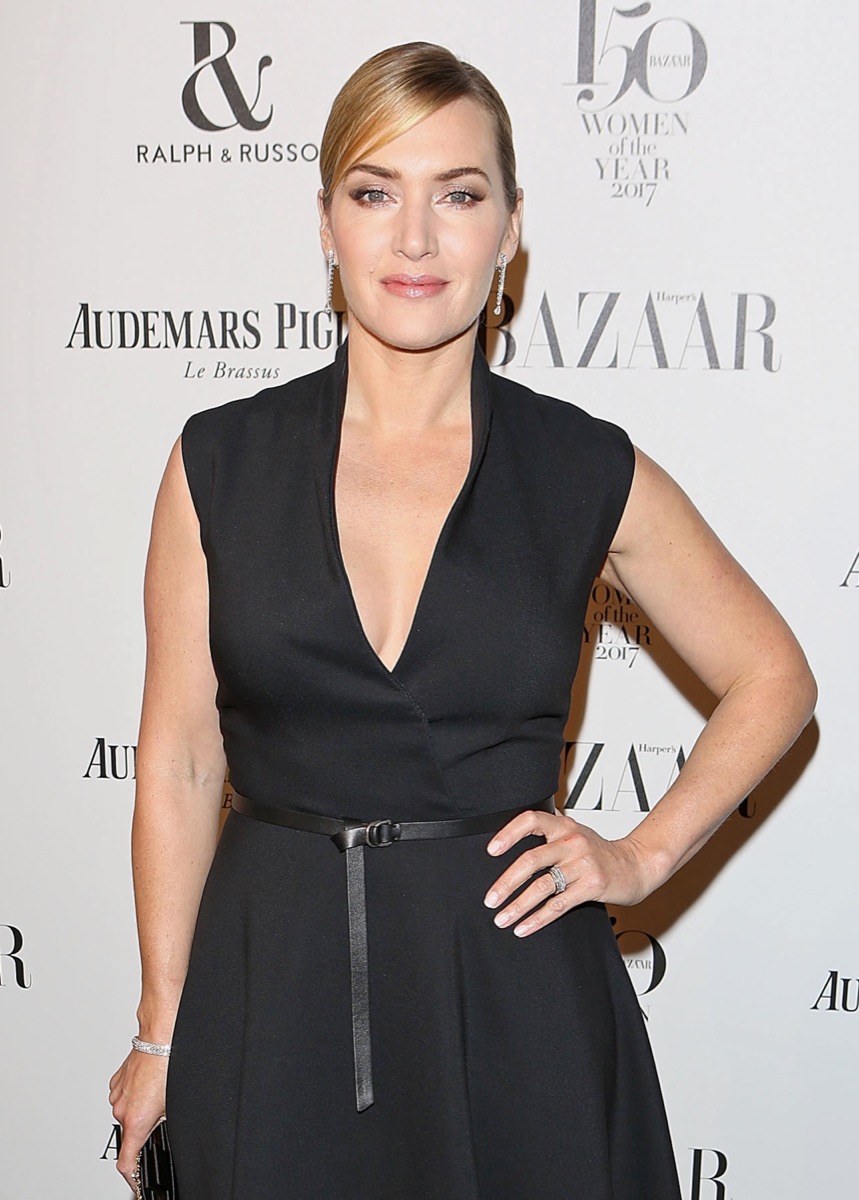 Her daily routine according to MarieClaire.com:
Rise and Shine
When I'm not working, I'm normally up around 6:30 a.m. The absolute first thing I do is make a cup of Yorkshire tea. I mean, call me British, but I just feel like it would be wrong for the day to continue until I have had a cup of tea. But I don't sit down and enjoy it in a mindful nice, calm way. I'll put it down, I'll run around, forget where I put the tea, go back and find it, realize it's lukewarm, then have to remake another one. After that, I make breakfast for everyone.
Skincare Routine
For my sort of 'wake up my face' routine before getting everyone out the door, I always wash my face with very cold water and a wash cloth. Then, I just put on a good moisturizer.
A.M. Hair Sitch
I wash my hair every other day, so I'll normally have a nice hair day. And then by the second day, it's like, hmmm, so I'll enjoy wearing it down for one day, because it still looks kind of nice. And then the next day I'm like, "Oh no, no, it just looks awful." I'm a big fan of just scraping it all back in a high pony tail.
Sweat Sesh
I am in love with my Peloton bike. My family and I all share it, and sometimes fight over it. I found that when I was filming Mare of Easttown, that was almost the one thing I couldn't have gone without, because of the way it helped me decompress. The sweat factor, the challenge of it, the great chat from the instructors. Sometimes I'd wail, I'd yell, or I'd cry on the bike; I can release so much. At the age of 45 that I am now, learning that my body is capable of more than I thought it was has gone a long way with me.
Beauty Revelation
What's really lovely about emerging from this time of the pandemic and lockdown is that, now that we're putting on a little bit of makeup again, it feels like armor as we all are learning to socialize and just be in the world again. I'm finding that actually a good coat of mascara and a bit of lipstick goes a long way in making me feel like, "Okay. No, I've still got it. Okay. I can do this."
Nighttime Routine
I always take off makeup off with a warm wash cloth or in the shower, even if I've only had a little bit on. I'm actually really quite good at that.
Warm Wind Down
I always kiss my husband good night. We're very good at that, actually; we're really good at making sure that we always say goodnight to each other. I think often you can kind of lose sight of that when you're busy, and you're tired, and someone falls asleep before the other one.
Lights Out
The last thing I do is turn my phone on airplane mode, even though that shouldn't be the last thing. If it's past 11:00 p.m., I start to get a little bit worried. I'm like, "Oh my God, I've got lots to do tomorrow." And I do find that I'm really enjoying sleep, and paying attention to sleep much more as I get older. Whereas when I was younger, I'd be like, "okay, great. I can get five hours now and then I can be up and get on with all the things." Sleep was a bit of an inconvenience when I was younger, but now I'm like, "oh, bring it on." So now, I try to get to bed between 10:30 and 11:00.
Sources:
https://www.mindfood.com/article/kate-winslet-wellness-routine/
https://www.marieclaire.com/beauty/a36609949/kate-winslet-self-care-routine/
https://www.yahoo.com/lifestyle/2-things-kate-winslet-never-161933877.html