Lewis Allan Reed (March 2, 1942 – October 27, 2013) was an American musician, singer, songwriter and poet.
HE JUST COULDN'T GET ENOUGH TAI CHI
If reports from his hospital bedside are to be believed, Lou Reed was doing tai chi the hour before he died. Exactly the mechanics of a man with terminal liver failure doing Chinese movement-meditation within minutes of death are unclear, but it remains certain that Reed had been hopelessly devoted to the mystical martial art for about 25 years. He took his instructor with him whenever he toured, and in 2003 had put a tai chi performer onstage as a Howard Jones-style freaky-dancing art spectacle. "People think I lift weights," he said recently. "But It's purely from doing Chen Tai Chi with Ren Guang Yi. I do two hours a day, every day." In 2007, he released what was to be his final solo record: 50-odd minutes of electronic meditation chimes that could've been the ambient lightside to Metal Machine Music.
AT THE HEIGHT OF HIS COOL, HE LIVED WITH HIS PARENTS
Many of history's great men have lived with their parents. It's surprisingly cheap. Napoleon lived with his parents through most of the Peninsular Campaign. But it can't have been anything but humiliating when the Velvet Underground shut up shop for good in 1970, and Reed was met at Freeport, Long Island station by his parents, and driven back to his childhood home. There, he lived, doing office errands for his tax accountant dad for $40 a week while he plotted his next move. For over a year. Somehow, he never wrote any songs about the dark underbelly of suburban tax accounting.
DESPITE HIS HARD-MAN REPUTATION, HE SPENT A LOT OF TIME BEING QUITE SENTIMENTAL
Most people write one good album about a dead friend. Reed put down two. Songs For Drella: Him and John Cale's re-match, a 54-minute tribute to Andy Warhol after the pop art king's untimely death. Then there was Magic And Loss, which was Reed writing with a clear-eyed adult candour about his friend Doc Pomus succumbing to cancer, in a way that seemed to yet again have him turning new soil for rock. In his youth, he'd attacked young man's issues with a fresh new lexicon. As he got older, he wasn't afraid to turn that same extended vocabulary to older guy problems. Of grieving. Of a death that wasn't a shock, but a creeping fog of intubated inevitability. He'd only known Pomus for a couple of years, but it is still typical of the fickle fire of his devotion. Behind the snarling, Reed seems to have been devoted to the people in his life in a way that went beyond the capacity of people with more ordered tempers. In fact, many of the bones he's picked with critics or interviewers have been about getting too personal. Perverse as it sometimes seemed, he showed a fierce tenderness towards his friends.
IF YOU FIND MANY INCONSISTENCIES IN THE LOU REED STORY, IT IS BECAUSE HE PUT THEM THERE
Reed spent much of the 60s and 70s telling lies about himself. Not widely renowned as a fan of interviews, his key objection was often simply that they were too personal. That every berk with a pen and a half-read copy of Freud wanted to lay claim to a half-ounce of his personal pain. That people would come along and expect him to cough up intimate confessions just because that's what he'd done on record. Whereas, from his perspective, the fact that he'd done it on record absolved him from having to re-vomit his pain for the press. So, rather than spend his life objecting, he began to just invent things. "Some writer was asking me something once," he recalled, "and Andy [Warhol] said, 'You're not going to tell the truth are you? You know you don't have to tell the truth. You can say anything you want,' and that's what I did for years. Unfortunately, I'm still haunted by those lies. People continue to ask, 'Did you really put a rifle to a guy's head?' and 'Do you really have a degree in music from Harvard?'"
HE ONCE HIT DAVID BOWIE IN THE FACE
David Bowie is seldom hit in the face, probably because his face is so very beautiful, but in 1987, in Hammersmith, he and Reed were at dinner after a show at the Hammersmith Odeon. At some point in proceedings, Lou had asked David whether he wanted to produce his upcoming album. Bowie had very kindly agreed, but very kindly also suggested that his one condition was Lou sobering up. Unwilling to debate the point at a purely semantic level, Lou instead lamped him one. He was then led away in classic hold-me-back hold-me-back hold-me-back style by his assistants. "It should be noted that this verbal bantering also continued into the night back at the hotel," said witness Chuck Hammer, who'd played with Reed that evening. "With Bowie in the hallway demanding that Reed, 'Come out and fight like a man.' Eventually it all quieted down as Lou never reappeared to continue the fight, and was most likely already fast asleep."
RELATIONSHIPS
Reed was never shy about his sexual proclivities — which included a yearslong relationship in the mid-1970s with a transgender woman named Rachel. Reed met her while in the midst of a three-day methamphetamine bender, and she was sometimes spotted with a bruised face and blackened eyes. A friend likens their troubled relationship to "a marriage made in the emergency room" in the book.
No stranger to New York's sexual demimonde, Reed enjoyed picking up cross-dressing hookers in the pre-gentrified Meatpacking District and interviewing them about unprintable sex acts. According to the book, an all-male S&M club called the Anvil ranked among the rocker's personal favorites.
Sharing a pig-sty apartment littered with the shells of pistachios that Reed ate obsessively, he could freely bring home sexual conquests and indulge in drugs.
By the time Reed hit his 40s, nights of drinking, drugging and carousing had gotten the better of him — and his liver. He sobered up, bought a house in rural Blairstown, NJ, and shot a Honda scooter commercial. Reed and avant-garde musician Laurie Anderson became an unlikely husband and wife. They met in 1992, at a performance by saxophonist John Zorn, and Reed lived out his last two decades as a somewhat tamed elder statesman complete with tai chi and a rigorous diet.
In an extract from his new biography, rock writer Anthony DeCurtis reflects on the icon he knew personally: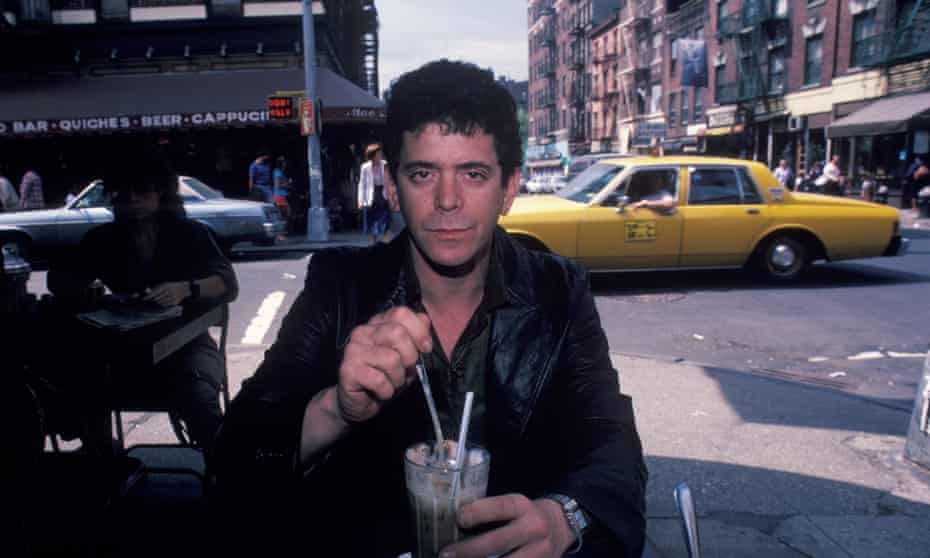 "Lou had become abusive on our last US tour, when I got him on to the stage as clean as I could… He gave me a black eye the second time he hit me," Kronstad wrote. "Then I gave him a black eye, too, and that stopped him from using his fists. Everybody knew he was abusive – abusive with his drinking, his drugs, his emotions – with me. He was incredibly self-destructive then."
The problem Reed had finishing the songs for the album, she sarcastically explained, "might have had something to do with all the fucking drugs and drinking he was doing. With Lou, people that he love become part of him, so I got to be part of that incredible self-destructiveness."
Things had gotten so bad that Kronstad flew to Santo Domingo to get a 24-hour divorce from Reed. The legal standing of such a divorce is complicated, but Kronstad's action is more significant as an indication of how desperate she had become in her marriage.
She was frightened and she wanted out. Kronstad remained in their apartment, on which she held the lease, and Reed moved out.
"I don't know where," she said. Then, one night, Reed called her from a local restaurant that had been one of their favourites, the Duck Joint, on First Avenue between 73rd and 74th Streets. "He was, like, 'Can you meet me here?'" Kronstad said. "I was in a pretty good mood because I'd basically gotten my name back and I was no longer legally attached to him. So I went. He was there with two other people; I don't remember who they were. They were having a wonderful time, and he was so positive… He said, 'I've stopped. I've quit it. I won't do that stuff. I'll play it straight. We can do this. I need you. Can I just come over and talk about it?'" Kronstad let herself believe him. "I had invested a great deal of my life in him, so I guess there was a part of me that wanted to be convinced."
But even when Reed finally did complete writing the album's 10 songs, things didn't get easier. "I remember the morning I woke up and found him in the living room next to a mostly consumed bottle of Johnnie Walker Red," she wrote. "It was 8.30 in the morning and I became upset. His drinking didn't usually begin until at least the afternoon." Reed explained that he had completed writing the album. He handed her his notebook with the lyrics in it, picked up a guitar, and sang the songs he had written.
Sources:
https://www.theguardian.com/music/2017/oct/01/my-brilliant-troubled-friend-lou-reed-a-life-anthony-decurtis-berlin
https://www.vice.com/sv/article/zn7bxx/a-morons-guide-to-lou-reed
https://www.grunge.com/390655/the-untold-truth-of-lou-reed/
eed/
https://www.thedailybeast.com/let-lou-reed-teach-you-about-lou-reed