Michael Jeffrey Jordan (born February 17, 1963), also known by his initials MJ, is an American former professional basketball player and the principal owner of the Charlotte Hornets of the National Basketball Association (NBA).
Tim Grover would arrive at MJ's mansion in Highland Park, IL, at least 15 minutes before their scheduled morning workout. Jordan would decide when they would begin—either at 5, 6 or 7 a.m. on a game day.
"Sometimes I would show up, and he'd be halfway done with his workout," Grover recalls. "I'd be looking at him, like, Did I get the time wrong?"
Even if the team had arrived in Chicago at 2 or 3 a.m. the night before, Mike would be ready to go when Grover arrived. He had already completed his warm-up routine, which included several ahead-of-their-time techniques, such as using a piece of PVC piping to roll out the bottom of his feet.
Grover and Jordan began to train with weights on game days in 1989, revolutionizing the way many players trained during the season. Designed to maintain strength in areas that get worn out during the course of the season, the workouts were done early to allow enough recovery time before the game.
Forming the Breakfast Club, Pippen and Ron Harper would join MJ at his house for the workout, which would last 45-60 minutes. During the season, they would follow the same routine and lift the same weights for the same amount of repetitions. Workouts on game days weren't as intense as non-game days or during the offseason. But they were still intense.
"Obviously, there was a lot of trash talking, even during the workouts. That started very early," Grover says. "It was very competitive about who lifted what and what was going on and those different things. But there were also times of silence, too, where there was nothing to be said."
After the main portion of the workout was finished, Grover would work with Jordan individually on some injury-prevention exercises. These exercises focused on the overlooked-yet-vital areas such as his wrists, fingers, ankles and toes. Once finished, MJ would either wait for Scottie and Harp to get their individual work in with Grover, or he would go upstairs and watch SportsCenter.
A big breakfast from Michael's personal chef was next—with just one caveat. "You only got breakfast if you finished the workout. You couldn't just show up for breakfast," Grover remembers.
SHOOTAROUND
MJ would make the quick, 10-minute drive from his home to the Berto Center, the Bulls' training facility, for shootaround, which began at either 10 or 11 a.m. The Bulls almost always held a shootaround on game days during the '97-98 season, and it lasted precisely one hour. Jordan made sure that every minute counted as the team prepared for their upcoming opponent.
If a Bulls player was caught slipping, he would feel MJ's considerable wrath. Over the years, Jordan had earned a reputation for chewing out teammates who didn't live up to his lofty standards. It was MJ's method of toughening up his teammates and getting them to level up. Some could take it. Others could not. "That's how he understands who's weak and who's not," says Scott Burrell, Jordan's former teammate.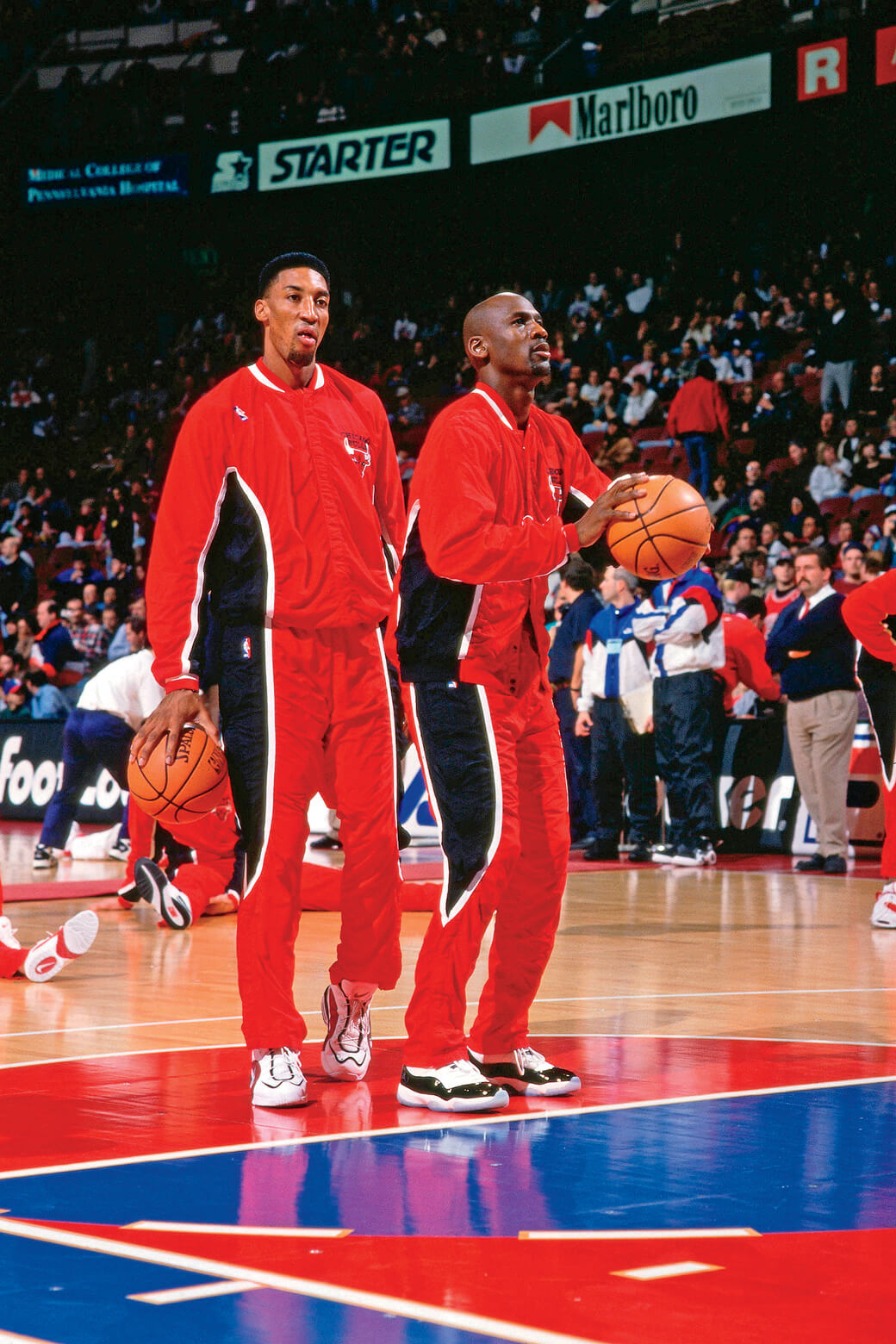 While shootarounds weren't intense like a Bulls practice might have been, MJ had a knack for making every situation competitive. Mike would make sure every player was locked in, knew their role and where they would get their spots. Everything boiled down to shutting down the upcoming opponent and operating the Bulls' vaunted Triangle Offense.
"Each shot he took in shootaround was a game-like situation where he talked trash and was laser-focused. Everybody had to be laser-focused," says Dickey Simpkins, Jordan's teammate that season. "That was the one thing about MJ's leadership: You weren't going to not be focused or not know your role or not know what we're doing from a game plan situation."
At the conclusion of shootaround, Michael would meet a massive scrum of media to talk about the game ahead. The intimate setting at the Berto Center provided reporters with great access to the most famous athlete in the world. MJ made sure to always be available to the media at this time, and he truly enjoyed the give and take with reporters.
Intermittent bouts of patellar or quadricep tendonitis hampered Jordan throughout the '97-98 season, particularly when the team would go through a brutal portion of the schedule. On occasion, MJ might head to the training room for treatment after addressing the media.
"It was never terribly problematic for him, but it would flare here or there," says Chip Schaefer, who was the Bulls' head trainer. "Maybe if he had to play four games in five nights or something, he would get treatments for that."
THE AFTERNOON
During the early afternoon, players would typically relax at home, take a nap and have a pre-game meal before heading to the arena. But Michael Jordan was a rare breed.
"Sometimes, he would even go out and play golf on game days. He'd sneak in a round of golf or nine holes. He was amazing," says longtime Bulls equipment manager John Ligmanowski. "I've never seen anybody like him. A lot of energy. I don't know how much he slept."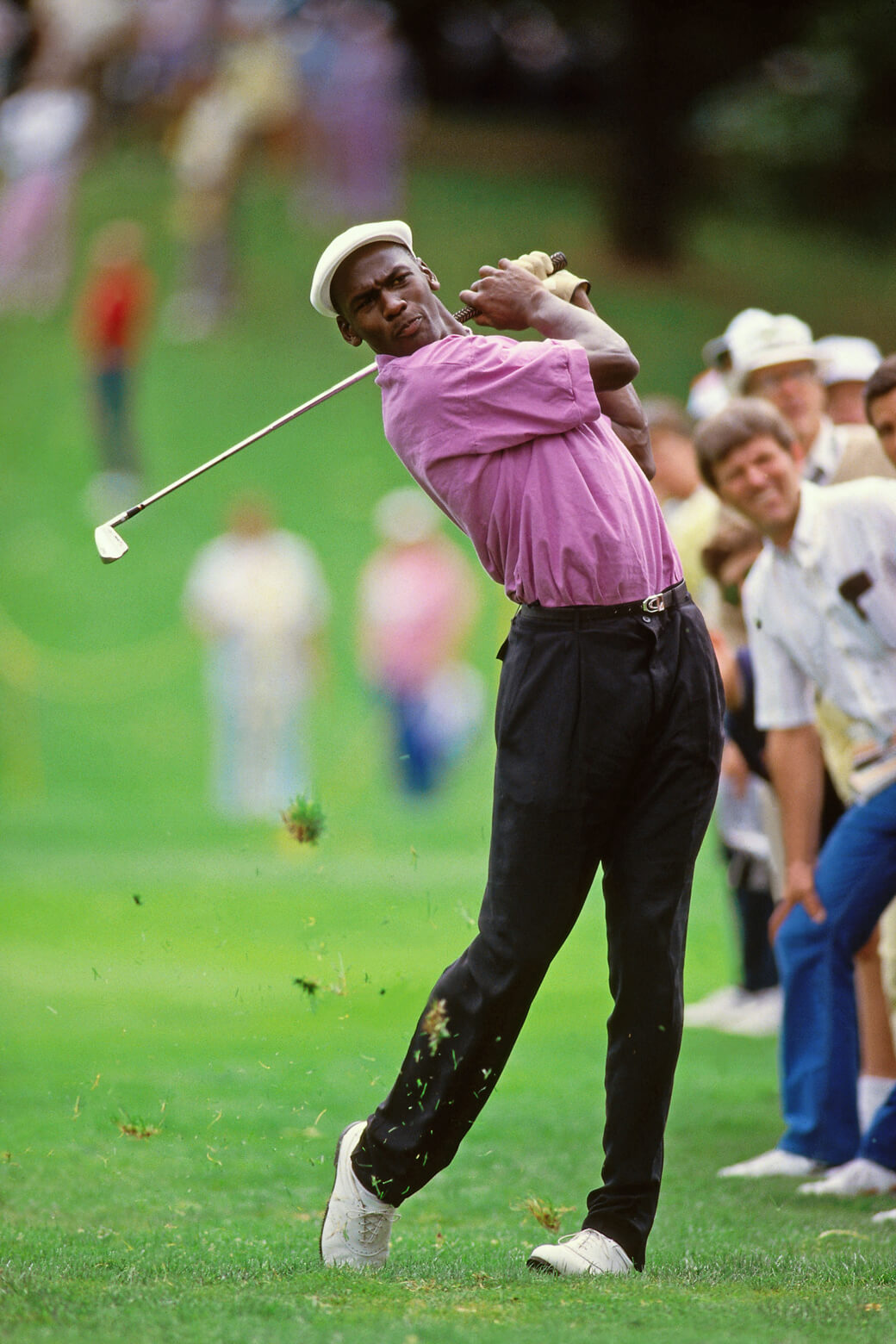 Playing golf was more of an exception on game days, however, as Chicago often endured brutal winter weather through March. Typically, MJ would take a nap and have a pre-game meal of steak and potatoes before heading to the United Center. In contrast to his energetic demeanor, Jordan would most often listen to soft and calming music by artists like Anita Baker.
He would make sure that he was impeccably dressed for the upcoming game. MJ's game-day fit always included a spectacular suit, nice tie, designer shoes and handkerchief in his pocket. He was going to work, and he dressed the part.
MJ would drive by himself to the arena in one of his custom sports cars. Earlier in his career, MJ had a driver to take him to the arena. Now in his 13th season with the Bulls, Mike knew all the best routes by heart and insisted on driving himself. "It was his alone time," says Grover.
While heading down the Kennedy Expressway, Jordan would pass a 32-foot high mural of Dennis Rodman's face painted on the side of a building. Rodman's hair on the mural would change as often as his hair dye did, causing massive delays on the drive to the United Center.
"Every time Michael would [tease] Dennis. He's like, Would you just leave your hair the same color? We're all sick of stopping," recalls former Bulls TV color analyst Tom Dore, with a laugh. "Dennis was even mad. He was tired of it."
PREGAME
Michael would pull up to the arena at least two hours before tipoff. But most times, he wouldn't touch a ball until the Bulls went out for layup lines 20 minutes before the game. "He had this line that he always said: 'I've practiced so hard to make the game easy,'" Grover recalls.
And Jordan certainly made it look effortless. After parking his car in the loading dock, Mike would walk with his security detail to the Bulls locker room.
"He had such a smooth walk that he could have worn shorts with suspenders, he was still going to look smooth because his walk was so smooth and his game was so nice," says Burrell. "He had the whole package. He had the wardrobe, he had the walk and the game, and just the demeanor that, I'm going to kick someone's ass tonight."
With his suit and tie still on, Mike would post up in the training room or adjoining doctor's area. That was his oasis amid the chaos surrounding the game. He would relax, talk with his teammates and security guards, occasionally get treatment, take care of his tickets and, generally, just take his time.
If Michael felt like he needed some extra work, he would hit the court typically before most players would come out. But that would be an exception. Jordan didn't do much physical prep during pregame.
Before many games, Michael would volunteer with the Make-A-Wish Foundation. He was passionate about creating life-changing moments for people with critical illnesses. "He really showed his true grace in those moments," Schaefer says. "As great as he was an athlete, I think a lot of times, I was most impressed with how he dealt with those situations. He really had a gift for that."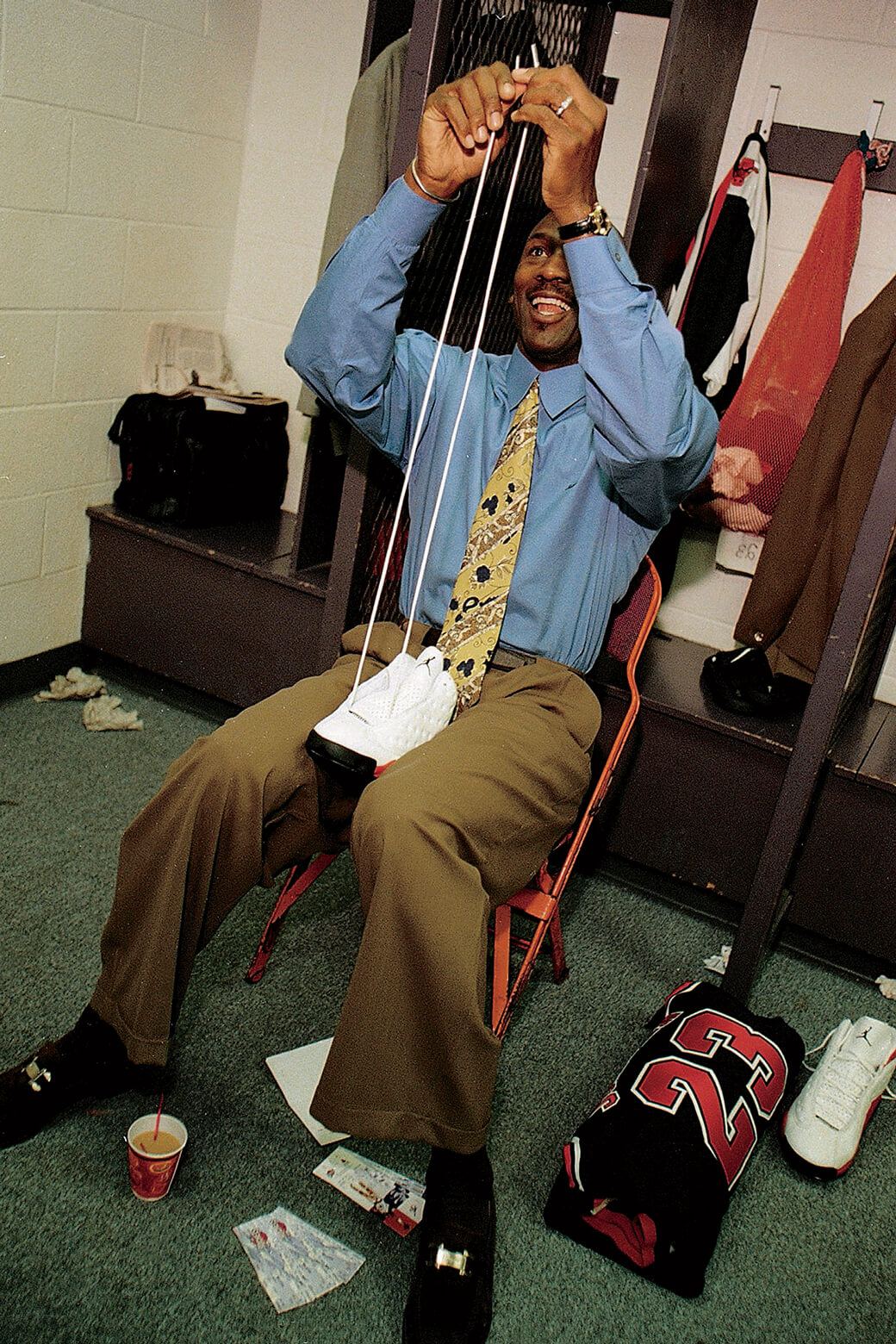 Continuing his pre-game routine, MJ would drink a hot coffee before putting on his uniform. He would wear his blue shorts from the University of North Carolina underneath his red-and-white threads. He insisted on being the last person on the team that Schaefer taped. He'd pull a sleeve over his left elbow and left calf.
He wore a new pair of Air Jordan sneakers for each game, and according to Grover, he always laced the shoes himself. Unlike many players who double-up their socks, MJ liked to wear just a single pair during games.
After throwing on his No. 23 jersey and chewing a stick of gum, MJ and his teammates would huddle in the tunnel for their iconic "What time is it? Game time!" chant before hitting the court for layup lines.
Locked in and laser focused on leading the Bulls to victory, MJ would take all of his typical game shots—fadeaways off the block, elbow shots, threes, dribble pull-ups—to warm up. He'd get a good stretch and was ready to put a beating on his opponent.
POSTGAME
There was no better feeling for Michael Jordan than when ice was taped to his knees during the fourth quarter. With the game already decided, MJ would sit at the end of the Bulls' bench in front of the media and bask in the impending victory.
"He would laugh and think it was so funny that he was blocking our view," says Bulls beat writer KC Johnson. "I remember writing many times: Him icing his knees while the game was still going on was the modern day version of the Red Auerbach victory cigar."
Replacing fluids and icing his knees were MJ's only recovery modalities on game day, and he would have finished before the final buzzer on many nights.
After the game, Jordan would sign his sneakers and give them away—maybe to a ball boy, a fan or even a player on the other team who had asked for his shoes. Then he would head back to the locker room to shower and change into his suit. Like many Bulls players, Jordan would put on his shoes before his slacks.
"When he would get dressed after the game, the last thing he would put on were his slacks because if you put your slacks on last, you won't wrinkle your pants by sitting on them," Ligmanowski remembers of the loose-fitting pants of the day.
After he was dressed to the nines, Jordan would address the media for a final time. If the team wasn't traveling to another city that night, MJ would occasionally eat at one of his restaurants or another Chicago food establishment before doing the routine once again.
Much like the man himself, Michael Jordan's game-day routine was straightforward and laser focused.
Speaking with the Chicago Tribune back in 1996, Tim Grover (Michael's personal trainer of eight years) shared all the details of his day on a plate. His goal? Five to six frequent but small meals made up of 70 per cent carbs, 20 per cent fats and 10 per cent proteins.
Broken down further, MJ's standard food fare looked a little like this:
Breakfast: "A large bowl of oatmeal with strawberries, blueberries and raisins; scrambled egg whites; glass of orange juice."
Lunch: Lean proteins like chicken breast or hamburger with a healthy carb (e.g. whole-grain pasta or a baked potato) and a green salad.
Snacks: a shake made with "a combination of Gatorade, protein powders and fresh fruit."
Dinner: "Whatever he wants," Grover said.
Sources:
https://www.slamonline.com/the-magazine/michael-jordan-gameday-routine/
https://www.menshealth.com.au/michael-jordan-day-on-a-plate