Finland's first female president, likes going for a morning walk with her Nordic walking poles in Hakaniemi. You may also see her standing behind you in a supermarket queue. Locals never make a fuss when they see her. After all, she is from Kallio: she was born there and she's lived there almost her whole life.
Halonen is a pool regular, too. She also takes an occasional dip in the Baltic Sea through a hole in the ice.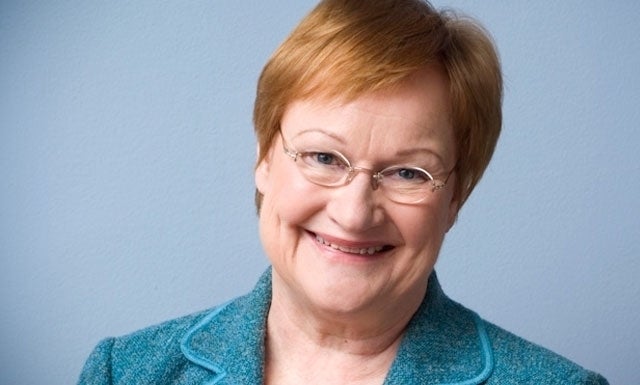 According to an interview with the HuffPost, as told to Lan Anh Vu:
I come from a working-class family. Like many of my postwar generation, I was active in a number of leftist political movements. This was especially true during my time as a student at the University of Helsinki, but I continued my involvement with political organizations after I had completed my studies.
After graduating with a Master of Law degree, I was hired by the Central Organization of Finnish Trade Unions as a lawyer and was the first female ever to work as a lawyer in the Union. Working in the union spurred my interest in politics.
In 1974, Prime Minister Kalevi Sorsa appointed me to the post of Parliamentary Secretary. Working in the Parliament created a deeper interest in politics and I decided to take part in the municipal elections in 1976. In 1977, I won a seat on the Helsinki City Council, where I served a total of five terms. My first cabinet post came when Harri Holkeri, the new prime minister, appointed me to serve as Minister of Social Affairs and Health in 1987.
One thing led to another, and in 1999, I decided to run for office. I won the election and became Finland's first female President.
My goal was never to be a politician, but I found it to be a great opportunity to act on what needed change, what could be accomplished, and what must be protected in the world. You never know the challenges or possibilities that will face the world. A position is only the means to do what you deem as important.
We face continuous challenges. I have been the first woman in many issues. I was the first academic person in my family, so in this way, I became a pioneer for my own family. Later, being the first female union lawyer presented enormous challenges.
Recently, I have been working on sustainable development for the Sustainable Development Goals. This is another big challenge, not only for me, but for all of us. These objectives were designed for the leaders so they could accomplish goals in every country and create solidarity from North to South. Sustainable development is not possible without every one of us taking action. I believe that sustainable development leads to more jobs as well as higher wages, which will improve both the level of employment and the productivity of workers. Sustainability is the key to the future, because the future is brighter if we can take the whole planet on this journey.
One lesson I learned early on was to seize an opportunity. Never say no when someone gives you an opportunity to do something. If you are not sure you can do it, just say yes and you can and will learn how to do it later. You have just have one life so when I say "seize the opportunity," it also means in your private life. You must think as the years go by, "What are the truly important issues?" You must be prepared to make compromises. Do not try to decide between family and career; take both.
Sources: