Addison Rae Easterling (born October 6, 2000) is an American social media personality, dancer, actress and singer.
Diet
The diet plan of Addison Rae is simple, as she tweeted in 2020 which read "daily routine: wake up, eat, take a bath, eat, watch youtube videos/podcasts, eat, take a shower, eat, go to sleep." However, it doesn't mean she eats all types of junk foods at her disposal, she has a dedicated diet plan that helps her maintain her running physique and takes care of her skin.
According to her, She always has three meals a day and never once in her lifetime ever missed a single meal. If she is busy with her work, she always eats fruits and drinks a lot of smoothies, to keep her energetic and fuel her body for work.
Addison Rae is a night-eating person, she mentioned that she starts her meal by eating light and as the day proceeds, her meals start getting heavy. And at the end of the day, she stuffed herself full as she believed, it's the only way she will get a full night's sleep.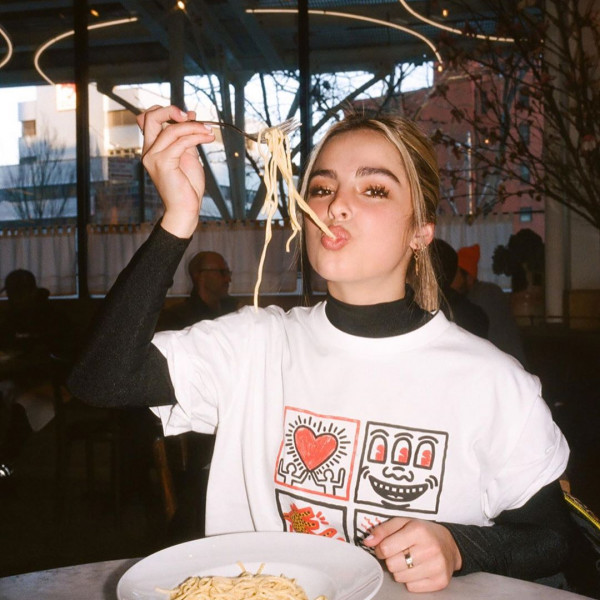 Workout Routine
During the quarantine period, she comes across her live media channel and shows her home workout session with her family. One of the most popular streams was, when Addison Rae and Kourtney Kardashian, got together for a booty workout session over zoom. In the video, they share their daily workout routine, and at-home workouts they are doing during the quarantine period, at their home.
In the video, Addison Rae and Kourtney Kardashian both perform the daily booty workout of Social media influencer Addison Rae.
The video is a sneak peek of the booty workout session of Addison Rae, which consists of the following:
30 seconds donkey kicks, right leg
30 seconds donkey kicks, left leg
30 seconds fire hydrants, right leg
30 seconds fire hydrants, left leg
30 seconds fire hydrant extension, right leg
30 seconds fire hydrant extension, left leg
Repeat for another three-minute session.
Mornings
Like most twenty-somethings, Addison says she doesn't set a specific time to wake in the morning. She says she often stays up to the early hours of the morning and enjoys sleeping in.
The TikTok influencer doesn't have a set routine or a strict calendar she adheres to unless she's podcasting or has events to attend.
When her day does get going, she pours a cup of matcha, then begins writing down positive affirmations of love and repeating health and wellness mantras, claiming this benefits her subconscious mind.
Breakfast comes soon after. She doesn't stick to any diet fad. In fact, a photo of her breakfast on TikTok shows a plate of French toast, eggs, bacon, and potatoes. Clearly, her Southern roots show through in her meals.
After she's done with her breakfast, she'll take a bath or shower, depending on the time she has left in the morning.
Mornings are her "me-time", and it's her most important self-care moment of the day.
Afternoons
With the morning all wrapped up, Addison has been spending more time with family, producing content at home rather than out on the LA social scene.
She likes working out in the afternoon from the comfort of home. Her self-care routine involves plenty of yoga and Pilates, getting into these activities through her dancing. She uses tutorials on YouTube for more challenging workouts.
Addison turns to TikTok for HIIT workouts, stretching, and more. The starlet recently teamed up for a home workout video with mega-influencer Kourtney Kardashian, sharing it with her fans on TikTok.
The content of her afternoons circle around her blossoming business interests in beauty products and podcasting.
In July 2020, she landed a deal with Spotify for her "Mama Knows Best" podcast where she teams up with her mom, Sheri, each week to discuss mother-daughter issues. The podcast is essential viewing for the modern Zoomer teen, where Addison relies on her mom's advice for everything from dating to relationships with friends and family.
Her range of vegan-friendly beauty products – ITEM Beauty — requires her attention and direction most days.
She rarely has time to eat before the evening, with so much going on during the day.
Evenings
When the evening rolls around, Addison spends time with friends and family at home or attending events and parties in LA (as expected).
Addison goes through her night-time skincare routine and then spends the evening watching Netflix, texting friends, and spending time with family… like practically everyone else of her generation.
She is very much a night owl, frequently staying up to 3 am, but never has any problems getting to sleep.
Sources:
https://worldzfeed.com/addison-rae-workout-routine-and-diet-plan/
https://www.popbuzz.com/internet/viral/addison-rae/
https://finty.com/us/daily-routines/addison-rae/