Dua Lipa (born 22 August 1995) is an English singer and songwriter.
Workout
The Albanian songstress made headlines when she revealed in an interview that she only does 15 minutes of exercise a day… and it works. "It's high-intensive interval training, but it's so quick, it's over before it's even started!" she explained.

On the workout agenda are high-intensity moves designed to elicit maximum results by raising the heart rate, including mountain climbers, jumping jacks and burpees. Not the most fun, we know, but 15 minutes is super doable.
Diet
Given she moved out of home as a teenager, Lipa had to get used to being independent, which included learning how to prep her own meals. These days, she looks forward to cooking at home when she's not on tour.
Additionally, the singer, who is fluent in Albanian, loves comfort food from the country her parents were born in. "I love Byrek and pita," she said on a British TV talk show, referring to the savoury pastries that are popular in Albanian cuisine. 
Boxing
When she's not time-poor on tour, Lipa turns to boxing, a workout also favoured by stars like Gigi Hadid and Gisele Bündchen.
"I love boxing in my spare time. I like doing it for fitness [and] I like doing it just to kinda clear my mind. I really enjoy it. I like that it's definitely a full body workout. Since starting boxing I've probably been in the best shape ever. It's also a great stress reliever."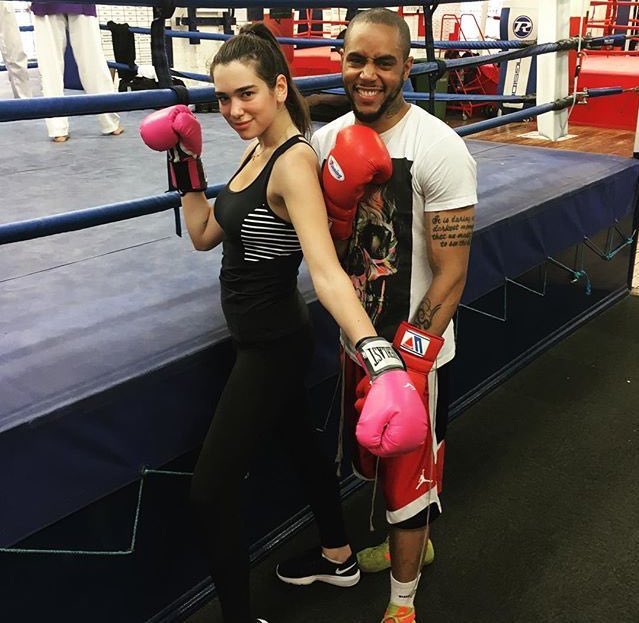 Snacks
To stay fuelled up for her workouts and on-stage performances, Lipa snacks on healthy, high-protein natural foods. Her go-to pre-exercise snack? "Bananas and cashew butter."
Routine Variation
"When I have a tiny bit more time on my side I love mixing up lots of different training, finding different workouts in whatever city I'm in, whether it's yoga, Pilates, boxing or spinning," the singer has said.
"Whatever it is, I try to change it up every day to keep things interesting. When you're on a tour bus, every day and every place is different, so you never know what you're going to find. That's always one way to keep it interesting."
Core workouts
To maintain those famous abs, Lipa opts for exercises that target her core. "I think different variations of crunches like bicycle crunches are good. Leg raises are also great unless my back hurts. Planks are good although almost certainly my least favourite!" she's said.
Vices
In April 2020, Dua Lipa said that she was on a health kick to preserve her vocals. She also revealed that she does not consume dairy and further added that she does not smoke or drink either when she is on tour. 
The Brit singer said: "I don't do dairy when I'm singing.
"I've also stopped drinking and I don't smoke, either, when I'm touring."
However, in October 2021 Dua Lipa posted a picture of fish and chips to her Instagram with the text "hangover cure", implying that her alcohol ban may no longer be in place!
Sources:
https://www.beautycrew.com.au/dua-lipa-diet-exercise
https://www.cosmopolitan.com/uk/body/fitness-workouts/a38536429/dua-lipa-body/
https://www.republicworld.com/entertainment-news/music/dua-lipa-reveals-she-quit-smoking-and-alcohol-to-save-her-vocals.html
https://www.thesun.co.uk/tvandshowbiz/11306249/dua-lipa-has-gone-teetotal-and-vowed-to-quit-partying-to-save-singing-career/
https://www.hellomagazine.com/cuisine/20211011123681/dua-lipa-hangover-cure-fish-and-chips/