Ellen Lee DeGeneres (born January 26, 1958) is an American comedian, television host, actress, writer, and producer.
Morning
She starts every day with a yoga session that lasts one to one hour and thirty minutes. Originally, she did more intense "power" yoga but opted for a more relaxing, "hatha" routine so that she would be able to unwind at the beginning of her day. She has also spoken about the positive impact that Transcendental Meditation has as a method to reduce stress. This is a method of meditation that is done twice a day for 20 minutes at a time. TM touts itself as being effortless because it doesn't involve a lot of thinking or focus, but rather places emphasis on letting the mind easily quiet itself. Ellen had tried meditation before, but was not very successful because she had trouble focusing on her breathing. With TM she was able to be quiet and still. Here she talks about the important benefits of TM and the role it has played in her life with TM expert Bob Roth.
According to the official website on TM, the technique is proven to have advantages in brain function including the management of stress and anxiety, and has even been known to improve cardiovascular health.
Along with yoga, Ellen incorporates crunches into her morning routine.  According to Self, two of her dogs Kid and Auggie have been known to insert themselves into her morning crunches. Ellen and her wife Portia also have three cats, Chairman, Charlie, and George, but they probably don't have the same hustle as Ellen and the dogs to get up and work out!
Ellen sometimes also does a more intense workout routine, which involves jumping on boxes, machine biking, and jumping on the trampoline, as can be spotted in the background of her crunches post. Here is the video explaining her more intense workout:
Vegan diet
Ellen started a vegan diet in 2008 because of her love of animals and the responsibility she felt to them to stop eating animal products. Ellen noticed that a benefit of going on a plant-based, vegan diet is increased energy. When discussing the boost this diet gives her with Shape, she says:
"Food used to be really important to me. I loved steak, I loved hamburgers, I loved all that stuff. I can't believe how irresponsible I was, eating what I ate . . . I want to be on my toes; I want to have energy. And as much as the [vegan] diet seems like a sacrifice, it's helping me."
For breakfast, one of her favorites is vegan banana and oatmeal pancakes. Although these are whipped up by her personal chef, anyone can easily follow her simple recipe.
Food
In the same interview, she told Shape magazine that sugar and processed foods are not a typical part of her diet. She's dedicated to her health! "No animals, no dairy, nothing processed; a lot of soup, veggies, rice, beans, legumes." A common lunch for Ellen might be tofu or roasted roots.
Laughing
She is jovial, her career and personal life being full of smiles and laughter. Here, she talks about the health benefits of laughter.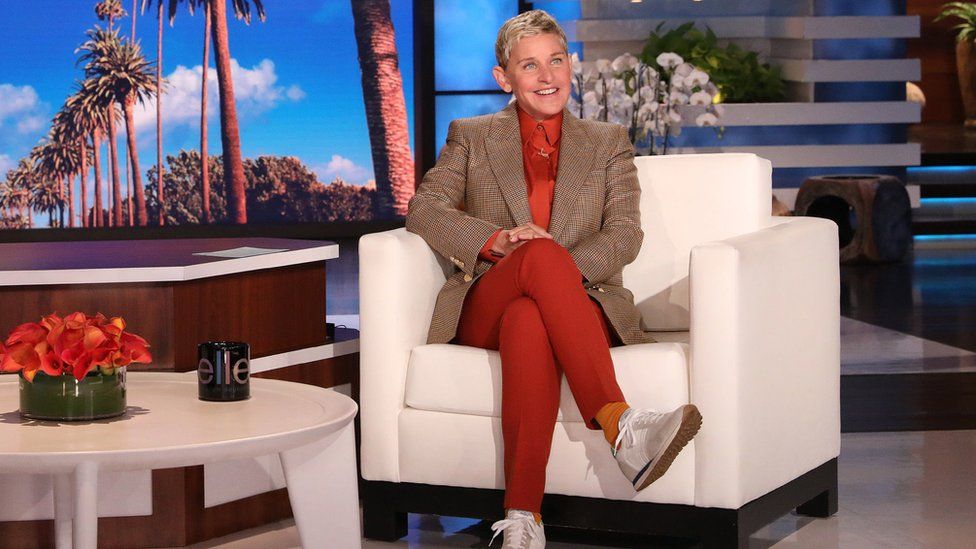 Night
Ellen puts the stressors of the day aside and snuggles into bed by 10pm every night to curl up with a nice book. She is an avid reader, her favorites including "The Goldfinch" by Donna Tartt and "Change Your Thoughts-Change Your Life: Living the Wisdom of the Tao" by Wayne Dyer.
However, her peaceful nightly routine might be disrupted when she's up binge-watching her favorite shows with Portia, like Orange is the New Black. The call of TV can be strong, so the struggle is real!
Staying healthy can be difficult, but Ellen recognizes that health is the foundation for everything else in your life.
"It's hard, but you have to make time to take care of yourself. Only after you're taking care of yourself can you take care of other business."
Fitness
We don't know about you, but we have a hard time picturing her walking mindlessly on a treadmill. She dished to Shape, "I first started doing power yoga in LA, which really makes no sense. Power yoga? It's the opposite of what it should be. Yoga should calm you down!"
Other than yoga, she also stays fit by doing routines like crunches, which sometimes get interrupted by her adorable dogs.
Skincare
Makeup artist Pati Dubroff, who has worked with Ellen many times on ad campaigns and photoshoots, has said in an interview, "Ellen's skin has a natural glow already, so she doesn't need much makeup."
We can't deny that the star is very blessed to look good without needing an over-the-top beauty routine — talk about good genetics!
But we think her best anti-ageing advice — for skin and beyond — just might be what she said in a campaign for CoverGirl.
"Nothing makes you look younger than a smile, and being happy," she said. "If you look at babies, they're always smiling and laughing, and their skin is flawless."
Sources:
https://owaves.com/day-plan/day-life-ellen-degeneres/
https://www.nowtolove.co.nz/health/body/ellen-degeneres-self-care-routine-39763
https://www.goalcast.com/daily-habits-ellen-degeneres/