"Can you dance to it? I don't even like dancing, but my wife dances quite well a lot."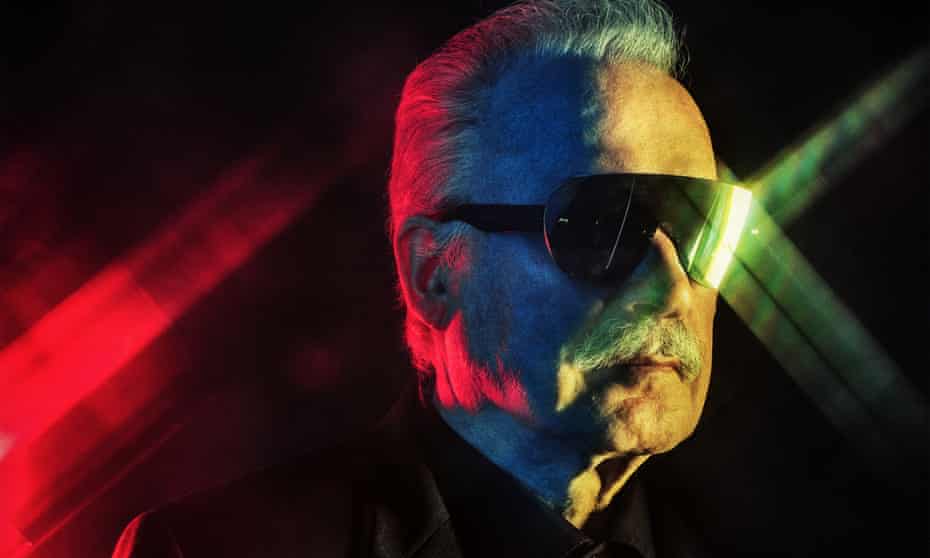 Giorgio Moroder wants to set the record straight. Sat in the living room of his family home in the Italian Alps, which pleasingly features a white grand piano, wall-to-wall avocado shag carpet and dozens of framed gold discs, the super-producer and owner of music history's most glorious moustache wants to unpick some cliches. First of all, he says, he never really liked or went to clubs. Nor was he ever much of a dancer. And despite his profound impact on, well, both clubs and dancing, he would prefer it if we stopped referring to him as the grandfather of dance music.
"No, and I do not like being called the godfather of disco and electronic music either," he says, wryly. "It's better than being called the grandfather, but I still don't like it."
But it's not an overstatement to declare that Moroder definitively changed the face of modern pop. The man who created what Brian Eno breathlessly described to David Bowie as "the sound of the future" had a staggering knack for creating floorfillers that have birthed entire genres: one track alone, the euphoric 1977 Donna Summer mega-smash I Feel Love, has been credited with paving the way for Italo, house, techno, trance, Bollywood disco and, for better or worse, EDM.
"But you can't dance to I Feel Love," claims Moroder, and then begins riffing that famous pulsing synth – duhduhduhduhduhduhduh – and nodding along. "It's not very good to dance to. Songs like Call Me [Blondie] is really good, Hot Stuff is better" I point out weakly that he might be wrong; not uniquely, the full 15-minute mix of I Feel Love is my single favourite record to dance to. His eyebrows waggle in glee.
"Can you dance to it? I don't even like dancing, but my wife dances quite well a lot."
I tell him I danced so hard to it at a wedding recently that my entire sari unravelled on the dancefloor. He roars. "Maybe that's why I make good club music – because I don't go to clubs!"
At 78, with more than five decades in the music industry, Moroder is preparing to embark on his first ever live tour across Europe. The production has been over a year in the making: he's hoping to create a "discotheque feeling, [where I can be] spontaneous, not produce some big stiff concert like Hans Zimmer where you cannot change a note."
TORSTEN SCHMIDT
It's our very distinct honor to welcome a man not from Bavaria, as most of you might think, but from the beautiful northern Italy landscape that's called South Tyrol, Mr. Hansjörg Moroder. [applause]
GIORGIO MORODER
You're the first one in the last 20 years, since my mommy died, who calls me Hansjörg. My name is Giorgio, Giovanni Giorgio, but they call me Giorgio.
TORSTEN SCHMIDT
So probably, to get this straight, we are on a continent where most people speak one language. The place you're born is multilingual, right?
GIORGIO MORODER
We speak Italian, German, and Ladino at home. So you go to the town and you meet friends, you speak Ladino. That's what we speak mostly. Then or Italian or German.
TORSTEN SCHMIDT
How big was that town that you grew up in?
GIORGIO MORODER
About 5,000 people.
TORSTEN SCHMIDT
Oh, that's bigger than mine.
GIORGIO MORODER
In the beautiful Dolomites. And, by the way, I just met Giovanotti down here. You know the rapper Giovanotti, the Italian guy? Who has one beautiful song where he raps and he tells about this girl with the big tits and he says, "And they look like the Dolomites," which are the mountains where I come from.
[laughter]
TORSTEN SCHMIDT
Yeah, Dolomites, hip-hop capital of the world. Is there a church in that town?
GIORGIO MORODER
A church? Actually, that's a good question. A few years ago, I went to a wedding in a small church next to my town. And, you know, people were singing. And they started to sing, "Pater Noster," a song. I said, "I know this song. Why would I know the lyrics of this song?" I was getting nervous to ask, "What is this song?" I found out that I wrote a song for the church, and they were singing it, like, in the part of Italy where I live, and it became relatively famous, and it's a religious song, talking about churches.
Sources:
https://www.redbullmusicacademy.com/lectures/giorgio-moroder
https://www.theguardian.com/music/2019/feb/09/giorgio-moroder-live-tour-europe-interview-donna-summer