Isabelle Anne Madeleine Huppert (born 16 March 1953) is a French actress.
I am far too lazy to exercise. I hear yoga is good and I may try it one day but I prefer to sleep.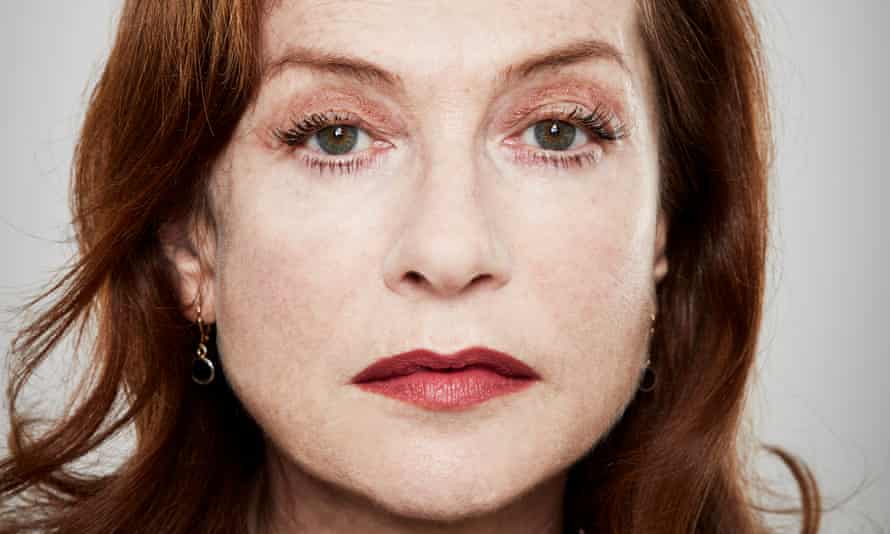 My earliest memory is my mother's voice telling me that we were going to an outdoor swimming-pool near where we lived which was like a kind of paradise to me. I guess no childhood is without inner turmoil sometimes, but mine was more or less happy.
It's a struggle for me to stay tidy, to keep things in order. I really admire people who don't need to live surrounded by lots of stuff. My bedroom is piled up with clothes and books, papers and photographs. I like to collect things, anything I can grab from wherever I'm travelling. I think it's the sign of slight anxiety to always want something around you to represent a good moment you had, to hang on to the leftovers. But then they're a pleasure to look at too, so it's not all negative.
I don't feel old and asking women about ageing is very negative. It doesn't concern me; it's other people's problem, not mine.
I cry very easily. I may have cried last night or this morning. I cried when I read about the woman throwing her baby out of the window in the Grenfell Tower fire. I felt horrified, angry at the complete injustice.
I am claustrophobic. It's my big phobia, a fear I've always had for as long as I can remember. I avoid the Paris Metro and just the idea of the London Underground is impossible for me. Sometimes I am scared to go out in the street but when I do get out there, I feel fine. The world scares me right now, but I have to fight that and find more confidence.
You can't go against someone's passion and will. I've always supported my daughter [Lolita Chammah] going into acting in the same way my mother was a great support to me. She was the first to make me apply for a theatre course when I was still at school. My parents always encouraged me and I never felt restrained.
I'm naive enough to stay optimistic. There are lots of reasons to be pessimistic but we must resist. If you lose all hope in human nature, you might as well kill yourself right away.
Impatience is a weakness of mine; maybe it's a fear of always running out of time. I can get cross very easily when things don't happen quickly enough.
From the very beginning I thought acting was about stating your differences, not trying to resemble someone else.
I love being alone. When you are younger there is more reason to feel depressed; you resent loneliness more than you do later on. When it's a choice and you're not lonely, it feels like a gift.
I like to be either horizontal or vertical. I am far too lazy to exercise. I hear yoga is good and I may try it one day but I prefer to sleep.
From an interview with Mo Magazine:
Even if I spend a lot of time abroad for my work…
I've always lived in Paris. Walking around the city is one of my favourite pastimes (pictured above). Paris is a city where you always discover something new; a building you didn't know, boutiques… It's a city you really savour by strolling through it, sometimes without great purpose – but that is also what makes up the city's poetic charm, that charm of the purposeless.
Elle's feel was…
Very urban and was filmed in Paris and its suburbs; it was precisely this break away from the image of Paris that was key. When you shoot in areas such as the Latin Quarter or the Champs Elysées (pictured above), you become a foreigner in your own city, a tourist. These places suddenly belong to the world of film, places that belong to everyone. When you stumble upon areas you don't know, such as Pantin on the outskirts of the city, you see that Paris' centre is slowly moving outwards.
I like going…
To museums. They're anonymous and soothing. I love Beaubourg (also known as the Centre Pompidou) and the Museum of Modern Art. And the Louvre, too. It's magical. At the Beaubourg, I love the temporary and permanent exhibitions – it's a bottomless well for art.
To me…
Old classic French films make up part of Paris' unique depth, which exists nowhere else. My son and I own two old independent cinemas in Paris, the Christine 21 and Ecoles 21. These two cinemas have always shown arthouse films and now my son runs them – and I help by being a loyal member of the audience! There's a real appetite for these films: people come to experience them in their original formats. Beyond films, for me cities are defined by their museums and theatre (pictured above). I love the Odéon-Théâtre de l'Europe and the Bouffes du Nord.
Even if…
They tend to be quite dusty and aren't quite the 'lungs' of the city, which you find in London or New York – the parks remain pleasant. When we shot Things to Come we spent a day at the Buttes-Chaumont Park and I liked that a lot. It's a huge green space. The Montsouris Park is great, too.
I like…
Mandarin Oriental, Paris, especially for Thierry Marx's restaurant, Sur Mesure par Thierry Marx (pictured above); for his very elaborate molecular cuisine – you just want to taste everything. The hotel is also in an unusual setting, right in the thick of the action, in the heart of the fashion district. It has a calm and soothing feel to it. I also like that it's one of the most recent luxury hotels in the city, so it has a more modern type of architecture.
Sources:
https://www.mandarinoriental.com/mo-magazine/luxury-travel/meet-celebrities-and-experts/paris/2018/09/14/isabelle-huppert-secret-paris-spots
https://www.thedailybeast.com/isabelle-huppert-the-greatest-actress-alive-right-now-on-keeping-audiences-guessing
https://www.theguardian.com/lifeandstyle/2017/jun/24/isabelle-huppert-this-much-i-know