Peter Andreas Thiel (born 11 October 1967) is a German-American billionaire entrepreneur, venture capitalist, and political activist.
Diet
Bloomberg News reports that venture capitalist and paypal co-founder Peter Thiel has a plan to reach 120 years of age. His secret — taking human growth hormone (HGH) every day, a special Paleo diet, and a cure for cancer within ten years. Thiel says he also follows a Paleo diet, doesn't eat sugar, drinks red wine and runs regularly. The Paleolithic diet, also popularly referred to as the caveman diet, Stone Age diet and hunter-gatherer diet, is a modern nutritional diet designed to emulate, insofar as possible using modern foods, the diet of wild plants and animals eaten by humans during the Paleolithic era.
Thiel prefers to eat a clean, healthy diet. He focuses on fruit for breakfast and follows a paleo-style diet during the day. He is strictly against sugar, stating that he never consumes it within any of the foods in his diet.
Hiking and Surfing
When it comes to his hobbies, Thiel prefers the great outdoors. He shared his top three hobbies with Forbes in 2008: running, surfing and hiking. Thiel mainly works from offices in New York and San Francisco. Lucky for him, both have decent trails nearby.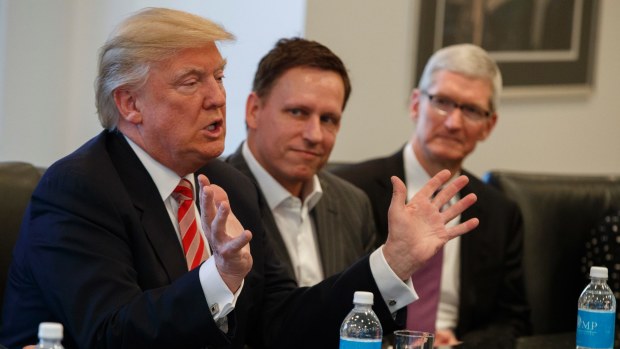 Mornings
Similar to other billionaires, Thiel gets an early start to the morning. He says he rises from bed each day at 6:30 am. Notably, the man gets up at the same time each morning without the assistance of an alarm clock.
One of the consistent qualities in Thiel's daily plan is his commitment to habits that further his health and longevity. He believes that by keeping his routine in check and getting out of bed at the same time each morning, he programs his body for optimal mastery of the sleep/wake cycle.
Thiel starts his morning with a workout, and he takes his health seriously. Apparently, Thiel takes Human Growth Hormone (HGH) for its anti-ageing effects. The billionaire doses himself with up to 3IUs of the exogenous hormone each day before exercise. Thiel claims his HGH use makes his skin look younger and reduces the systemic inflammation in his body, which causes the signs of ageing.
Afternoons
Peter Thiel states that he has no specific schedule for any day. He has no structured routine for work, but he's always chasing a goal that he has for himself in relation to a new deal or business opportunity. He relies on his team for regular information on his business interests, and he believes he works with some of the smartest people in the world.
Thiel has complained about his ability to manage time, often finding himself running out of time during the day. Being a polymath, it's unsurprising that Thiel enjoys long, in-depth conversations with people on a wide variety of topics. He often loses a sense of time in these engagements, causing him issues with maintaining his schedule during the day.
His goal each day is to learn something new. He works to expand his worldview every day, and he spends a lot of his time reading. Thiel states that some of his favorite books include classic titles written by futurist authors, such as Sir Francis Bacon's "New Atlantis."
He deleted the chess app on his phone and PC more than a few times due to his passion for the game (he was a nationally ranked chess player when he was younger) and the time he spends playing it daily.
Evenings
He often works late, and he may have business engagements that take him out for dinner with business clients or colleagues several times a week. The investor also states that he doesn't keep a schedule for evening engagements, preferring to let things unfold as they should.
He gets six to seven hours of sleep a night and is usually in bed at around midnight, with no trouble sleeping.
Sources:
https://finty.com/us/daily-routines/peter-thiel/
https://www.vanityfair.com/news/2016/06/nick-bilton-dinner-with-peter-thiel
https://www.bloomberg.com/news/articles/2014-12-18/investor-peter-thiel-planning-to-live-120-years
https://pantheon.world/profile/person/Peter_Thiel
https://www.businessinsider.com/hobbies-of-12-ultra-successful-entrepreneurs-2016-8