Jared Joseph Leto (born December 26, 1971) is an American actor and musician.
Leto makes sure to meditate for 15-30 minutes every day. It helps him to be aware of his own body and focus on his work.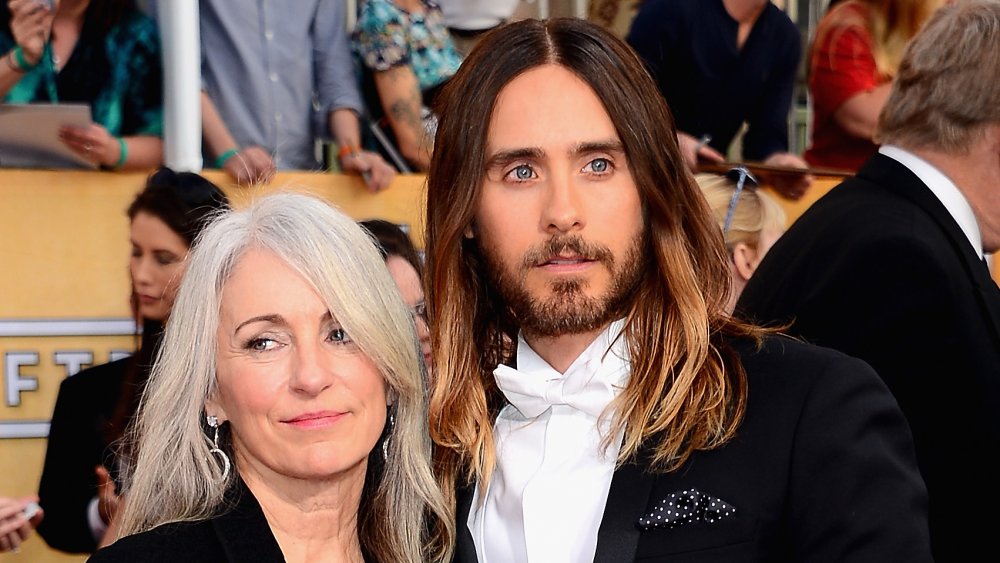 Workouts
Jared Leto works out five days a week. His routine comprises split workouts, multi-joint exercises and supersets. A typical day is broken down into three segments – warm up, training and core work – each consisting of 5-7 exercises.
His warm up includes low-intensity cardio followed by pull ups, push ups and sit ups. Core work covers a circuit of crunches, leg lifts and V-ups. Jared's workout is aimed at boosting the body's metabolism, increasing overall strength and building muscle mass.
Weightlifting
Leto dedicates three days a week to high intensity weight training. His workouts are big on bodybuilding. That's what helped him get ripped to play Batman's archenemy Joker in Suicide Squad and Spiderman's spin-off in Morbius. His strength training days are divided into three categories – chest and triceps, shoulders and legs, back and biceps.
His chest and triceps workout includes triceps pushdown, overhead extensions, dumbbell press, skull crushers and weighted dips. His shoulders and legs routine include few repetitions of heavy lifting in the form of barbell squats, Arnold press, leg press, military press and calf raises. For his back and biceps, he does a combination of deadlifts, chin ups and bent over rows.
Yoga
A lot of gym-goers neglect the body's need for rest and recovery after long training hours. Jared Leto, however, uses his post-workout hours practising yoga poses that enhance his flexibility and stability. This includes gentle, low-impact stretching exercises that relieve muscle tension and keep the mobility of his joints intact. Yoga helps him ameliorate both his mind and body at the same time.
Portion control
In order to keep his metabolism level high, Leto's trainer advised him to eat smaller, portion-sized meals every two hours as opposed to having three huge meals. Not only does this improve the digestive process, but also keep him full for longer hours. It also leads to better nutrient absorption that helps him get through intense workouts.
Veganism
Leto is proof that you do not need to eat meat to be muscular. The actor turned vegan in his teenage years. His diet has been entirely plant-based for the last two decades. Some of the staples include lentils such as chickpeas and kidney beans; fruits such as avocado, blueberries and strawberries; vegetables like sweet potatoes and broccoli; seeds such as chia, flax and quinoa as well brown rice, whole grain wraps and coconut oil.
To satiate his sweet tooth, Jared has popcorn, vegan hot chocolate with almond milk and buckwheat pancakes.
Protein intake
Since Jared Leto's craft requires him to undergo some serious physical transformations every now and then, his diet has to be high on protein. However, since he's vegan, he has to resort to plant-based sources of protein that are not the most obvious choices.
He consumes lentils, nuts and tofu. His diet is also rich in carbohydrates in the form of rice and whole grains, which keeps him energized throughout the day. He strictly stays away from junk food and refined sugar.
No intoxicants
Jared Leto may have lived on the streets amidst drug addicts to get into the skin of his character in Requiem For A Dream, but even then, he steered clear of illicit substances. He's also stayed away from alcohol for many years now. He did fall into the trap of alcohol and drug use in his teenage years, but decided to take the higher road once he understood its repercussions in the long run.
Strict sleep schedule
When asked about his most effective fitness secret, Jared Leto said nothing about his diet or workout regime. Instead, he said that getting enough sleep has been the main reason behind his stunning physical transformation.
Though this aspect of health is taken very lightly by most people, Jared considers it to be non-negotiable. He believes that it helps him look his best and get in shape in a short span of time. Despite his hectic schedule, Jared is very particular about getting 8 hours of sleep every night. He recommends people to give their body as much rest as it needs.
Meditation
Besides yoga, Jared Leto meditates every morning for his mental fitness. When sitting in silence is difficult, he follows guided meditations through apps that work on mindfulness and improving breathing patterns. Being a public figure, this helps him quieten the noise of the world and stay creatively inspired in his craft.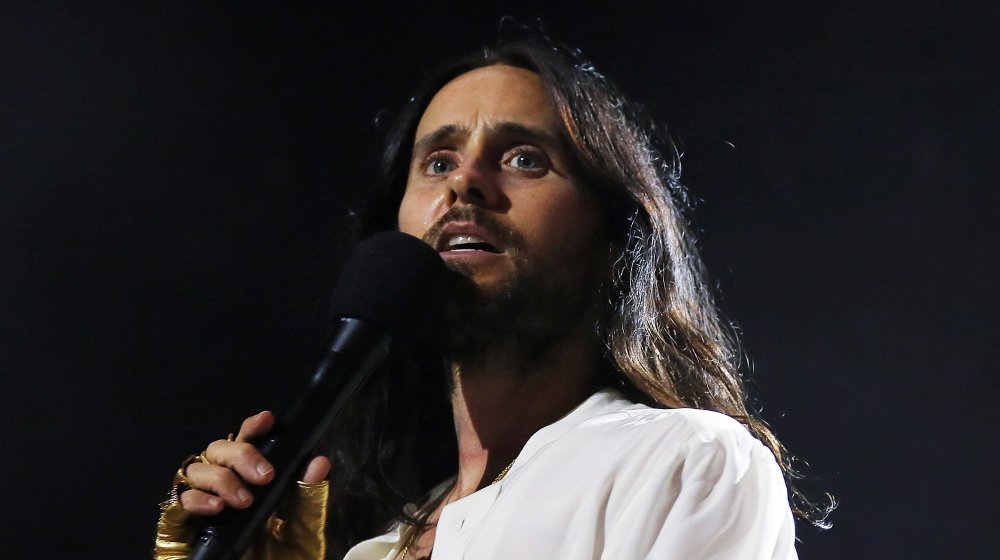 Leto on Staying Healthy
It's probably just down to sleep and diet. If you travel long-haul a lot or don't sleep much, it's not going to last very long.'
Leto on His 'Cheagan' Diet
'If someone's mom made a cookie and handed it to me, I'd probably take a bite, or if I'm in Alaska and there's wild salmon out of the river, I'd probably eat it.'
Leto on Weight Gain
I'm trying to gain a lot of weight. It means I have to eat every couple of hours — and I'm terrible at eating a lot.'
Leto on His Weight Gain for Chapter 27
'It took about a year to get back to a place that felt semi-normal…I'd never do it again; it definitely gave me some problems.'
Leto on His Health
'I'm pretty healthy so I think that helps a lot. I've been this way for a long time — 20 solid years of eating vegetarian-vegan and taking care of myself. That probably helps the preservation process.'
Leto on Meditation (as opposed to, say, drinking)
'There are all kinds of ways to change your state of mind or to get out of yourself.'
Leto on Making Fitness a Habit
'Being healthy is not a choice, it's a lifestyle.'
Leto on Commitment
'I don't dabble. I dive in one thousand percent.'
Leto on Protecting Your Valuable Time
'Get really good at saying no.'
Leto on a Recent Genetic Test
I have a lot of Neanderthal in me. Maybe that's why I'm so good at climbing.'
Leto on Being Treated as a Sex Object
It was about time. I'm happy to have taken that, uh, baton, or whatever
Leto on The Great Outdoors
Any day I have at least a few moments in nature, I kind of feel better.'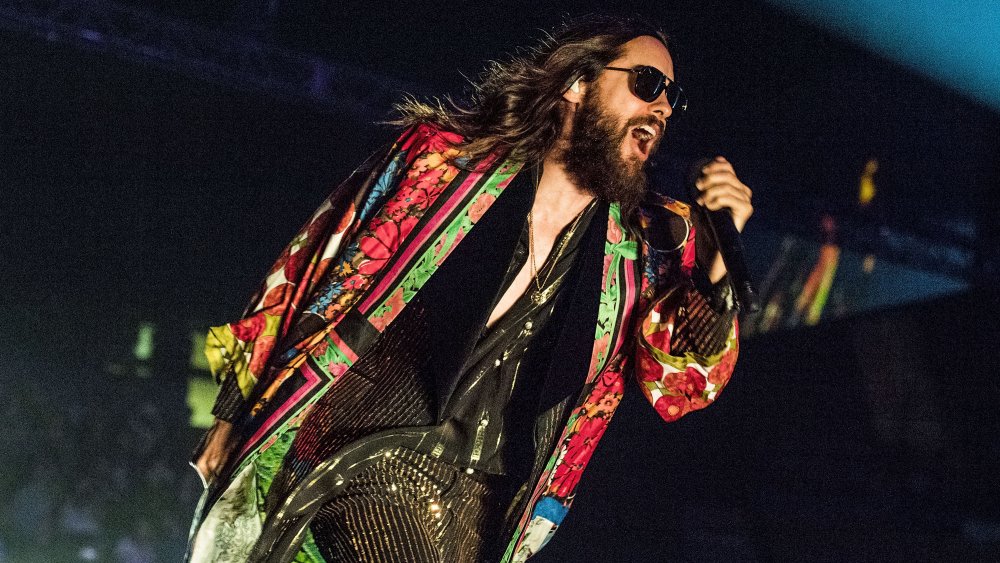 Addictions
According to an interview with The Independent, he is "essentially straight-edge" now and refrains from drinking or drugs. "The opportunity cost is too high," he said. "Some drugs are incredible, but the risk versus reward is out of line. I just saw too many examples of what not to do."
Sources:
https://in.askmen.com/fitness-workouts/1126831/article/jared-lets-fitness-routine-will-help-you-get-jacked-like-a-beast
https://www.health-yogi.com/jared-leto-workout-diet/
https://www.joe.ie/fitness-health/jared-leto-says-two-things-have-kept-him-shredded-for-20-years-554814
https://fitnessclone.com/jared-leto-diet-workout/
https://fitnessreaper.com/jared-leto-workout-diet/
https://www.grunge.com/240051/the-tragic-real-life-story-of-jared-leto/