Sir Lewis Carl Davidson Hamilton (born 7 January 1985) is a British racing driver.
In Lewis Hamilton's opinion, people don't realise the extent of physicality required of F1 racing drivers because they're not easily able to jump in a world class race car and see for themselves. "The amount of people I meet who are surprised that you have to be fit," he told Men's Health. "It's not like another sport, say basketball. Anyone can go and try being Lebron. We fail but we can go on a court and try. People can't drive one of these cars. They don't understand what it is."
As one of the most successful F1 racing drivers of all time — with a joint-record seven World Drivers' Championship titles (tied with Michael Schumacher) — staying in top physical and mental condition is a priority for Hamilton if he wants to continue winning.
I understand that it takes, they say, 10,000 hours to master a craft. I started when I was eight. Every single weekend: practice, practice, practice.

LEWIS HAMILTON OPENS UP ABOUT ACTIVISM AND LIFE BEYOND F1 | WIRED
Training Routine & Diet
When he was younger, Hamilton wasn't as focused on optimising his physical performance as he is today. "When I was young, I had a lot of energy and felt I could do anything. I didn't have a strategy, and I didn't stretch: I just got in the car and drove to win," he said. As he's evolved over the years, Hamilton has started adding in various training routines and sports to help him achieve peak performance on the racing track.
"Every year when you get back into training it's painful. But trying different methods – I worked with several different people for once – to try different things throughout the weeks was exciting," he told Autosport. "And I get to take that throughout the year. Deep-rooted, core-wise, I feel stronger than I've been in a long time."
Hamilton spends a lot of time in the gym lifting weights, though he has to be careful not to add too much bulk. "I like lifting weights, but I have to make sure that I don't overdo it," he explained. "Formula 1 drivers can't be too heavy: more muscle means more kilos. It's also disadvantageous to put too much muscle on your shoulders and arms, because you need to have a low centre of gravity in the car.
He also stressed the importance of having a strong cardiovascular system for racing car athletes. "Over the course of a two-hour race, you might have an average heartbeat of 160-170bpm. During qualifying, it can go up to 190bpm. That's why I do a lot of running. Sprints are a part of every workout."
In addition to strength training, the Mercedes driver also does high altitude cross-country skiing at high altitude and Muay Thai. In 2017 he set up a base in Mexico for morning Muay Thai sessions and afternoon surfing and Pilates.
"Everyone can lift a weight, do a sit up," he said. "Muay Thai is fun because it's so bloody hard. Keeping your arms up, punching, elbowing, kicking high, to the shins, kneeing. There's a lot of coordination, movement and technique."
When it comes to his diet, Hamilton famously made the switch to a vegan diet in 2018, and even brought his British bulldog, Roscoe, along for the ride. In an interview with Men's Health, he explained that even though he was at the top of his racing career, his energy levels were inconsistent.
"I had days when I felt strong and others when I was just sapped," he said. "When I switched to a plant-based diet, those highs and lows decreased significantly. I've also noticed positive effects on my sleep and on my health in general. The benefits keep coming, and I've honestly never felt better. I'm 35 now, and though theoretically I should be less fit than before, I'm more mobile and in better shape than I was at 25."
Hamilton now works closely with his performance coach, Angela Cullen, to monitor and optimise what he puts in his body. "I'm looking at what I eat as fuel now as an athlete, rather than just eating because I'm hungry," he said. "I'm constantly working with Angela, who is with me all the time. We're looking at ingredients of different things that I'm eating.
For anyone who is looking to switch to a vegan diet, Hamilton suggests slowly making the transition one step at a time. "Don't go hard. Because that is hard. You've just got to taper off things: stop eating chocolate, stop eating dairy and then slowly stop eating meat and stop eating fish. Go pescatarian for a while. That's what I did and I don't miss a single thing."
I'm currently the world champion but, every year, I start from scratch. I just want to be at the top of my game in a physical sense, just as I want my car to be the best in terms of engineering. How can I make sure I'm ahead of everyone else? How can I be more consistent, meticulous and precise? How can I better understand the technology? That's what I focus on.

LEWIS HAMILTON SHARES HIS TRAINING AND NUTRITION SECRETS THAT KEEP HIM ON TOP AT 35 | MEN'S HEALTH
Race Day Routine
In the immediate run up to a race, it's all about getting into a pattern. "It's the planning and the preparation… and making sure you've got everything covered," explains Lewis. The night before a race there's a document to read from his engineer, and another on the day of the race. "There will be notes, there'll be two very intense meetings, and a lot more studying afterwards," he continues. "Then after that, stretching and getting ready."
"I'm very in tune with my body before [a race]. I know how much I need to drink. I know what to eat and when. Getting a rhythm through the week, through the day is super important. And then right at the end, I just really say to myself 'Let's go and have a great time', because I got into the sport because I love racing."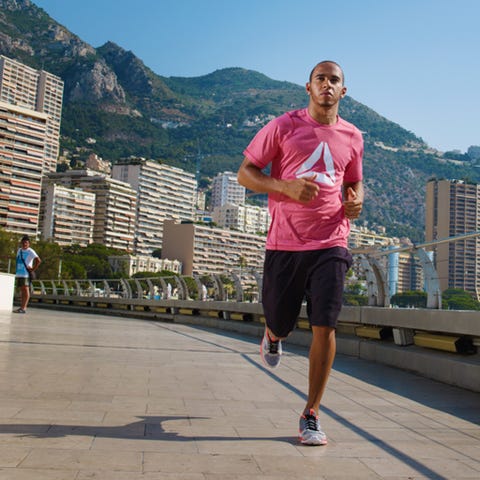 Vegan Dinner
For dinner, Hamilton prefers curries. He has a lot of options in place for plant-based curries. These curries carry a lot of fat, however, it is needed for Hamilton as he is on a plant-based diet. Moreover, apart from curries, Hamilton again likes salads and also Middle Eastern food.
I've also noticed positive effects on my sleep and on my health in general. The benefits keep coming, and I've honestly never felt better. I'm 35 now, and though theoretically I should be less fit than before, I'm more mobile and in better shape than I was at 25," Hamilton about his plant-based diet.
Hamilton's peculiar training regime and diet plan have made him one of the fittest racers in F1. And that surely has helped him stay competitive despite being on the wrong side of 30.
Sources:
https://balancethegrind.co/daily-routines/lewis-hamilton-daily-routine/
https://www.t3.com/au/news/lewis-hamilton-shares-his-pre-race-preparation-routine
https://www.sportsrational.com/lewis-hamilton-diet-what-does-he-eat-mercedes-formula-one-f1-news/