Neymar da Silva Santos Júnior (born 5 February 1992), known as Neymar, is a Brazilian professional footballer who plays as a forward for Ligue 1 club Paris Saint-Germain and the Brazil national team.
Schedule
6:30 AM – Wake Up
9:00 AM – Soccer practice
12:00 PM – Lunch with the team
2:00 PM – Afternoon gym workouts with personal trainer
3:30 PM – Rehab with physical therapist
6:00 PM – Dinner with his father, sister, and friends at home
8:00 PM – Play video games with his friends at home. Usually FIFA, Call of Duty or video poker.
10:00 PM – Sleep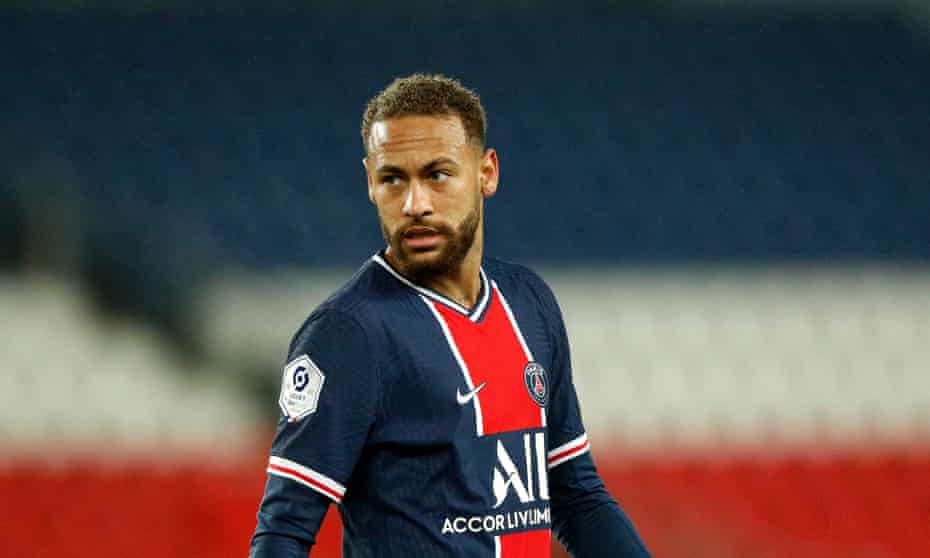 Lives with Dad
Neymar's father Neymar Sr. is a former soccer player himself, and is credited with building Neymar Jr.'s strong work ethic by enforcing discipline during his childhood. Today, he acts as Neymar's advisor and manages his finances, contracts and daily engagements and he's very good at it too. His skills were key in negotiating a €220 million contract for his son. Neymar's mother and 6-year old son live in São Paulo, Brazil, while his younger sister spends equal time in both locations.
Sweet Tooth
Neymar does his best to eat healthy but he indulges with the occasional treat. He enjoys hamburgers, chocolate and cake. Neymar uses the help of  personal chef Marcela Lermy, to keep his diet on track. Lermy follows his orders for the most part, but also adds in Brazilian staples like chicken, rice, and beans. For breakfast, Neymar prefers either eggs or cereal, and at dinner, his favorite meals are lasagna, risotto, and Japanese cuisine.
Love of the Game
Although Neymar enjoys many hobbies, his favorite is still soccer. He expresses an incredible love for the game, and knows soccer is what keeps him happy:
Since I was little, I have always been very cheerful and playful with everyone. I like to enjoy myself!… It's fun that has to be managed. You must be serious with it. But I'm always happy when I play. When you're happy, things naturally work out; when you're sad, things never work out.
Seemingly everywhere Neymar goes, he has a ball with him. He loves to juggle in his free time, and carries and kicks the ball down hallways whenever he can, even after a game. One of his favorite outdoor activities is called "Futtoc", which is a soccerized version of ping pong. Finding different ways of playing with the ball is what allows Neymar to continue to play soccer with the same passion and love he had for it when he first found the game.
Protein Shakes
In an article by Daily Mail they tell us that his secret to success, and his "magic potion" is actually:
According to Spanish publication Sport, the trickster, without enough iron in his blood, has been given a protein shake to build up his strength again.  'A protein shake? That's it?'  Yep. But before you start drinking all you can of your shakes at home, this isn't your regular granular drink…  The reason it is called 'magic' by staff, is that even without much weight training or a regime, Neymar has gained 2kg and is almost back to full fitness.
We also learn that he drinks two of these shakes a day.
Workout
In an interview with Red Bull Neymar Jr. gave a lot of information about his routine.
When Neymar joined Barcelona to team up with Lionel Messi, the club designed a training regime for the youngster, which included lots of rest and weights. The staff had also estimated he needs to bulk up and that would require hitting the weights since he needed to work on his upper body strength. He also keeps fit with cardio exercises like tennis, cycling, golf, running and swimming. And finally his diet was tweaked to include more carbs to build up his physique.

According to Neymar, the training ensures that players are totally fit and in perfect form for a 90-minute match.  'When we don't have matches we do a lot more gym work,' says Neymar, 'but during the season a lot of your training comes on the pitch.'

His first workout consists of stretching followed by flexibility and strength-building exercises. This includes squat jumps, rope skipping, hopping hurdles, short sprints and a five-minute run. All these exercises are designed make him extremely quick on his feet.

His second workout consists of movement preparation which includes pillar skip, forward lunges and multi-directional lunges. A pillar skip is style of running, with your feet high in the air. Along with this he does a final run of ten minutes. All these workouts are designed to enhance quick movement over the pitch and also build up core strength, a primary requisite for a professional footballer.
Sources:
https://superherojacked.com/2018/07/13/neymar-workout/
https://jackedgorilla.com/neymar-workout-routine/
https://owaves.com/day-plan/day-life-neymar/