Roger Federer (born 8 August 1981) is a Swiss professional tennis player.
Interestingly, Roger Federer sleeps for around 12 hours a day. He sleeps for about 10 hours in the night and then takes a 2-hour nap in the afternoon. In many earlier interviews, Federer had stated that if he doesn't get this amount of sleep, he would hurt himself.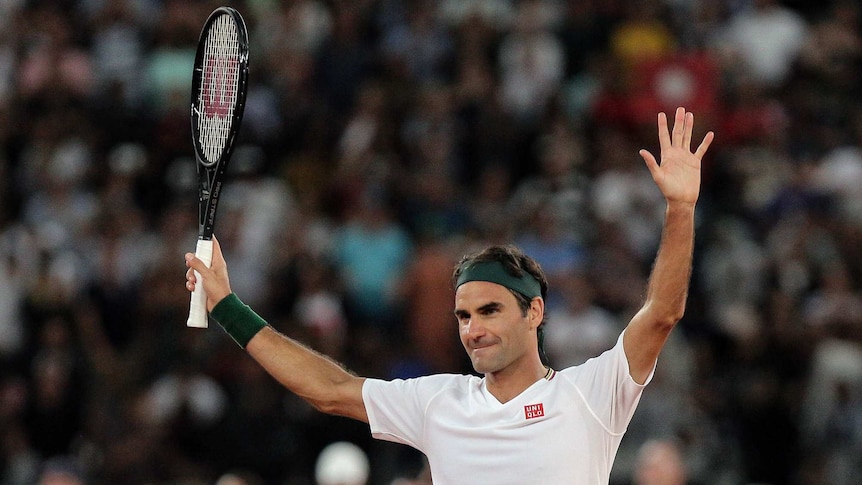 Workout
Here are a number of exercises Roger is known to perform:
Warm-up exercises – Federer gets the blood flowing by way of various warm-up exercises, including stretches, jump rope, butt kicks, and sideline sprints.
Side lunge with medicine ball – Abdominal strength and a strong core are both integral to tennis, whereas they enable blasts of power and an overall sense of balance. Performing side lunges with a medicine ball is one way that Federer builds strength in his abs and improves his core.
Medicine ball shuffle – This exercise involves passing the medicine ball back and forth with a training partner whilst shuffling across the court. It works on the upper body and core alike.
Resistance band exercises – By placing bands around his legs, Federer cranks up the resistance during training. This creates an increased level of buoyancy, endurance, and flexibility during match play.
Cone drills – No tennis workout is complete without cone drills, which involve zig-zagging around cones whilst simultaneously practicing your swing.
Volley on the trampoline – To achieve maximum balance during matches, Federer goes to extremes when he trains. In this case, that means standing on one leg atop a trampoline as he volleys with a partner.
Racket drills – When it comes to non-playing racket drills, Pierre Paganini and his team manage to mix things up. For one exercise, someone throws three balls at a time and Federer has to hit them all back before the second bounce. Another drill involves having Federer catch the ball and then hit it back over the net, increasing speed as he goes. Collectively, these exercises improve reaction times as well as things like hand/eye coordination.
High-Intensity Interval Training – This popular cardiovascular workout alternates between 15-second intervals of intense anaerobic exercise and 15-second recovery periods for anywhere from 7 to 12 sets at a time. The parallels to tennis basically speak for themselves, and the regimen accordingly cultivates explosive bursts of energy.
Match Day Diet
Breakfast
Waffles – The tennis star gets his important day off to a sweet start with homemade waffles, topped with a fruit compote.
Fresh orange juice – It might be high in sugar, but it's high in Vitamin C as well. Plus, it's quite tasty.
Coffee – Waffles and coffee make for a combination too delicious to refuse.
Shot of vinegar – If you haven't read about the reported benefits of apple cider vinegar, it's time you started.
Snack #1
Energy bar –  When you expel as much energy as Roger Federer, you need the occasional protein bar.
Lunch
Pasta – For the past 20 years, Federer has eaten pasta with a light sauce two hours before every match. Consider it one tradition that literally no one would argue with.
Snack #2
Banana – During match play, Federer munches down on the occasional banana. A great source of carbs and potassium, it helps him maintain energy and ward off cramps.
Energy drink – Another way Federer sustains his energy during matches? With an energy drink, which gets absorbed by the body faster than solid food.
Dinner
Italian cuisine – After a hard day's work (which usually results in victory), the Swiss legend rewards himself by hitting up a quality restaurant. Italian staples like pasta and pizza are known to be some of Federer's favorite foods.
Japanese cuisine – When he's not feeling like Italian, the tennis star gets down with the sushi and izakaya.
Indian cuisine – A true man of the world, Federer is also a big fan of Indian food. There's even a picture of him posing with a giant slab of naan bread floating around the Internet.
Swiss cuisine – When he's in the mood for some hometown cooking, Federer consumes creamy Swiss dishes like fonduta and raclette, both of which involve melted cheese. Yum.
Any type of cuisine – You name it, odds are Federer's tried it. And for that, we love him.
Wine or champagne – Federer is a veritable wine and champagne enthusiast, who goes extra hard on the alcohol when celebrating.
Dessert
Chocolate – As previously mentioned, chocolate is another one of Roger Federer's favorite foods.
Ice Cream – Most people find ice cream impossible to resist and Federer is no exception. To quote him directly: "I like my treats."
Wine
It was in 2012 that Roger Federer started his partnership with Moet & Chandon. But even before this partnership, Federer was always interested in wine:
"I've always appreciated good wine and good food, shared in good company, for example, with my family and friends.

I love going out to restaurants when I travel around the world for tennis or when spending time with everyone. I also seek out opportunities to learn more, because I think that great wine is one of life's pleasures"
Federer on Health
'It's a good thing to work out and to eat healthy. That's what I do.'
Federer on Watching What He Eats
'I never have to be too careful…[but] I eat very healthy to start off with.'
Federer on His Off-season Diet
'I can eat biscuits…have fondue…no problems, desserts 10 days in a row.'
Federer on Achieving
'There is no way around the hard work. Embrace it.'
Federer on Goals
'You have to believe in the long term plan you have but you need the short term goals to motivate and inspire you.'
Federer on Finding Flow
'Once you find…that place of peace and quiet, harmony and confidence, that's when you start playing your best.'
Federer on Not Giving Up
'I'm a very positive thinker, and that is what helps me the most in difficult moments.'
Federer on Life
'I always believe if you're stuck in a hole and maybe things aren't going well you'll come out stronger. Everything in life is this way.'
Federer on Success
'Success is a nice thing because it always means you've taken a step forward and it gives you a sense of pride, which in turn gives you confidence and experience—a positive circle, so to speak.'
Sources:
https://fitnessclone.com/roger-federer-workout-diet/
https://manofmany.com/lifestyle/fitness/roger-federers-tennis-diet-workout-plan
https://www.businessinsider.com.au/what-does-roger-federer-eat-drinks-2018-4
https://www.tennisworldusa.org/tennis/news/Roger_Federer/31550/roger-federer-wine-is-one-of-life-s-pleasures-i-would-share-a-glass-with-/
https://firstsportz.com/tennis-why-does-roger-federer-sleep-for-12-hours-a-day/