Courteney Bass Cox (previously Courteney Cox Arquette; born June 15, 1964) is an American actress, producer, and director.
"Jennifer and Lisa [Kudrow] and I ate lunch together every single day for 10 years," Cox told the Los Angeles Times. "We always had the same thing – a Cobb salad. But it wasn't really a Cobb salad. It was a Cobb salad that Jennifer doctored up with turkey bacon and garbanzo beans and I don't know what. She has a way with food, which really helps."
Sports
Part of her exercise is by playing sports. She likes to be active even when she's not working out in a gym, including tennis and surfing. Cox enhances her agility and core strength through outdoor activities by playing tennis which she occasionally posts on her Instagram account.
Her Instagram is full of pictures that display healthy living and lifestyle, both mentally and physically. Staying active involves stimulating her mind to stay healthy and wholesome wellness. She also had a video posted on Instagram showing her skills on the basketball court.
Courteney also posted photos of her doing TikTok dances with her daughter, drinking celery juice, clips of her workout, activities, sports, and pictures of her youthful physique.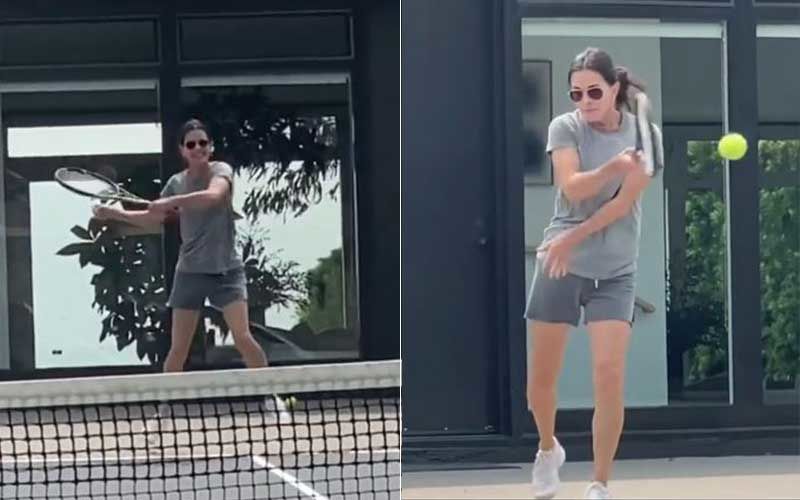 Workout
Courteney Cox likes to do her diet and workout simple as she starts her routine with some cardio exercises, weight fitness training, running, hiking, and Pilates exercise. Her workout routine also includes yoga exercises, meditation, and walk at least 20 minutes a day, which she enjoys well with the company of her co-star and close friend, Jennifer Aniston.
Tracy Anderson, her fitness trainer at the time, revealed Courteney's exercise program, which consists of squats, leg exercises, lunges, and the Superman exercise that helps her lower back and core increase more strength.
Courteney's training focuses on her building up her strength. She aspires to an active life where she enjoys everything she does while doing it healthily. She also engages in Pilates, tennis, surfing, yoga, bike riding, strength training, and martial arts for her core.
Her latest trainer, Michelle Lovitt, recommends workout sessions that she revealed to the public. Her sessions include body toning through using resistance bands and stretches. Cardio sessions with squats and lunges while tracking her intensity throughout the workout using a heart rate monitor
Diet
Courteney Cox reveals her complex diet plans that involve Eat Right 4 Your Blood Type diet plan and Atkins diet plan. She follows weight loss and light diet plans suitable for her desired body type. She drinks coffee instead of eating meals for breakfast, a chicken salad for her lunch, and eats meat with some vegetables for her dinner.
Cox is all about eating healthy foods, which is timely, relevant in today's health crisis. Her daily meals include a light breakfast, chicken, fish, steak, and vegetables. She drinks a lot of water and takes vitamins. She intakes vitamins that have omegas 3, 6, and 9 and vitamin D that can intensify bone health. Courteney Cox has a healthy diet that she follows to maintain her toned body.
Eat Right 4 Your Blood Type is a kind of diet plan that's customized your meals according to your blood type needs. The Blood Type diet is believed to be a healthier option to achieve your ideal body weight through eating according to the specific needs of your body depending on your blood type.
All body types have different needs, some need high protein foods, and others need whole grains to avoid meat and dairy products. This kind of diet suggests that a body's ability to absorb nutrients is closely dependent on its blood type needs. In order for you to have the ideal body, weight, and energy levels, you must follow and consume the nutrients that your body needs.
Atkins Diet Plan focuses on avoiding foods that are high in carbs while eating protein and fats as much as you want. The increase in protein consumption will result in a reduced appetite. This diet allows you to eat foods that are commonly avoided or not allowed by many diet plans. Atkins diet prohibits consuming carbohydrates that trigger insulin and makes you hungry, leading to excessive eating and weight gain. It is a high protein, high-fat diet that encourages you to burn fat for energy, leading to weight loss.
10 things she does to stay in shape:
10
Tik Tok
Okay, so we're not even exaggerating, Cox burns a lot of calories alongside her daughter, performing these dance moves.
This may be a playful video, but Courteney Cox is definitely showing off her dance moves alongside her 15-year-old daughter, Coco. The Friends star posted the video to her Instagram earlier this year, in January.
9
Working Out With Pal, Jennifer Aniston While On Vacation
Even when vacationing in Mexico a few years back in 2010, Courteney Cox and Jennifer Aniston still managed to squeeze in a workout. It wasn't a workout with just anyone, either; they worked out with Jen's co-star from The Bounty Hunter, Gerard Butler.
Aniston and Cox take several trips together on the norm; they usually hit the gym early in the morning to start the day.
8
Staying Hydrated
Take a look at most pics of Cox leaving the gym and she'll usually have a water bottle in her hand.
That was the case in the photo above, as she was leaving the Beverly Hills gym following an intense session. Water is absolutely essential during a workout – if you're ever feeling too tired in the weight room, chug some water!
7
Celery Juicing
Along with training hard, Cox keeps her diet as clean as possible. Among her favorite things to do is sip on some celery juice.
The drink is loaded with vitamins and minerals, it is also a great way to fight against liver disease and reduce inflammation.
6
Playing Tennis
It isn't just about hitting the gym, Cox also keeps active with outdoor activities, such as playing tennis which can be a serious calorie burner, requiring both endurance and strength.
She even posted a video to her Instagram account of herself playing tennis while listening to Lizzo's "Feeling Good," which got over 4.5 million views!
5
Basketball
Fans went crazy over a video that Cox posted to IG, showing her sinking every shot on the basketball court. As we stated, she loves to keep active by playing sports.
Hilariously, Cox would post another video, showing all of the outtakes during her basketball video. It featured several missed shots but hey, at least she's honest and gave us a good laugh!
4
Staying Active
Similar to her Monica character on Friends, Cox lives an active lifestyle. She isn't living the hermit life away from the cameras like some of her other co-stars.
Cox is always out and about, keeping active especially out in LA. That is a crucial part of keeping in shape.
3
Home Cooked Meals
She's keeping things clean after a long day, as we see in the photo above. Cox turns to a fresh green salad; to her credit, she isn't shying away from the carbs after an active day, with a lovely piece of bread on the side.
After a long and active day, a bit of carbs are meant to replenish energy.
2
Spinning
Countless celebs like to take on classes, such as spinning. Kaley Cuoco and Jen Aniston are a couple of examples, they like to keep things fresh and classes are at times the answer, especially given the positive energy in these said classes.
In the pic above, we get a screenshot of Cox hitting the bike on Cougar Town, without a doubt, she's using this as a form of cardio.
1
Bikini Ready
In her 50s, Cox continues to flaunt her bikini body. As we saw earlier, she even hits workouts while on vacation to start the day, now that's some true goals.
Her figure continues to be #goals, as Cox puts in the work both in and out of the gym. Particularly in the gym, she uses lots of super-sets and circuits, while keeping the intensity at a major high.
Sources:
https://www.health-yogi.com/courteney-cox-workout/
https://www.thethings.com/14-things-courteney-cox-does-to-stay-in-shape/
https://www.eatthis.com/courteney-cox-weight-loss/