Dennis Keith Rodman (born May 13, 1961) is an American former professional basketball player.
When playing for the Bulls, he got special permission from Phil Jackson to follow his own unique pregame routine.
"The rules [for the team] remained the same, but there was some variance in administering them for Dennis," Phil Jackson told Sam Smith for a 2011 NBA.com story. "He wasn't able to come to the game an hour and a half before [required of all players]. There was too much tension around the game for him. He didn't go out and shoot. I let him come an hour before the game, and I set up a fine structure for him [fining Rodman every game]."
The Worm still needed a bit of extra rope, though. Beyond arriving late and avoiding shoot-around, he also did his own thing in the locker room.
"He'd find a place to work out [on his own] until game time," Jackson continued. "Thirty minutes before tip, we'd meet [with players]. He'd come in, take a shower and sit at his locker naked with a towel over his head. All the presentations, the [scouting] video going on, he'd have a towel over his head. It was tough for him to pay attention. He had to do things, work out, lift weights, shower. He had a very unique attitude toward getting ready for the game."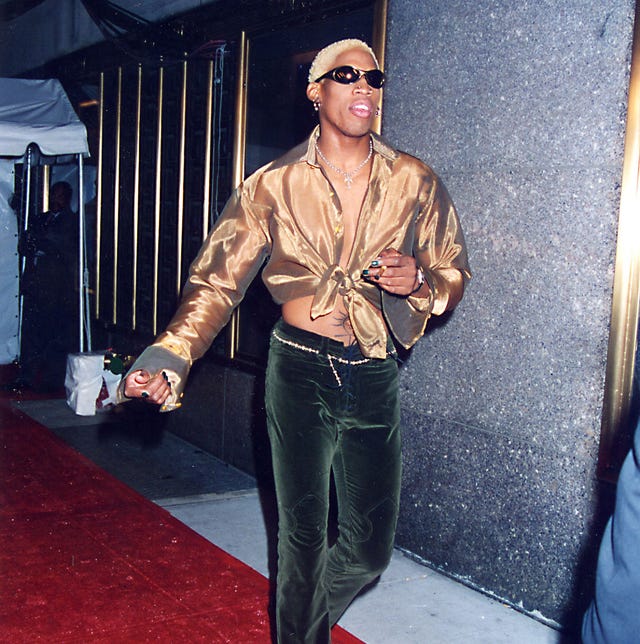 Dedication to rebounding
Dennis Rodman spent late-night gym sessions rebounding for his friends so he could track the trajectory of different shots
"I used to have my friends late at night – s–t, three, four in the morning – go to the gym and I said 'shoot the ball,'" Rodman said. "'Shoot over here, shoot over here, shoot over there, shoot over there. I'd sit there and react, react."
By his third year in the league, Rodman said he recognised that rebounding and defence were the strongest part of his game and worked tirelessly to get better.
"I just practiced a lot about the angle of the ball and the trajectory of it," Rodman said. "Basically I just started learning how to put myself in a position to get the ball."
Rodman even studied individual players' forms across the league so he would know how to react when they put a shot up.
"You got a Larry Bird; it's gonna spin," he said. "You got a Magic [Johnson]; there may be spin. When [Jordan] shoots over here, I position myself right there."
It paid off in spades. Rodman recorded 20+ rebounds in a whopping 159 games – more than any other player in the modern era of the NBA.
Sources:
https://www.sportscasting.com/dennis-rodman-followed-very-unique-pregame-routine-involved-sitting-naked-special-permission-from-phil-jackson/
https://www.businessinsider.com.au/dennis-rodman-rebounding-skill-the-last-dance-2020-4