08:00: Jose Mourinho wakes up and walks downstairs for breakfast. He pops two slices of bread into the toaster while flicking through the newspapers that he gets delivered and his children put out on the table for him. Having been particularly interested by the falling price of gold, Mourinho fails to spot the toaster is on an unusually long setting, and after five minutes he starts to get a whiff of fully carbonised bread.
Annoyed, he calls down his children, pointing out that the toast was burned because they'd put the papers in the wrong order, and had they made sure to keep the most boring papers first, he'd not have been so distracted. The children agree to work harder in future and he tells them they are learning well, and he's hugely proud of them.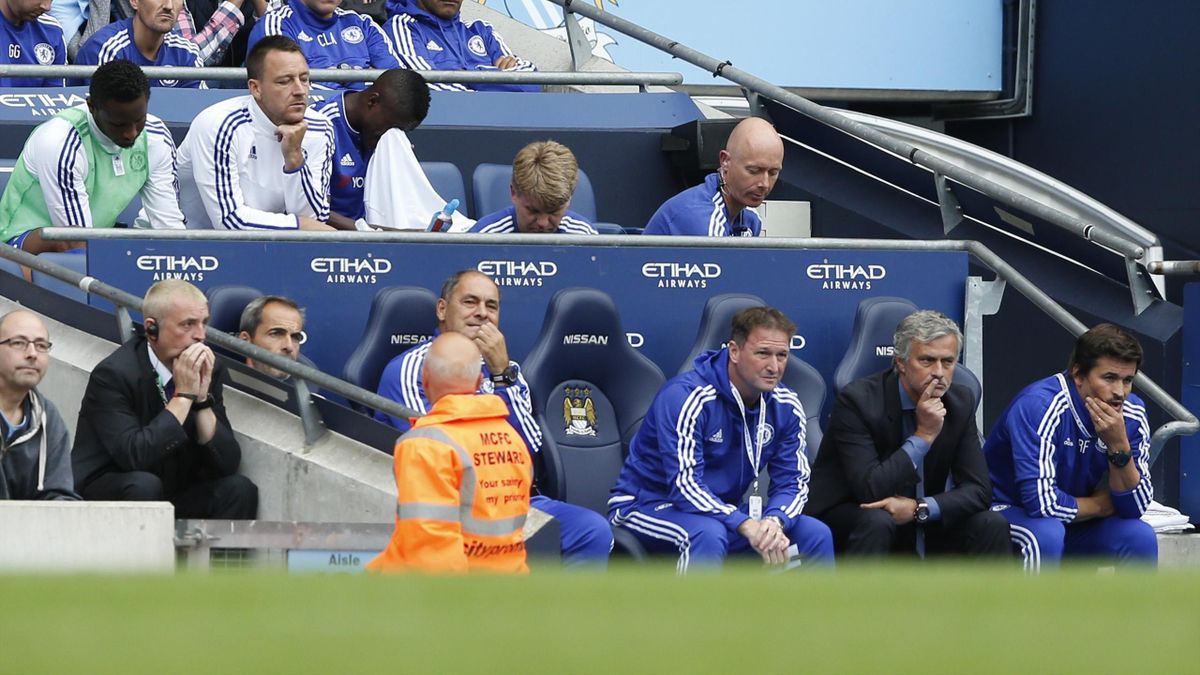 PREMIER LEAGUE
THE BEGINNING OF THE END FOR TERRY – BUT COULD HE REPLACE MOURINHO?
08:30: Mourinho, a second, more successful round of breakfast inside him, makes the ascent to the bedroom where he trips over the mobile phone charging wire he left out last night. Instantly he swivels his neck, trying to identify someone who should have removed the wire before it caught him. Seeing that everyone has already made their way downstairs, he admonishes the wall for failing to warn him that he should have looked down to avoid an accident. The wall respectfully takes the criticism in silence, which impresses Mourinho, and he lovingly slaps it about cheek height, in a show of forgiveness and solidarity.
09:28: Mourinho texts Rui Faria to ask if he has everything in order for the pre-match training routine at the Etihad, such as notes on what length stud will probably be the most use and the right equipment for the particular training drills they decided on for the last-minute preparations, especially tailored for the kind of opponent City are, full of energy and pressing.
09:29 and 13 seconds: Faria texts back to explain that Mourinho decided on Thursday that he'd take care of that, and of course Faria can get something together which will suffice, but he just wants to make it clear that if anything is missing it's because of the late notice.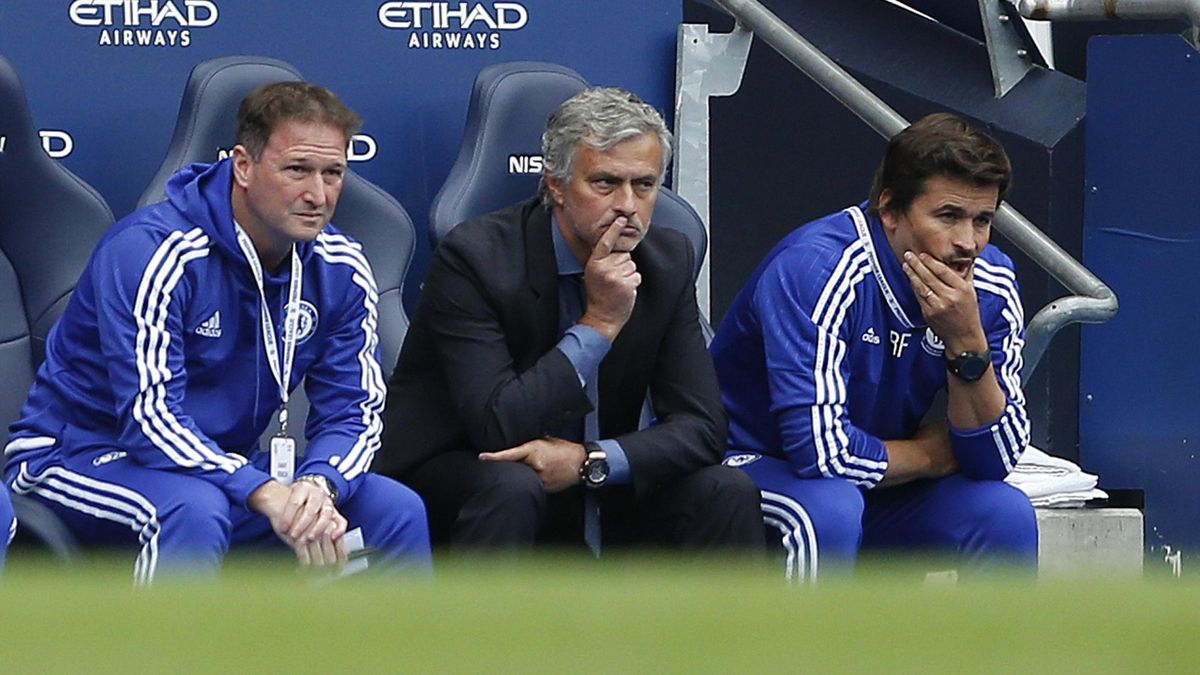 Chelsea manager Jose Mourinho with assistant first team coaches Rui Faria and Steve Holland
Image credit: Reuters
09:30 and 30 seconds: Mourinho waits.
09:31 and 44 seconds: Faria apologises for both his insolence and failing to properly prepare the training routine and equipment.
09:32 and 16 seconds: Mourinho reminds Faria that there's seven assistants on his team, and that he can choose only two to attend the match on the bench. He's not saying that there won't be a chance that, if he's demoted, he could come back in time, but disagreements are natural in a team. Mourinho says that even he makes mistakes.
09.32 and 33 seconds: Faria texts back to say there is absolutely no chance that Mourinho has ever made a mistake.
12:46: John Terry arrives a full one minute late, so Mourinho makes use of the time by transcribing a few Arsene Wenger insults he recently came up with from his phone to his iPad. Noting that Terry is a little late, he chats normally with his captain about the plans for the match and any concerns the side might have, before making a mental record that Terry forgets to apologise for his tardiness. If City win, he knows what really caused the defeat – his captain's lack of respect and slackness.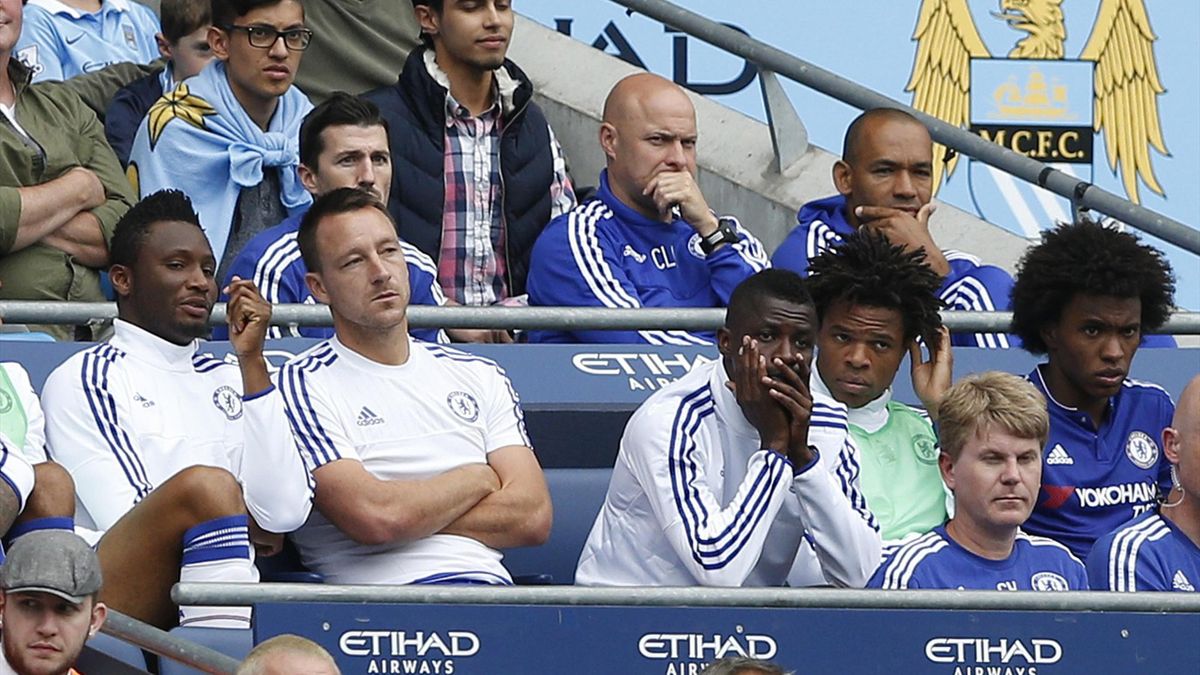 Chelsea's John Terry sat on the bench after being substituted at half time as John Obi Mikel, Ramires, Loic Remy and Willian look on
Image credit: Reuters
13:55: Mourinho shouts at a cloud.
17:23: As the Chelsea and Manchester City teams emerge from the tunnel, Mourinho shakes hands with Manuel Pellegrini and Pellegrini is unusually warm, asking him about his family, and saying he missed Mourinho's presence over the summer. He taps him on the arm and wishes the Chelsea manager good luck. Mourinho is so unsettled by this that he accidentally calls Pellegrini by the correct name for once, and before he even sits in the dugout, he knows. Pellegrini has won the mind games and Chelsea don't stand a chance, all he can do now is hope his players keep the damage to a minimum.
19:25: 
Mourinho sits down to email the team at Chelsea currently writing the match report to give them 
the accurate description of what actually happened
, rather than what they think they saw happening. 1) Chelsea were unlucky to lose the game. 2) For much of the game Chelsea were better, and the scoreline does not represent this. 3) The doctors did a particularly outstanding job for Diego Costa's head injury. 4) Fernandinho was lucky not to kill Costa. 5) Perhaps the online team might like to consider whether publishing the scoreline is absolutely necessary.
Do you ever just go for a drive for the hell of it?
Jose Mourinho: I drive in Portugal. When I land in Lisbon, I have a driver to bring my car to the airport, and I will go for a drive. The police control is totally different. In Portugal, I'd have to do something really bad to be punished. But in England, I've been caught doing things like 48mph in a 40, and they take my licence for a couple of months!
Sources:
https://www.eurosport.com/football/premier-league/2015-2016/a-day-in-the-life-of.-jose-mourinho_sto4860784/story.shtml
https://lifebeyondsportmedia.com/Jose-Mourinho