Philip Andre "Mickey" Rourke Jr. (born September 16, 1952) is an American actor, screenwriter, activist, and former boxer who has appeared primarily as a leading man in drama, action, and thriller films.
Rourke told Bodybuilding.com that back in the day he would do 1-1 ½ hours of resistance work followed by 30-60 minutes of cardio as part of his daily routine. This time around, he did a lot of cardio and abs work to get ready for the film. Rourke also said that he stuck with a high-protein, low-carb diet that included three or four protein shakes a day.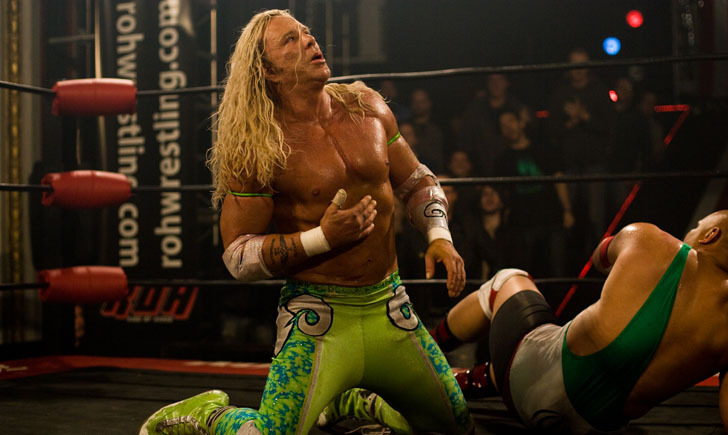 Diet and Workout
In terms of his diet, he would follow a high protein, low carb diet. He would have 3-4 protein shakes per day to stay lean. When he had to bulk up 30 pounds for the leading role in The Wrestler, he was mistaken at how hard it would be. Thinking it would be fun to gain weight since he always had to cut weight for boxing, he soon realized that adding 43 pounds of raw muscle took a lot of work and was very difficult to gain healthy muscle mass, going from 192 to 235 pounds.
To get ready for the role, Rourke said that he "hired this Israeli cage fighter who was from the army and he was real strict with me. He wouldn't take any bulls**t and that's what I needed. I didn't want a trainer who I was gonna tell when I was gonna work out."
He worked out 3 times a day and only took off one day a week on Saturdays. "Coming from the army, he could kick my ass and he was all about focus and discipline, mixing cardio with weightlifting. There were days where I wanted to do either cardio or weights because I was sore all the time, all day and all night. I never lifted big heavy iron to put on size, so I had a lot of protein, six to seven small meals throughout the day," said Rourke.
Supposedly every time that he had his hands empty, his trainer would put a protein shake in his hand and say "Drink." Talk about dedicated. Rourke ate all day, every day to beef up. "We'd have like 12 egg whites in the morning, chicken breasts and then a banana with two scoops of peanut butter and a sh*tload of supplements. We'd have like a thin piece of steak with a salad and vegetables and a cup of rice and then we'd have a gigantic protein shake. Maybe after that we'd have two more scoops of peanut butter and an apple or some kind of piece of fruit. Then I'd have my last two meals and a giant protein shake at night," he said.
In terms of his training regimen, everything Rourke did was nothing short of brutal. "We did a two-mile run on the beach every morning and went back to sleep. Then we got up a little later and went and lifted weights for an hour and a half and had lunch. A little while later we'd do cardio for about 45 minutes. And then in the evenings we'd go back to the gym and lift weights. Then we'd have about an hour and a half, two hours of wrestling practice. This went on for seven months."
Rourke is also one tough dude to do this role. While training for the movie, he had a pretty severe neck injury plus a recurring ACL injury. He also blew out a disc in his back. "Basically I was getting a two-hour massage every evening, like five days a week. I live in a three-story walk up and the trainer had to help push me up the stairs and hold my arm to get down the stairs and go to work. It hurt to breathe. Darren insisted that I do all my own stunts. It wasn't like it was a joy to go to work everyday."
His workout routine is surely impressive, especially training with a fitness legend like Charles Glass. The fact that he was a boxer for many years only added to his mental toughness and daunting physical nature. Perhaps Rourke's most impressive feat is through his diet. He literally ate and ate and ate. When you're trying to build lean muscle mass, it is important to constantly eat to feed your muscles with the proper nutrients. You need that hormonal and anabolic environment at all times to constantly build muscle. Building muscle requires a positive energy balance, which means that you have to take in more calories than you burn. He gets a tremendous amount of lean proteins in his diet, which helps with muscle growth and recovery.
Sources:
https://www.mensjournal.com/health-fitness/top-10-hollywood-bulk-ups-all-time/21-mickey-rourke-in-the-wrestler/
https://www.muscleprodigy.com/mickey-rourke-workout/
https://www.bodybuilding.com/fun/mickey_rourke_training_for_the_wrestler.htm
https://people.com/health/mickey-rourkes-workout-routine/