Josep "Pep" Guardiola Sala (born 18 January 1971) is a Spanish professional football manager and former player. 
Pep Guardiola once said that it is the early risers of this world who make their country unstoppable. He gets up at around 7:30am. Not that early, really.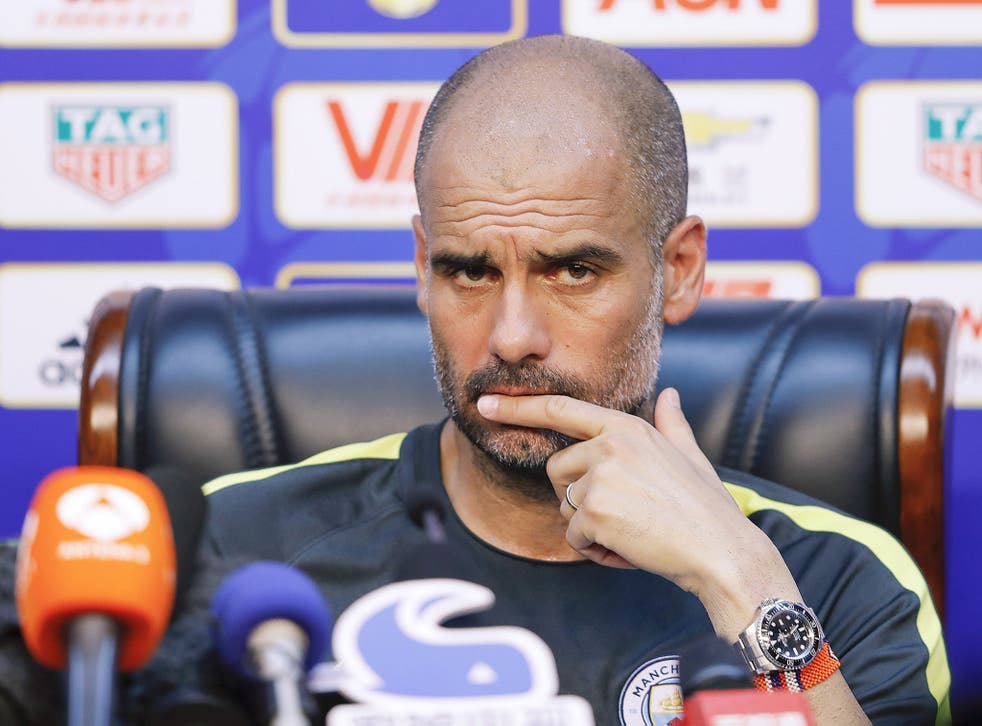 From a May 2020 article with the42.ie on 'A day in the life'
He greets his family with good morning kisses and heads to a window to look out at the city below, and to see whether or not it's raining. It usually is.
After breakfast with the kids, he sends them off to school, gets dressed and has a look at the press. Then, schedules permitting, he and his wife, Cristina, will head down to one of the trendy cafés close to Manchester Cathedral to have their first coffee of the day.
Then to work: The City Football Academy (CFA). En route to Clayton Lane he listens to Ràdio Cataluña or another Spanish station, RAC. He needs to hear the news from home.
He arrives as HQ is still stirring into life. He greets Stacy, the receptionist, and jogs up the 28 steps to the office he inherited from Manuel Pellegrini. On the wall is a maxim Pep wrote the day he moved in:
The day after a game, Pep usually goes home to eat with his wife, but if the weather's good or there's a lot on, he'll stay in the office until late. On grey winter days, when it's dark by 3:30pm, he'll head home as early as possible, sit down at his dining table, switch on the computer and have a glass of white wine or a bottle of beer. Then he'll get back down to work.
Today he's behind the wheel of his black Mercedes by 6pm. Guardiola has a reputation from his Barcelona days of being a hapless driver, and this is the fourth car he has owned since coming to Manchester. His wing mirrors don't survive for long, and he's also managed to fill a diesel Range Rover with petrol and mangle a silver Bentley.
The drive home is just 15 minutes. Tonight he is off to see the musical Shrek with Cristina and the kids. The family make the journey to the theatre on foot and talk about how many homeless people they see. It's incomprehensible to them.
On the way home they have a bite to eat in a Spanish restaurant, Tapeo & Wine. They enjoyed the show. The title is almost in the bag. The family are all okay. Pep's had a good day at the office.
Here's what Pep listens to as he works on his game plans
"The first time we came to Manchester with Pep in July and every day it rained. We were saying 'How is this possible?'"
But Guardiola loves Manchester's music scene, enjoying the fact that there are a myriad gigs, plays and events happening every night.
He is a jazz fan, like Torrent, and the New York boss revealed that the two of them would play soft background music while they plotted the destruction of football opponents.
"Just relaxing music – jazz, maybe Sade. Not rock music," said Torrent.
"Pep loves music in general and I am the same. We worked in the office always with music on. Not the saxophone though.
"We can create a big band, because in Manchester with the staff, there are least three or four who play the guitar, piano.
"Mikel Arteta? He's the singer."
The strange ritual Pep Guardiola does on EVERY match day:
Sources:
https://www.manchestereveningnews.co.uk/sport/football/football-news/pep-guardiola-city-loves-manchester-14952018
https://www.independent.co.uk/sport/football/premier-league/pep-guardiola-leaves-no-stone-unturned-he-implements-strict-fitness-regime-including-no-pizza-a7156946.html
https://www.the42.ie/pep-guardiola-book-extract-5058250-Mar2020/