Edward Thomas Hardy (born 15 September 1977) is an English actor, producer and former model.
Diet
Sources tell us this about Tom Hardy's diet through his multiple stages:
During his preparation for Warrior, Hardy consumed 5-6 meals of lean protein and complex carbohydrates like chicken, fish, vegetables and oats.

This, however, drastically changed when he had to put on bulk for the role of Batman in Dark Knight Rises. His diet included lots of carbs, milk, protein shakes, and other supplements.
Workout
Here's what Mens Fitness has to say about Hardy's routine:
Hardy's trainer takes an unconventional approach to the old-fashioned muscle confusion technique by splitting up Hardy's workouts into brief, four-times-per-day sessions. The workouts typically fall first thing in the morning, at lunchtime, in the early evening and before bedtime and last for approximately 20 minutes with a focus on strength training. Beginners should plan to start with just the morning and evening workouts before adding in the other two as you become more comfortable with the regimen.
For the role of inmate Charles Bronson, Hardy reportedly performed 2,500 press-ups a day, every day.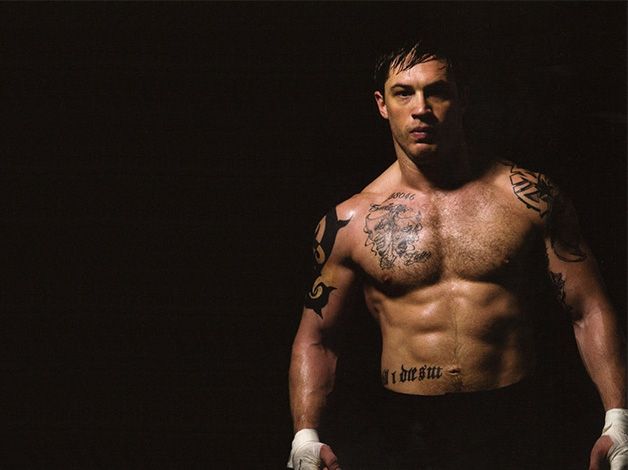 Alcohol
Tom Hardy has been sober since he was 25.
The actor sobered up in 2003 by using a 12-step program. He told Esquire it was his "first port of call."
"It was hard enough for me to say, 'I'm an alcoholic,'" he said. "But staying stopped is f—ing hard."
"If I had four pints of lager and half a bottle of vodka I could turn this room into an absolute f*cking nightmare in about three minutes," Hardy told The Mirror about getting sober for life — from both drink and drugs. "I could destroy everything in my life I have worked so hard for."
Brazilian Jiu-Jitsu
Hardy was promoted to the rank of blue belt in Brazilian Jiu-Jitsu in 2020.
Hardy began training jiu-jitsu as far back in 2011 when he prepared for his role as an MMA fighter in the film 'Warrior'. This was the beginning of his BJJ journey which saw him training sporadically over the years.
Hardy trains under REORG Jiu-Jitsu.
The 41 year old actor was spotted working on his jiu-jitsu a few years back alongside the british royal marines in an attempt to help them being attention to a cause near and dear to their heart:
Tom Hardy training Jiu Jitsu in his REORG Kit! Doing an outstanding job of applying what he was taught and maintaining top position! Great pressure! Are you a Veteran or serving wounded? REORG in association with We Defy Foundation is in place for you to help combat the psychological and physiological symptoms you may be dealing with. Everyone that has grappled on the mat knows the psychological and physiological benefits that can be attained, please help get the message out and help REORG help those in need. If your a Veteran and would like to get involved in Jiu Jitsu please message REORG directly @royalmarinesjiujitsu
Sources:
https://www.bjjee.com/articles/actor-tom-hardy-promoted-to-blue-belt-in-brazilian-jiu-jitsu/
https://www.menshealth.com/uk/health/g26130469/celebrities-who-dont-drink-alcohol-tom-hardy-bradley-cooper
https://www.insider.com/celebrities-sober-2018
https://www.menshealth.com/nutrition/a35097087/tom-hardy-bane-diet-plan-challenge-bodybuilder-aseel-soueid/
https://superherojacked.com/2015/07/08/tom-hardy-bane-workout-routine-going-from-warrior-to-supervillain/